Do you want a camera to watch and monitor dogs?
We have listed the top 6 dog nanny cams that will help you get through the everyday routine much easier.
Taking care of a dog or a puppy has never been easier. Read about the best of best model, but check out more devices such as the cheap, but quality ones, security, or the ones that allow two-way interactions. Make sure you read our guide too. You will find it at the bottom of this article.
The Summary
6 Best Camera To Watch Your Dog
BEST OF BEST DOG MONITORING SYSTEM
DogCool FHD Dog Camera
The Full HD Camera
This CoolDog home camera for pets includes a high-quality camera to watch dog. The device is equipped with a 1/3 inch industrial CMOS image sensor. It comes with 8X digital zoom. The image resolution is 1920 x 1080p.This camera will make you see clearly every detail of your home.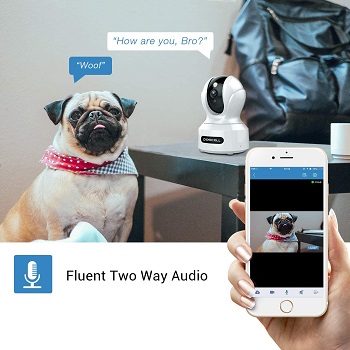 The Detection Sensor
A feature that many people all looking for in a dog video camera. The special sensor will track your dog's movements and record videos. In case it notices a strange person, sounds, or movements, it will send real-time alerts to your smartphone's app.
Say Hi To Your Dog
The anti-noise built-in microphone and speaker enable you to use this camera to watch and talk to dog remotely. Call it from anywhere and at any time. Let your dog know he is not alone. You will also be able to hear your dog's barks. Call your dog whenever you feel the need to.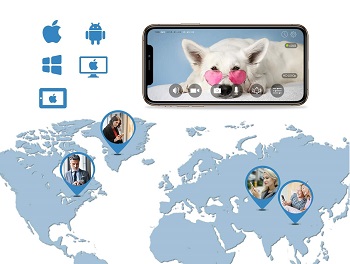 Easy To Use
Set up the device in a few minutes. Connect it to your wifi and download the DogCool app. Follow the easy instructions provided by the manufacturer inside the user manual. Also, the app will make you use the device easier.
In Short:
high-resolution camera for clear vision
motion tracker
sound sensor detector
two-way interaction possible
easy and fast to set up
BEST PUPPY MONITOR DOG NANNY CAM
Netvue Puppy Camera
Product Overview
The Netvue dog and puppy monitoring camera enables you to feel safe about your puppy and to control how it is doing and if it feels sad and lonely. Pair this device to the special manufacturer's app, and get most of the features that it includes.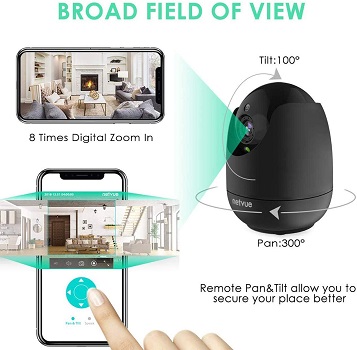 The Motion Sensor
This device includes the so-called Artificial Intelligence and allows you to feel more relaxing knowing that your puppy is safe. It the sensor notices a strange motion, the camera will record it and you will get an instant alert notification on your app.
The Good Camera
A camera of high-quality is a must when it comes to these kinds of devices. The Netvue camera is 1080p full HD. It comes with a 360° horizontal angle lens. Apart from that, you are able to set 4 different waypoints and have this great camera to monitor every corner of your room.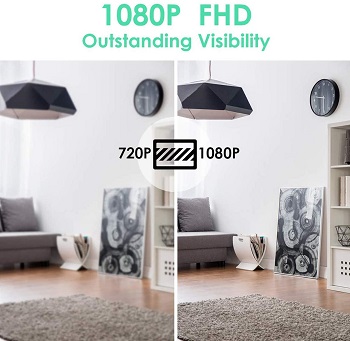 More Features
Important to know is that this interactive pet camera has a night vision mode too. This means that you will be able to see your dog even during the night. Also, the Alexa voice assistant function is included. Read more about this in the user manual that is provided with this unit.
In Short:
nigh vision camera
great image resolution
Alexa voice assistant function included
stay safe with a motion detector
panoramic camera view
BEST ACTIVITY TRACKER DOG PET CAMERA
Animo Dog Device For Activity Tracking
Track Your Dog's Activity 
If you want your dog to stay healthy and active, consider getting Animo, the best dog activity monitor. This is a collar that will monitor if everything is fine your best friend. Keep your dog healthy 24/7 and consult a veterinarian if you notice something strange has been happening.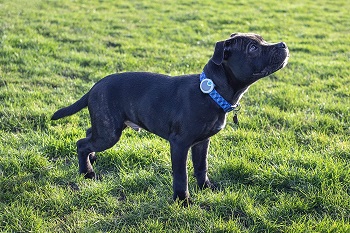 What Does This Device Track?
The Animo activity tracker monitors your dog's everyday activities such as barkings, sleep quality, scratchings, or how much calories your dog has burnt. It is important to own this device especially if your dog has some health problems and you want to make sure it is well.
Battery-Operated
This pet camera collar runs on batteries. The Animo batteries are long-lasting. One battery will last you for more than 6 months. You will connect this device to the app and the app will alert you every time you need to change your dog's activity tracker's battery.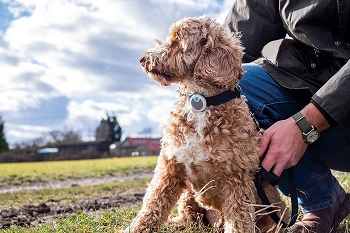 Long-Lasting And Waterproof
The waterproof feature makes sure your dog can get into water with no risk of damaging the device. This also makes it durable. You can go anywhere with your dog. Have a walk, take a bath, or go swimming. Your dog can also roll in the mud without damaging the tracker.
In Short:
waterproof and long-lasting device
tracks almost every dog's activity
ideal for dogs with health problems
get alerts when you need to change the battery
connects to the app
BEST SECURITY CAMERA TO WATCH DOG
DadyPet Dog Security Camera For Your Home
Connect It To Your Wifi And App
To use this wifi pet camera you will simply need to plug it in and connect to your 2.4G HZ wifi network. Download the app that will help you use all the features. It will instruct you on how to use the device too. You are ready to start using this dog best security camera in less than 5 minutes.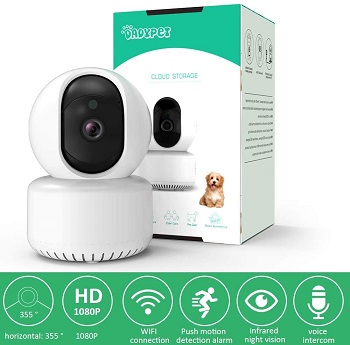 Communicate With Your Dog
If you often have to leave your dog at home, you probably miss it a lot. You also know that it misses you too and being a good dog owner means that you care. Use the app to live stream the videos and see if your dog is okay. Call it and talk to it. Tell it you love him and make him happy.
Check On Your Dog
Control the situation at home whenever you want and feel like. Simply use the Dadypet app and monitor your home from it. The 1920 x 1080P full HD resolution will make you see everything clearly. There are 6 built-in infrared LED lights for the clear night vision.
What Is Included And Price
The package contains a user manual with all the instructions, one camera with a USB charger, one part fittings, and a stand. This device is very budget-friendly and in our opinion, it is affordable for every household.
In Short:
remote interaction for making your dog feel better
1920 x 1080P Full HD image resolution>
night vision camera
affordable device and easy to use
pairs with the app
BEST CHEAP DOG SECURITY CAMERA
XM Smart Home Dog Video Camera
Nigh Vision 1080p Camera
Another device with a high-quality camera. The XM smart home dog camera is an indoor cheap camera to watch dog. It comes with 1920 x 1080P image resolution. It comes with a 130° angle of view. The monitoring experience with this camera will be easy and satisfying. The night vision will make you feel safe at any time of the day.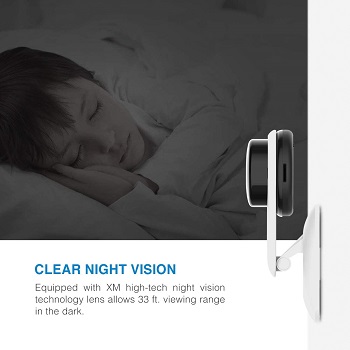 Human Detection Alert
The sensor that this indoor camera for pets includes will alert you in real-time about anything strange that happens at home. The smart AI detection technology will send you a notification with photos and videos. You will be able to stay away without worrying if your home and your dog are safe.
Talk To Your Dog
This device has a built-in microphone and a speaker. This means that not only will you be able to call your dog when you want, but you will hear your dog when it barks you back. Also, you can communicate with your family and snap funny photos.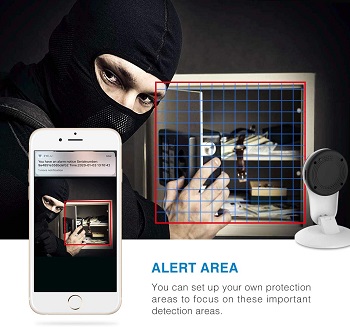 The Storage
Use the app to store all the data. You will have to use the app's cloud service. It is a safe way to store your data and it comes with no risk of leakage. The app is supported by IOS and Android. The first 6 months of using the cloud service are free.
In Short:
free 6 months of using the cloud service
download the app to use all the features
communicate with your family and your dog
includes the AI detection technology
1080p and 130° angle of view camera
budget-friendly
BEST TO WATCH AND TALK DOG MONITOR
TaoCoco 2 in 1 Dog Monitor Camera
Where To Put And How To Use
The TaoCoco 2 in 1 device is small and compact. It fits anywhere. Put it on a flat surface, on your desk or your shelf. Make sure it is not located near heaters. It is made for indoor use. Connect it to your wifi and use it via an app that you will download for free.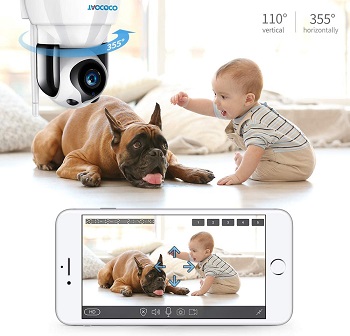 Safety Feature
Feel relaxed and safe when away. The motion detection of this dog and surveillance camera will record a short video clip if it detects something strange. It will store it to your microSD card. The SD card is not included. 
Camera And Interaction
The 1920 x 1080P image resolution of the camera makes you see your home clearly. The camera comes with IR night vision technology too. So, during the day or night, you can open the app and check on your dog and see if it is doing fine. Call it and interact with it too.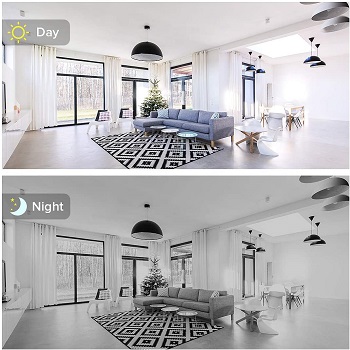 Last Details
This unit connects only to the 2.4G Hz wifi. It has a 90-degree camera tilt. You can also install it on the wall or hang it on the ceiling. The overall size is 4.3 x 3.54 x 6.1 inches. This device's price is very affordable. It is of good quality too.
In Short:
small and compact
mount it on the wall or ceiling
place it on the desk or shelf
connects to 2.4G Hz wifi
2 in 1 – camera and interactive device
1920 x 1080P image resolution
How To Pick: Dog Monitoring System
Whether you are being a pet owner for the first time, or you are simply a busy person who wants to take care of your dog even when you are away, a dog monitor camera is always a good solution. Before buying a camera to monitor dog, take some time to explore the market. Consider the following features when buying: the manufacturer's app, the good camera, the possibility of remote communication, and other features that you will find listed below.
Pair The Device With The App – Most often you will find the dog monitoring devices that you can manage from your smartphone. Simply download the app and get to check on your dog from anywhere. There are many functions that you can control remotely.
Clear Day And Night Camera Vision – If buying a monitoring camera, get a device that offers a clear vision. A camera with a good resolution will be very useful because you will get to see your dog's movements easily. It will also serve as your home's security camera.
Remote Interaction With Your Dog – The app will allow you to call your dog and talk to it. This is why make sure the device includes a two-way speaker and microphone so that you can hear your dog bark you back. This is a great feature to make your dog happier.
Activity Tracker – If your dog has health problems or if you simply want it to stay more active, track and monitor its movements and activity with an activity tracker or a device that features one. Not every model has this function, so if it's important to you, find out which dog monitors have one.
Motion And Sound Detection Sensor – Another important feature that not every device comes with. If you want to be alerted when the camera detects suspicious movements or hears your dog's barking, consider buying such a dog pet camera device.
To Sum Up
In our opinion, the best dog monitor camera device is DadyPet Dog Security Camera because of the great price and good quality. It has a good camera resolution and clear night vision. The indoor dog cameras have become very important devices if you are often busy and want to make sure your best buddy is fine. When buying such devices, think about the ones with remote dog treat dispensers and keep up with your dog's meal-time routine.