Looking for a dog camera to keep an eye on your unpredictable dog at all times but can't find or pick one?
You'll enjoy continuing to read this article if that's the case since we reviewed nothing but them in it. We didn't just review any old cameras, we made sure to review the best and to include a camera in various categories to create a more versatile choice base like home cameras, treat dispenser cameras, and plenty of others.
The Summary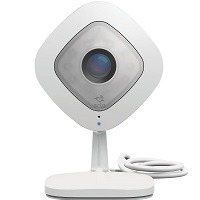 Arlo VMC3040-100NAS Camera
OVERALL RATING: ★★★★★
You can voice control it with Alexa, it has 2-way audio, motion detectors, and plenty of other things all packed in a small BPA-free plastic housing.
Jump To Review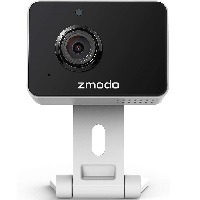 Zmodo Mini Pro Camera
OVERALL RATING: ★★★★☆
For only around 40 dollars you'll get 2 cameras and you can buy more to connect them through one app which allows you to control them individually.
Jump To Review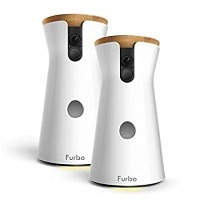 Furbo Dog Camera
OVERALL RATING: ★★★★☆
The camera is also a treat dispenser that works with or without Alexa. The Alexa allows you to voice control it but you can control it via an app as well.
Jump To Review
What Is The Purpose Of Dog Camera And How It Works?
Do you want to be able to check what your dog is doing while you're not home? This smart device allows you to monitor your dog whenever you want. The camera works by connecting with the home network to provide real-time pictures on your monitoring device by using the manufacturer's app.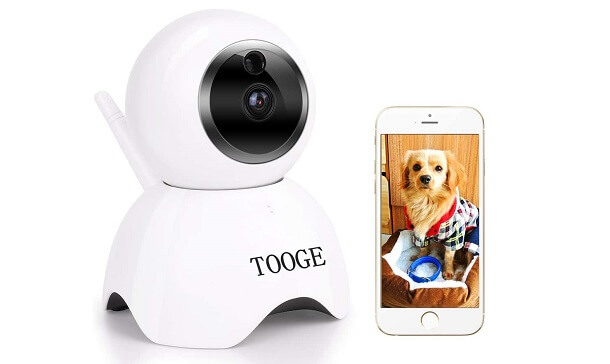 Pick The Best Type Of Dog Camera For Your Need
There are many different types of dog cameras on the market with a lot of different features. Down below you can find the list of most used types of cameras.
Home Dog Camera – It is a classic camera model for monitoring that allows you to watch your dog from a remote device. They are mostly suitable only for indoor use
Interactive Dog Camera – This type of camera is often called a two-way camera. This camera provides two-way communication so you can talk with your dog using the speaker and microphone
Outdoor Dog Camera – This type of device has weatherproof protection which allows outdoor use. Outdoor cameras can be used inside, as well, but primarily made for front and backyard monitoring
Collar Camera – If you want to find out hidden places or how he sneaks out of the house, buy a collar camera. This small device will record movements and is the perfect choice for occasional use
Dog Camera With Treat Dispenser – Do you know you can feed your dog while you're away? This multifunctional device will provide not only interaction but allow you to eject the treats from it and reward your dog for good behavior
Why Is It Worth Buying a Dog Camera?
Having a dog camera can be very beneficial not only for the owner but for the dog as well.
Check The Home Situation – You're at work and want to check what your dog is doing? Or is he feeling ok? With just one click on your monitoring device check how your dog s behaves and reacts at the moment.
Alert Your Dog – By using the microphone you can alert your dog to stop making a mess or to do some other activity that he was taught, for example, to go to sleep in a cage.
Help With Separation Anxiety – Having an interactive camera can really help your dog with separation anxiety, especially if you notice he loves hearing your voice on the camera. You can say hi to him and calm him down.
Follow Dog Activities – You don't know where he is hiding your stuff? Or where did he put leftovers? By using a monitoring camera or collar model you can easily find out all his activities.
Security Camera – Many dog owners use outdoor or indoor cameras as security devices. Most of the monitoring cameras have a high-quality camera with a motion detector that will send the alert notification to your monitoring device every time he detects an intruder.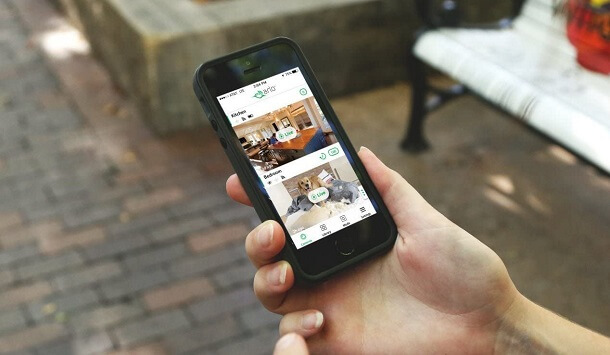 Do All Dog Owners Need To Have a Camera?
Dog cameras are suitable for all dog owners, no matter of age or breed, from puppy to senior dog. They are recommended for dog owners who want to always keep an eye on their dog especially if they have a strong bond.
Guide To Buy Camera: Which Features Are Most Important?
To buy a high-quality camera with all the needed features, it is important to check our guidelines for easier shopping.
Durable Design
Choose a camera only from reliable brands which have high-quality models made of sturdy plastic so it won't break easily if it falls down. If you're planning to use an outdoor model, it needs to be made of anti-damage material due to weather conditions.
Camera Size
Before buying a camera, make sure to check the dimensions so you can be sure it will fit in the planned spot. Camera size varies from 3-5 inches.
Internet Connection
All dog cameras use an Internet connection for work. They work on 2.4gHz frequency and some of them support both 2.4 and 5 GHz frequency. Before buying a camera check your home frequency. Also, you can choose between models with WiFi or wired connection. We recommend cameras with WiFi because of their functionality.
Supported Operating System For App
Before buying a camera, one of the most important things is to check if the app is supported for the operating system of your monitoring device. Some of the apps can be downloaded only in the Apple store for iOs users, and some of them work with the Android system. Also, we recommend checking the reviews and ratings on the app store from other users.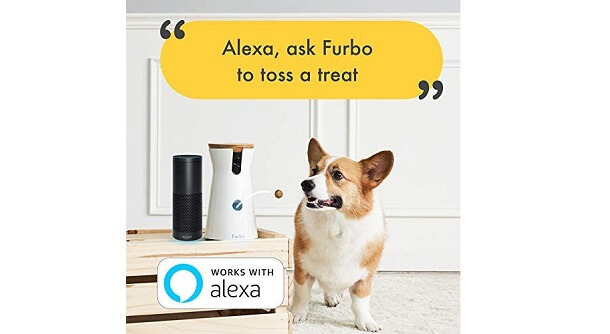 Power Supply
Dog cameras can have an electric and battery supply. Batteries can be rechargeable or replaceable. Electric models are recommended only for indoor use and cameras with battery supplies can be used both indoors and outdoors. Also, they're much more practical than electric ones.
Battery Life
Indoor models that use rechargeable battery supply batteries last up to 2 months. Outdoor models have much stronger batteries and use 6000mAh batteries. They usually last from 2-5 months after fully charging.
Video Settings
So you can have a clear view while monitoring, pick a model that has a 720p camera. The best video quality you will get with a 1080p model which can be used for night vision, as well.
Check if the model has a zoom and tilt feature so you can see all the parts of the monitoring area. Most of the model has at least 90° vertical and horizontal rotation. The camera needs to have a 3x zoom if you're planning to use it for safety reasons.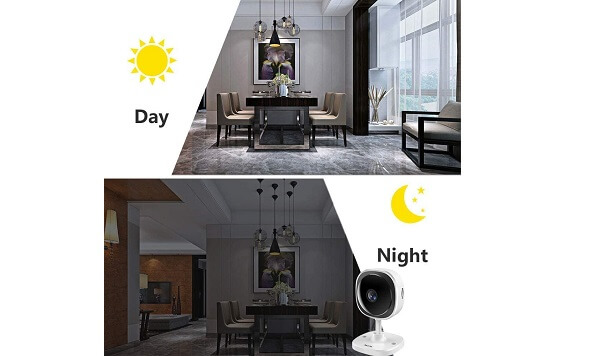 Audio Settings
All types of interactive cameras need to have an anti-noise filter which will allow clear communication on both sides. Also, check if the audition settings allow you to customize the volume so your dog won't get scared because of loud sounds.
Storing Space
Every camera can store the video clips on local storage or SD card. We recommend buying the largest supported microSD, which is usually 128 GB so you won't lose your files. Also, you can use cloud storage with usually request subscription on the app.
Extra Features For Daily Use – Which Are Most Useful?
Some dog cameras have extra features which can help you with your daily pet routine. For example, if your dog has separation anxiety, choose a camera with different sounds which will calm him down, like lullabies, bells. You can also buy a camera with a DogTV option which will entertain your dog while you're away. For playful dogs, pick a model with a laser or catch game so he stays active during the day. If you have an Alexa device, pick a model that supports Alexa voice assistant for easier monitoring when you're busy with your hands. Also, if the model has a barking sensor it will automatically send an alert notification so you can check what's going on with the dog.
How To Use a Dog Camera?
Dog camera is easy to use and in a few steps you will find out how to set it up quickly.
Step 1. Plug the camera to the socket if it has an electric supply or uses a battery for power.
Step 2. Turn on the WiFi or plug the internet cable into the device. Connect it with your home network.
Step 3. Download the app on your monitoring device. Find the model name and use Google or Apple store to install the application. Follow the instructions and make an account which you will use for login.
Step 4. Pair the camera with the device and customize audio and video settings.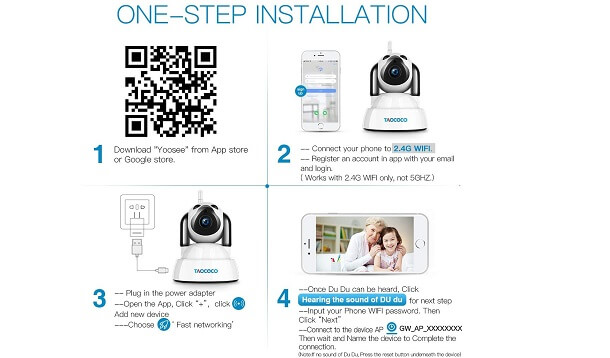 Tips Before Monitoring
Before you start with monitoring, test the camera and device while you're still at home. Check the audio sound, video quality, and if you place the camera in the right spot. Also, make sure to install the camera where the Internet connection is stable so there are no interruptions during monitoring.
Share The App With Family Members
If other family members want to monitor your dog while they're away, they can also use the app. Share the username and password with them and check how many members can be online at the same time. Most dog cameras allow up to 8 users from multiple devices.
Best 15 Dog Cameras
Arlo VMC3040-100NAS Camer
Camera Quality And Zoom
The camera lens records live video at 1080p HD quality and it even features 8x zoom so you can see clearly every little detail. The recordings can be stored in a cloud for up to 7 days and it offers upgrades as well. It has  BPA plastic lid that's dishwasher safe.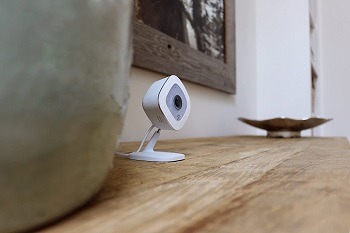 View Angle And Communication
This dog video camera offers a 130-degree angle view and even features 2-way so you can communicate with your dog any time. It'll send notifications to your phone when motion is detected as well. It can be voice-controlled but Amazon Alexa is required. If you'd prefer a pan and tilt type of camera, you can find them in the home camera for pets article.
In Short:
Record live 1080p HD quality video
Has a 130-degree view field
HAs built-in 2-way audio
Can detect motion and alert you
Offers cloud storage and upgrades
Can be voice controlled with Amazon Alexa
Zmodo Mini Pro Camera
Package Deal
If you buy this camera you'll get two for only around 40 dollars. You can connect multiple cameras on one app to have a clear vision of multiple rooms inside your home. It will detect motion even outside its field of vision which is 130 degrees and you can adjust the night vision mode sensitivity.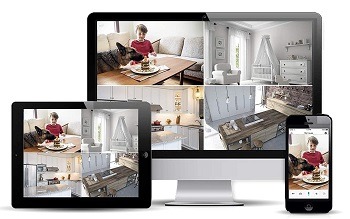 Advanced Motion Detection
The app will send you notifications when motion is detected and the AI tech recognizes human and pet movement. It can record 1080p HD quality videos and even features built-in 2-way audio. This is one of the best cheap cameras for pets but you can find one better suited for you in the camera to watch dog at home article.
In Short:
Comes in a pack of 2
Multiple cameras can be connected through one app
Detects motion outside its 130-degree view range
The AI recognizes human and pet movement
Has 2-way audio built-in
Records at a 1080p HD quality
Furbo Dog Camera
Alexa And No Alexa Use
The camera works with and without Alexa but the benefit of having it used as an Alexa dog camera is that you can voice control it. Without, it's controlled via an app that allows you to communicate with your dog, toss treats, take photos, and record and save videos.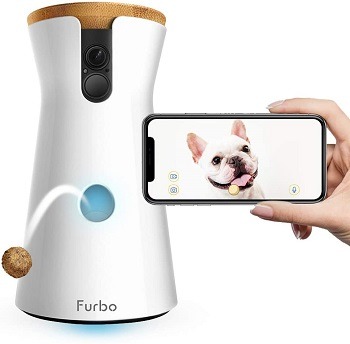 Sensors And Communication
It has a barking sensor and will send notifications to your phone when it's detected. Then, you can calm your dog down by talking to them or throwing them a treat and playing with them in that manner. It works at night and records 1080p quality videos. If you decided that you want an Alexa dog camera, you can find more picks in the home camera for pets article.
In Short:
Can be voice-controlled using Alexa
Functions without Alexa
Can take photos and record videos
It can send barking alerts to your phone
Records at night and during the day 1080 p quality videos
Rva Camwork Dog Monitor Camera
Tilt And Pan
The pan of the camera's head is 355 degrees while its tilt is 90 degrees. You can control this through the app you can download on your android and iOS device. You can learn more about this dog camera for home and others in the home camera for pets article.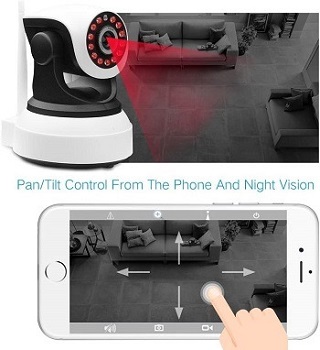 Location Of Use
You can either attach it to a wall or place it on a flat surface like a table or shelf. It has an SD card slot that you can record up to 64GB worth of storage. It has infrared light or night vision, motion detection, two-way audio, and is also compatible with PCs.
In Short:
Compatible with smartphones and PC's
Has night vision and motion detection
The head pans 355 degrees and tilts 90 degrees
It's controlled with an app
Can be mounted to a wall
Has a 64GB SD memory card slot
Feastoria Auto Pet Feeder
Casing Features
The camera's casing also features a bowl where treats will go to when you want to dispense them or schedule a time of day when it will automatically do it. It works with batteries or it can be plugged in. It connects to wifi and if you ever lose your connection, the dispenser will still fill the bowl with treats at its scheduled time.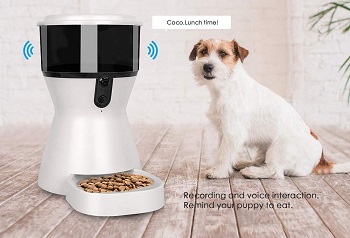 Treat Capacity And Camera
Its camera lens record 1080p video and it's positioned in a way so that you can always see how much food is left in the bowl. The treat compartment capacity is 4L and it even has speakers for easy interactions with your dog. If you'd prefer a manual dog camera treat dispenser, you can always read about other models in the remote dog camera treat dispenser article.
In Short:
Has a 4L treat capacity
Record 1080p quality videos
Feeding time can be scheduled
The camera always keeps an eye on the treats left in the bowl
Features a speaker for pet to owner interactions
Hanyan Digital Pet Camera
On Dog Location
The camera will be located at the front of your dog's chest so you can get a clear view of what they see. It comes with a collar, user manual, a USB charging cable, and of course, the pet camera. If you'd prefer a more discreet option you can find others in the dog collar camera post.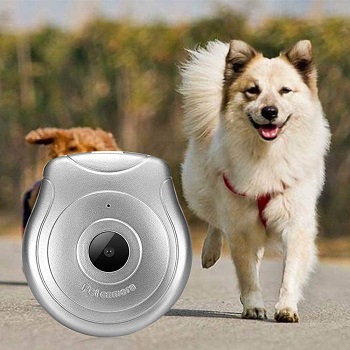 What It Comes With
The collar is orange and the camera is light so it won't disturb your dog. It's waterproof and will still work in environments with high humidity. You can even connect it to a computer and cats can also use it although it might look big on them.
In Short:
It's lightweight
Comes with an orange collar
Can be placed at the front of your dog's chest
Charges with a USB cable
Connects to computers
Features a user manual
Racetek Wireless Security Camera
Memory Storage
Although it has an up to 128 GB SD card slot, you can save money by storing everything on the cloud that you will have to pay for though. It has 360-degree rotation, can be mounted to a wall, and features 2-way audio, everything important in a puppy cam.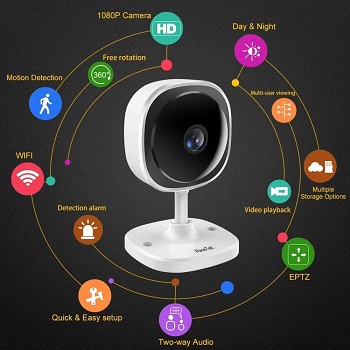 Camera And Wifi
This puppy camera can record 1080p HD quality videos, features a zoom option, has motion detection, and will alarm you when movement is detected, and multiple users can use the account it connects to through 2.4 GHz wifi. It works both during the day and at night. You can find others if you'd prefer a model with different features in the 2-way pet camera article.
In Short:
Has 360-degree rotation
Works with 2.4 GHz wifi
Records HD quality videos
The camera can be zoomed in
Has an SD memory card storage
You can save videos on a cloud
Works at night and during the day
Dogness Automatic Camera Feeder
Front Contents
The speaker on this feeder camera is located in the front just like the camera lens, treat bowl and dispenser. In case you can't always calm your dog down with your voice, you can throw them a treat. It's 16.5-in long, 8.66-in wide, and 16-in tall.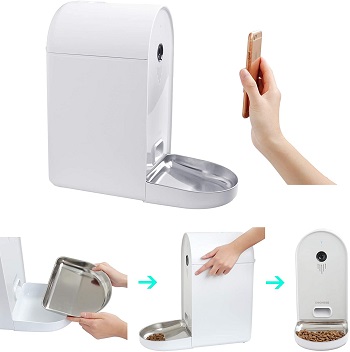 Storage And Dog Communication
It has a large treat storage capacity of 6.5 and works with a power chord or with batteries. It doesn't only feature a speaker but also a microphone so you can hear your dog. If you'd like to get a dog video camera with a speaker without the treat dispenser, you can read about others in the interactive dog camera article.
In Short:
It's 16.5-in long, 8.66-in wide, and 16-in tall
Features a camera, speaker, and microphone
can dispense treat into a bowl on the bottom
Has a large 6.5 treat storage capacity
Can work with batteries or plugged in
Taococo Dog Camera
Horizontal And Vertical View
The reason it works great as a dog monitor camera is because of the 355-degree pan and 110 tilt. You can control it using an app and it even features a night mode with clear vision o up to 30 ft away. It comes with screws so it's unreachable to dogs and intruders if you screw it into your ceiling or mount it to a wall.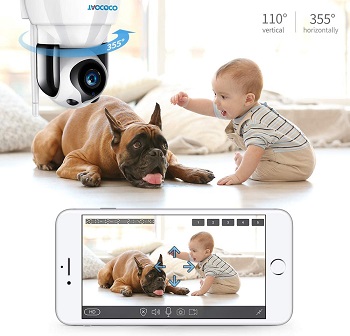 Multiple People Online
You can buy more cameras and connect them all to one app and one account and multiple people can use the app as well. It has 2-way audio, an SD card slot, and records HD quality videos. If you'd prefer a smaller, unnoticeable camera, you can find them in the camera to watch dog article.
In Short:
Visible during the night up to 30 ft away
Has a 355 pan and a 110-degree tilt
HAs a motion detector and two-way audio
Features an SD memory card slot
Comes with screws for ceiling installment
Records HD quality videos
One app can control multiple devices and have online multiple people
Amiccom Outdoor Security Camera
Outdoor Use
The recommended location of use for this camera is outdoors since it's IP66 waterproof and dustproof. It can work in -4F- 122F temperature ranges and can be screwed into a wall. It has a 32 ft range of night vision and can record 1080p resolution videos.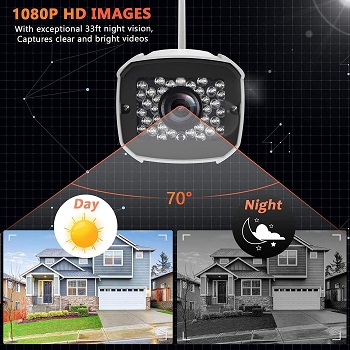 Motion Detection
It can detect motion up to 65 ft away meaning it will detect your dog and an intruder. It connects to home networks wirelessly live streams and allows for video playback all through a phone app. If you'd like a dog security camera that connects to computers, you can always read about others in the outdoor pet camera article.
In Short:
It's IP66 water and dustproof
Work in -4F to 122F temperature ranges
Has 65ft away motion detection
At night, it can record clearly up to 32 ft away
Can be screwed into a wall
Records 1080p resolution videos
Clever Dog Camera
Stand And Camera Quality
The camera sits on a circular stand a features a tubular shape. It records at a 120-degree wide-angle and features a small casing, unnoticeable to the common eye. It offers day and night HD quality video recording and detects motion, audio, and features a speaker.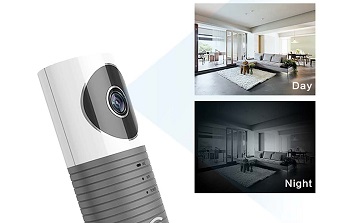 Other Features
It has a USB power adapter, can be mounted to a wall, and even offers cloud storage for unlimited video memory. If you'd like your camera to have a wider field of vision, you can always look up other models reviewed in the indoor dog camera article.
In Short:
Records data 120-degree wide-angle
Offers HD quality videos at night and during the day
HAs a small casing
Can be mounted to a wall
Features a mic and speaker for two way audio
Offers cloud storage
Plugs in with a USB power adapter
Tbmax Wireless Security Camera
App Info
The app connected with this camera can send you smart notifications whenever motion is detected or a loud sound is produced. It can record FHD 1080p quality videos and it takes photos, records videos, and even has night vision mode. It has a wide pan and tilt of 355 degrees and 155 degrees.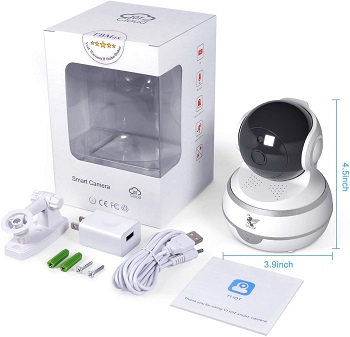 Night Vision And People Online
On top of all of the things mentioned, it records at night with a clear view range o up to 32 ft. It can have multiple people online so if you can't calm your dog down using its 2-way audio feature, another person might. You can learn more about this 2-way dog camera and even cat cameras in the 2 way pet camera article.
In Short:
The head moves 355 degrees pan and 155 degrees tilt
Can have multiple people online
Features night vision mode with a 32 ft range
Records FHD quality videos
Sends smart notifications about detected motion and sound
Tooge Pet Dog Camera
Camera Looks
The camera sits on a stand and has a rounded head that can rotate 350 degrees and vertically 80 degrees. You can control it on your own using the app and when you notice you're doing something they shouldn't, you can stop them by speaking to them using the 2-way audio.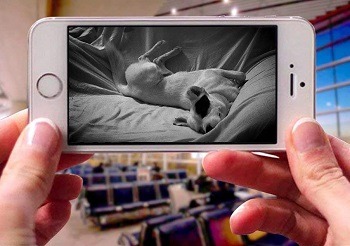 Memory And Record Modes
It offers nigh visibility up to 32 ft away and sometimes even more with HD quality video. It connects to a 2.4 GHz wifi and can record to an SD memory card where you can review all of the recordings it took. This camera is one of the many available types of wifi dog cameras so check them all out if you want to be sure you got the best.
In Short:
Has night visibility up to 32 t away
The 350 degrees and 80-degree pan and tilt are app controllable
It connects to 2.4 GHz wifi
Records HD quality videos
Features a mic and speaker for two way audio
Vbroad Smart Pet Camera
Camera Info And Wifi
Since it connects to 2.4 GHz wifi, it's fully controllable by an app. You can toss treats, take photos, record, talk to your down and listen to them. It records 720p HD quality videos and has a 165-degree view angle. You can play with your dog by throwing treats at various distances.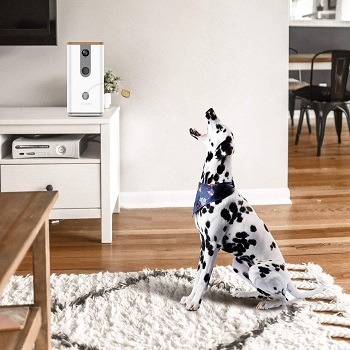 Treat Details
It has a 0.4L treat capacity and functions with dry treats for cats and dogs that have a diameter of up to 0.6-in. If you'd like a treat dispenser that's compatible with the 5G network, you might find them in the wifi dog treat dispenser article.
In Short:
Connects to 2.4 GHz wifi
Can throw treat at various distances
Has a 165-degree wide recording angle
Doesn't work with 5G network
Has a 0.4 L treat capacity
The treats can have up to 0.6-in diameter
Has a mic and speakerphone
You can record videos and take photos
Petcube Bites Pet Camera
Treat Throws
The treats it dispenses can be thrown at 3 different distances or you can schedule a treat dispense using the provided app. It can store 1.5 lbs of treats so you won't run out while you're away. This dog camera with voice is one of the many 2-way pet cameras so check them all out to make sure you get the best.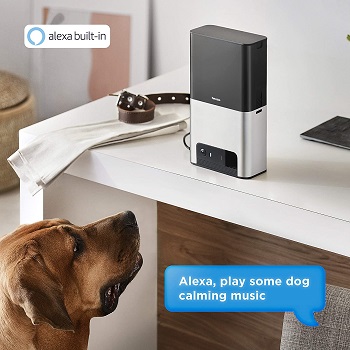 View Angle And App
This dog watch camera has a 180 wide-angle camera that can record at a 160-degree view. It detects motion and can send notifications to your phone when it's detected. It features a microphone that has a 4 array meaning the sound coming to you is cristal clear. It can be voice-controlled with Alexa.
In Short:
Has a 1.5 lbs treat capacity
The camera records data 160-degree view
Has a built-in motion detector, mic, and speaker
Can dispense treat at 3 distances
You can schedule a treat-dispensing time
Cameras To Avoid And Best Alternatives
Down below you can find the types of models we don't recommend buying due to different reasons like dog safety. Also, check alternative solutions if you're not able to find a dog camera suitable for your needs.
Avoid Buying Those Types Of Dog Cameras
We don't recommend buying a camera with bad camera quality which is less than 720p. Also, avoid models without wide lenses which won't provide a full view of the room. Camera collars that run hot are not recommended for use because it will bother cats. If you're buying a camera with a laser, avoid models that directly eject rays, because of the sensitive dog's eyes.
Can a Security Camera Replace a Dog Camera?
Yes, and it is the best alternative solution if you can't find a suitable dog camera with functional features for your needs. Choose a small and compact security camera that needs to have at least 720p image resolution which will provide a great view. Also, most of the security cameras have tilt and pan options as well as a panoramic lens which will provide a wider view. It is important to check if the security camera is compatible with your network frequency as well as with the remote device from which you will monitor.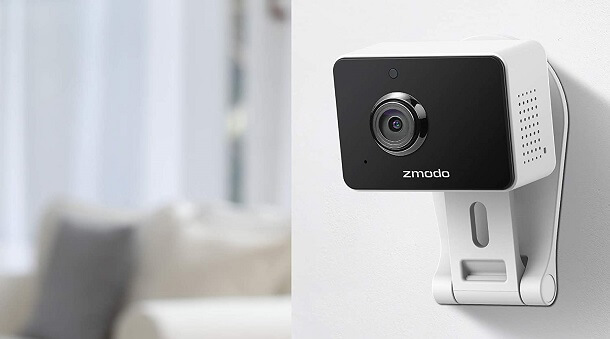 Use Laptop or Tablet As Dog Camera
Another good alternative is to use your laptop or tablet and pair it with your smartphone. There are some mobile apps that can easily pair with compatible Windows laptops such as the PetCam app. So how does it work? It is important to have an Internet connection on both devices. Download the app and set the "pet station" device (laptop or tablet) and "receiver" device (smartphone). Click the button for the live cam and you can start monitoring while you're away from home.
Adapting The Dog To New Device
If this is your first time buying a camera and you're not sure how your dog will react to it here are the tips that will help you easier adapt your dog to the new device.
Test It First
When you installed the camera, test sound, and other additional features so you can check his reaction. We recommend going to another room where he can't see you so you can try out all the interactive settings.
Confusion And Fear Is Normal Reaction
Don't worry if your dog is confused or scared for the first time. In most cases, it is normal, especially if they're usually afraid of sounds. It will take some time to get used to the camera and learn how to use it.
How To Help It?
Check if the volume is suitable for the dog ears. Dogs can hear much better than humans and they're much more sensitive to loud sounds. We recommended turning the volume a little bit down. Train your dog for a few days by using the camera a few times a day. If the camera has additional features like toss treats, teach him by using commands.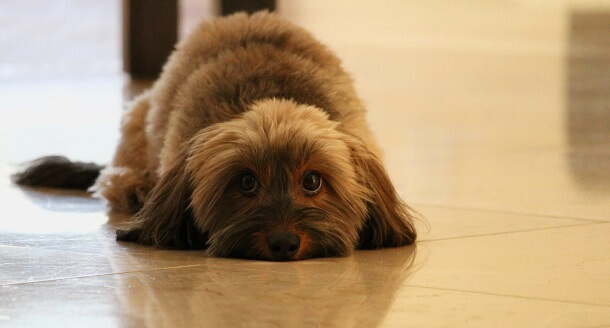 Is the Dog Camera Safe For Use?
Yes, if you're buying a camera from a reliable brand that has passed technical testing. Most of the cameras are safe for use and made of BPA-free plastic.
How To Provide Maximum Safety
All types of indoor cameras need to be set in a place where your dog can't reach it easily. Check if the camera has an anti-slip surface so it won't fall down. All the wires need to be hidden either behind furniture or in a cable box so the dog won't start biting it, which can be dangerous. Collar models need to be comfortable on the dog's neck and not cause him any pain or breathing difficulties.
Can Cameras Easily Get Hacked?
The easiest way to ensure your privacy and data from outside hacks is by enabling 2-step verification. Most of the camera has this option which you can find in-app settings. Just place the verification button "on". You will get a confirmation code which you can use every time the app prompts it. Also, make sure you don't have a weak password or unsecured WiFi network for maximum safety.
Camera Maintenance – Which Models Request Cleaning?
Most cameras request easy maintenance because of dust, but models that require detailed cleaning are cameras with a treat dispenser.
Why Do Cameras Need To Be Cleaned?
If your model takes a lot of dust, cleaning them will look shinier. Models with treat containers are full of crumbles because of dry food which can leave stains. Also, when the device ejects the treats, crumbles can get stuck inside the hole and cause a mess. It depends on how often you use it, but it is recommended to clean it at least once a month.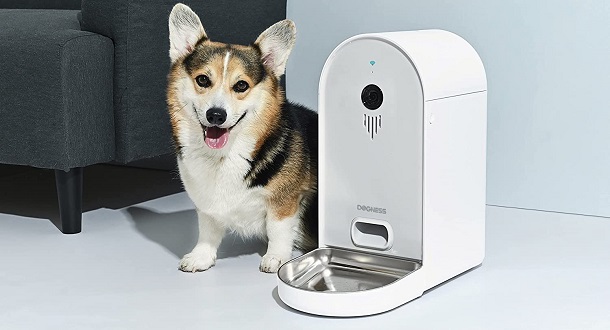 Recommendations For Cleaning Accessories
You can use the damp or dry cloth for dust and container cleaning. For dust, there are specific types of cloth that will take the dust in one swipe. Use the damp cloth to remove all the crumbles inside the container and carefully clean the ejecting hole.
Tips For Choosing a Model With Minimal Maintenance
If you want to avoid models that need to be cleaned often, we recommend choosing a light color that will not show that much dust on the top of the device. Also, you can choose a model with a wooden lid. A black camera is the worst choice, for sure. Cameras with treat dispensers are not for you, either, because they request occasional cleaning.
Camera Warranty And Tech Support
All of the dog cameras come with a warranty which includes the possibility of exchanging or returning the device in 30 days if the is a new one if there is an error on the camera. Also, every manufacturer has tech support so you can contact them if you have troubles with setup or installation.
Do Pet Cameras Require Assembly?
No, all of the cameras come in one piece and only request minimal setup if they have wires, and crews for wall installation.
Steps For Quick Installation
By using our installation steps you will need 10 minutes for full setup.
Step 1. Check if you have all the needed pieces in the box. Which pieces need to be included you can find in the printed instructions.
Step 2. Charge the battery or place it inside if you use a battery model. For electric models, stick the wire in the nearest socket. Make sure the wire is long enough to reach the nearest socket. If the camera works properly, your indicator will show a green light.
Step 3. If you're buying a wall-mounted model, you will need a drill to install it on the wall. Place the crews inside small holes on the back of the device and easily drill it.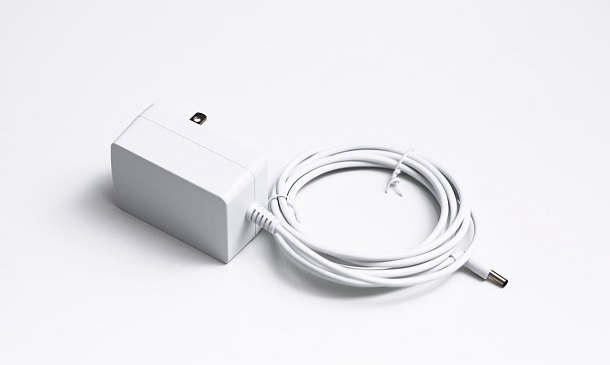 Where To Place a Dog Camera?
It depends where your dog is moving the most and what type of camera resolution and video features the model has. Most dog owners use the living room for monitoring, especially if their dog usually sleeps there. Place the camera in a higher position to have a wider view. Make sure you can check all the corners while using the tilt and zoom features.
Do You Need Multiple Cameras For Full House Monitoring?
If your dog is allowed to roam around the whole house while you're away we recommend buying a camera that allows you to connect multiple devices for monitoring on the app. If you don't want to spend too much money on a dog camera, limit the space where your dog is while no one's home, so you can always keep an eye on him from the remote device.
Dog Camera FAQ
We listed all the frequently asked questions for new camera users which can help you decide if your model is the best option for your needs.
Can Dogs See The Owner Through The Camera?
Some of the interactive models have a built-in LCD screen which allows two-way video interaction.
What Type Of Treat Are Suitable For Models With Treat Dispensers?
Only dry food is suitable for cameras with treat dispensers with an average of 0.6 diameters. Most of the brands are suitable for more than 100 different types of treats. It is forbidden to use wet and all types of canned food which can't be ejected and will clog the device.
How To Charge a Camera With Battery Supply?
If you're planning to buy a camera with a rechargeable model, you will get a USB cable that is compatible with your phone charger as well as a USB computer port. Charging will take a few hours.
Are Collar Cameras Suitable For All Dogs?
Collar cameras are suitable for all small and medium-sized dogs, but not for puppies. Cameras are not heavy and too large to bother the dog while moving around.
Are Collar Dog Cameras Waterproof?
Most of the collar models are waterproof and can be used in humid environments.
Are Apps For Monitoring Free?
Most of the apps are free and don't require additional fees or subscriptions. However, there are manufacturers that offer subscriptions for cloud storage.
How Long Files Get Stored On Device?
It depends on the camera model and manufacturer. Most of the cameras keep files for 30 days.
Can You Monitor Your Dog On Schedule?
Yes, some of the models include schedule monitoring time which you can adjust on the app. This feature will remind you to check up on your dog.
How Many Degrees The Camera Can Rotate?
Most of the rounded camera models can rotate up to 350 degrees vertically and up to 100 degrees horizontally. If the camera has this option it needs to be highlighted in the instructions or additional information.
How Far Motion Sensors Can Detect Intruders?
Models that have motion detectors can detect intruders and objects up to 30ft. Most of the models can only detect human-sized objects.
To Sum Up
If you made it through to here, you will have realized by now that every dog camera is different and it's just a matter of your dog's behavior, their, and your needs that will prevail when picking out a model and type so we won't recommend one to you today. If you're interested in reading about treat cameras for both cats and dogs, you can read the pet camera treat article and if you have a puppy that you'd like to monitor, you can read about puppy cameras next. If you'd prefer to see all of your options, you can always read the pet cameras article next.