Are you tired of all the robust and huge GPS dog trackers and collars so you decided you'd get something a little more discreet like a GPS chip for dogs?
There's plenty of options available on the market and we summed everything up and provided you with reviews of only the best. If you continue reading this article you won't just read about the products but you'll also learn more about them in general. Some of the products we included in the review belong in the collar chip, injection, and even under the skin category.
The Summary
Best 11 Dog Tracker Chips
BEST OF BEST GPS MICROCHIP FOR DOGS
Dog Supplies ID Microchip
Package Details
If you make an appointment and bring this product to your vet, they'll know fully where to inject the microchip using a syringe provided in the package. A typical microchip is 1/2-in long but this one is only 1/4-in long. It comes in a set of 2 for the price of 10 dollars but doesn't include registration fees.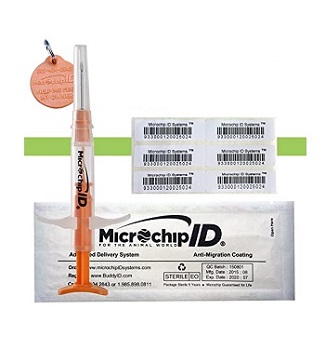 Comfortable Injection
The gauge of the needle is a lot smaller meaning your dog will experience less discomfort upon injection. The fee you'll pay if you register costs 25 dollars for a lifetime of use. If you're still not sure about this product, you can read reviews of others in the pet tracker microchip article.
In Short:
Comes with a syringe and microchip
The microchip is 1/4-in long
The needle gauge is smaller
Costs around 10 dollars
Comes in a pack of 2 microchips
Requires a lifetime registration fee of 25 dollars
A veterinarian can inject it
BEST COLLAR DOG TRACKER CHIP
KumasonCo Smart Pet Tag Chip
Tag Content
The product is a tag that you can attach to your dog's collar using a small climbing buckle. It has a scannable QR code that will lead anyone who scans it onto a customized pet profile page. It's made with anodized aluminum and the info is embedded into the layer of the metal so it won't fade.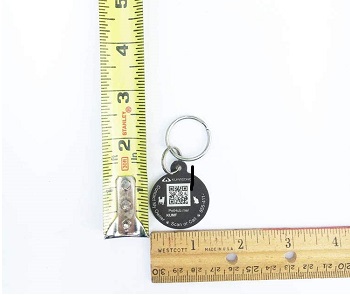 Pet Profile And Hotline
This is not a tracker though. If your dog gets lost the person that finds them can scan the QR code and can easily contact you. They can also call the 24/7 free hotline in case they can't scan the QR code. You can customize what info is displayed on the page as well. For actual dog locators and not this dog collar with a tracking chip, you can read the pet GPS chip article next.
In Short:
Made with anodized aluminum
It's weatherproof
The info on the tag chip is embedded into metal layers
The QR code leads to a web page pet profile
You can customize the profile info that's displayed
Has a 24/7 free hotline
BEST INJECTION GPS MICROCHIP FOR DOGS
HomeAgain Microchip Implant
Injection Sites
Each animal has a different recommended injection site for a microchip. With this chip and with dogs, it's injected between the shoulder blades. If you're curious about these dog tracker injections, you can read the pet tracker microchip article to learn more.

Done By Veterinarian
The Syringe and microchip come in a sanitized bag and you'll have to make an appointment with your veterinarian for them to inject it. It's about the size of a grain of rice which is 12mm. It has no energy source so it lasts a lifetime, Each microchip comes with a unique ID code so that it only locates your pet and you can register it with the American kennel club. It doesn't require an anesthetic for injection.
In Short:
Should be injected by a veterinarian
It's about the size of a grain of rice
Comes in a sterile bag
Gets injected between shoulder blades
It lasts a lifetime
Can be registered with the American kennel club
Has a unique ID code
BEST UNDER SKIN DOG TRACKER CHIP
Backagin 1 Pack Microchip
Microchip Size
The microchip measures 2.12mm in length and 2mm in width so it's barely visible. It can get injected either on the side of the neck or between the shoulder blades. You'll get 20 microchips and syringes with this pack but you can get a single pack for 10 dollars. This dog tracking chip under skin model is a part of dog location tracker chip collars, check them all out if you're curious to learn more.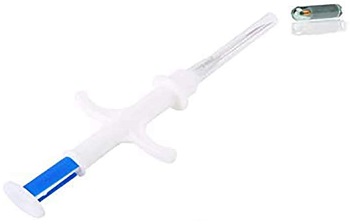 Registration Details
You can register for free and the site will view all of your information that you can change when needed. When the dog gets lost, the microchip can be read so that the shelter can contact and you get your dog back safely. It comes with a device to check if the chip is still working.
In Short:
Measures 2.12mm x 2mm
Can get injected on two sites
Offers free lifetime registration
Comes with a device to check if the chip is working
The microchip easily gets read by dog care professionals
You can update dog profile info when needed
Comes in a pack of 20
BEST BLUETOOTH GPS CHIP FOR DOGS
Beauty Online Item Locator
Bluetooth Connection And Range
The device connects to your phone via Bluetooth and has a 98 ft range. When it goes out of range, it will warn you so you can get back on track in finding your dog. It comes with spare batteries and can last up to 10 months with the spare battery. You can attach it to your dog's collar.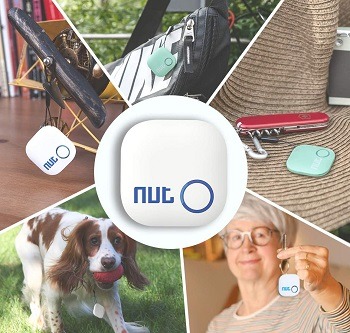 App Info
Using the provided app, you can see the last connected location of your dog. We would advise you to stay away from outdoor tracking because of its range though. If you'd like an outdoor option, you can always read the pet GPS chip article for more products.
In Short:
Connects to an app via Bluetooth
Has a 98 ft range
Warns you when it's out of range
Can be attached to dog collars
Produces a sound to help you find your dog
Shows last connected location
The batteries are changeable and last up to 10 months
BEST LOCATOR DOG TRACKER CHIP
Yepzon Freedom Tracker
3G Network Working
It works without the need for a SIM card or cellular plan. It can locate dogs anywhere there is a 3G network available. Through the app, you can check on your dog's location and you can attach it to their collar using the metal loop accessory. This pet GPS chip locator is fairly large so in case you need a smaller one, read the pet GPS chip article linked below for more discreet models.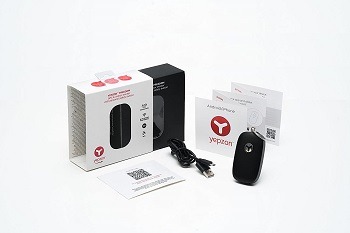 Three Modes
It works in three modes. It features an SOS button and can work only by pressing it, it can work with the combination of an SOS button and GPS tracker, or it can work solely with the GPS tracker. You can connect more devices all through one app and account.
In Short:
Works without a SIM card
Connects through an app
Has an SOS button
Works with GPS
Can track location anywhere where there is a 3G network
BEST PUPPY GPS CHIP FOR DOGS
Tile Mate Bluetooth Tracker
Device Shape
The device looks like a squared plate with rounded corners. It features a hole that allows you to attach it to everyday things and your dog's collar. For more sophisticated GPS pet chips, you can read the article we've linked below and learn more about them.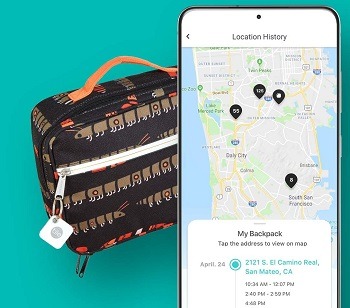 App And Bluetooth
It comes with an app and connects to your device using Bluetooth technology. It has a 200ft range and when your puppy gets out of that range, you can view the last connected location on the app. It's water-resistant, has a one-year replaceable battery.
In Short:
Looks like a squared plate
Can be attached to a dog's collar using a hole
Has a 1-year replaceable battery
It's water-resistant
Connects using Bluetooth
Has a 200ft range
Can show last connected location via an app
BEST TAG DOG GPS TRACKER CHIP
Cube Key Finder Tracker
What It Does
Although it's intended to work as a key or phone finder, it can well work as a dog tracker as well. You can attach it to the collar using a keychain. For products designed precisely and only for dog tracking, you can read the pet GPS chip article to find them easily.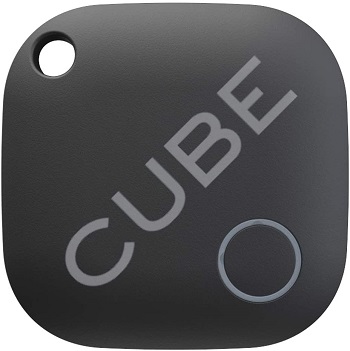 Device Durability
It's IP67 waterproof and you can use the community the find your dog if it goes out of the Bluetooth connection range of 400ft which is larger than any other mentioned range so far. You can show map location and see the last known location as well.
In Short:
It's IP67 waterproof
Connects via Bluetooth
Can get attached to your dog's collar
Has a 400ft range
You can use the helpful community to find the dog
Shows location and last known location in-app
BEST MINI GPS MICROCHIP FOR DOGS
Petkey Iso Mini Microchip
Number Of Microchips
The contents of this package are ten syringes with microchips. All are placed in their bag that's sterile and you'll even get 6 barcode stickers for each microchip. There's a card waiting for you in the bag of each chip that acts as an activation card.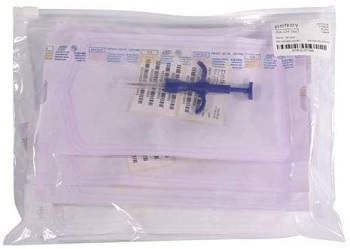 Syringe Details And Activation
The needle of the syringes are very sharp so it's easy to inject under the dog's skin and it's a 30% smaller needle for a more comfortable experience for the dog. You'll also need to activate it via the website or by calling the number listed. To learn more about what they do we advise you to read the pet tracker microchip article.
In Short:
Has a 30% smaller syringe
Comes with 10 syringes and microchips
All products are individually packed in sterile bags
Needs to be activated via the website or by calling the number provided
Each chip has 6 barcode stickers and 1 activation card
BEST KIT DOG TRACKER CHIP
M-Pet 10 Pack Microchip
Size And Other Animal Use
Since the microchip is sized as 1.4mm x 8mm it's suitable for use with smaller animals like cats as well. If you'd prefer to read about dog-specific microchips, you can always find them along with others in the pet tracker microchip article we've linked below.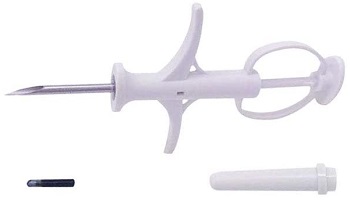 Owner Info
Not only is it suitable for cats but other small animals as well. If you are one such person to have multiple animals, you'll enjoy the fact that you'll get 10 microchips for around 25 dollars. It can be scanned worldwide and will lead to a website that has your information available.
In Short:
You'll get 10 microchips and syringes
The microchip is sized at 1.4mm x 8mm
It's great for dogs and small animals
Costs around 25 dollars
Can be scanned worldwide
BEST PROFESSIONAL GPS MICROCHIP FOR DOGS
Yanzeo Dogs ID Microchip
What It's For
You have to be aware that this and other products like it won't put a GPS tag on your dog so you can locate them. When they're lost and found, the microchip can be read so that the dog can get back to you. It's easy to inject and is universally readable by pet scanners.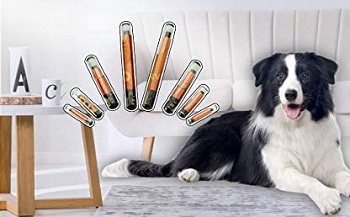 Size And Syringes
Each microchip is 2.12mm x 12mm big and you'll get ten of them, each with their separate syringe. It's safe to use on other animals as well. You can learn more about this chip specifically if you feel like you need more info or find others in the linked article below about pet tracker microchips.
In Short:
You'll get 10 products
Can be placed on most animals
The chip is universally readable by scanners
It measures 2.12mm in diameter and 12mm in length
It works in a way that your information is visible when scanned
How To Pick A Dog Tracker Chip
When picking out a GPS chip for dogs, it's all about knowing the possibilities and models available to you. We'll go into the various types available and talk some more about the pros and cons of each type. We, of course, won't stop there all in this buying guide.
Chip VS Microchip – The only real difference between a chip and a microchip is that a chip is external and a microchip is internal. Internal meaning that it's injected using a syringe under the dog's skin. A chip is external and is usually fairly small and easy to attach to a collar.
Dog Chip Tracker Cost – We were fairly surprised to learn that all of these pet GPS chips and microchips rarely cost more than 30 dollars. The microchips are cheaper but have to be inserted by a veterinarian. One more thing to keep in mind is that sometimes you'll have to pay a registration fee but fairly often it's a lifetime registration with no additional costs.
Dog Chip Tracker App – There aren't that many apps for chips and microchips out there. If your dog gets lost, a shelter will be able to read the microchip and in the case of a chip, read the tag details. The apps in this case are pet profiles with your and your dog's information that you can update.
Bluetooth Chips – We reviewed a few Bluetooth chips as well. They are primarily made for tracking lost things like phones and do work with an app but don't have that big of a range. The most you'll get out of their range is 400ft so it's best to use them for indoor situations and not outdoors.
GPS Connection – If you find a chip that you can track down via app, you better check how exactly the chip connects GPS. Fairly often there will be a monthly fee involved but the benefit is that it allows you to track your dog anywhere where there is a 2G or 3G network which is basically everywhere in today's internet and network-obsessed world.
To Sum Up
If you feel like you need a dog tracker chip, you can easily get one since they aren't expensive at all. Just make sure you think about whether you want it to be on your dog's collar or if you want it as a microchip that's inserted as an injection and under the dog's skin. If you'd prefer to focus on GPS collars, you can read the best-rated dog tracker article and if you'd like all that but for a cat, you can check out the best cat GPS tracker article. For products for both cats and dogs and all types and categories reviewed, you can read the dog and cat GPS tracker article.