Have trouble with space and can't fit a regular cat tree in your home so you thought you'd get a cool and space-saving alternative that is a wall cat tree?
You will definitely find this article informative and useful then and all you have to do is keep on reading it to learn about the best models out there. We made sure to review them in different categories like cheap, wall gyms, bookcase models, and a lot more.
The Summary
Best 16 Wall Cat Trees
BEST OF BEST CAT CLIMBER WALL
PawHut Cat Activity Tree
Wood Used
The small condo and shelves that get mounted to walls are all made out of natural pine wood and feature its natural color as well. It features a fabric bridge/ ladder and 3 posts wrapped fully with sisal rope for scratching. It has a weight limit of 10 lbs so some large cats can also use it.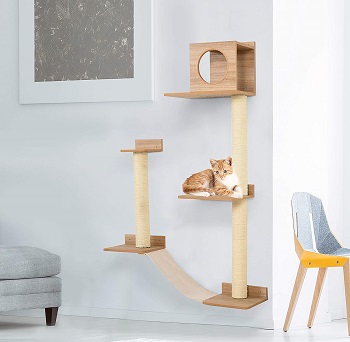 Product Height
It's hard to say how wide the whole wall cat tower is since each shelf has different measurements.  What we can say is that it's 61.5-in tall due to the tall sisal post. If you'd prefer a different design, model, and differently functioning tree, you can read the artistic cat trees article next.
In Short:
Made with pinewood
Features 2 sisal rope wrapped posts
It's 61.5-in tall
Comes featuring 4 shelves, a condo, and a fabric bridge
Has a 10 lbs weight capacity
BEST BOOKCASE CAT FURNITURE WALL
CatastrophiCreations 18″ Cat Shelf
Shelf Dimensions
The product is nothing but an 11-in wide, 18-in long, and 3-in thick shelf made using bamboo wood which is a great sustainable alternative to regular wood. The brackets are hidden meaning that it looks like it's floating and it features a natural wood color.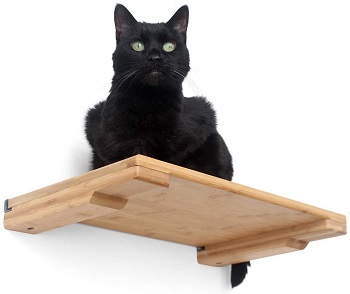 Expanding The Product
It can become a part of a cat wall gym as well since you can connect fabric hammocks from the same manufacturer to it and buy other products in their wall cat playground range. Due to its size and weight limit, it can be used by both large and small cats and it can even be used for books. If you'd like more cat bookcase climber shelves, you can read the bookshelf for cats article for more.
In Short:
Features one book cat shelf
It's 11-in wide, 18-in long, and 3-in thick
Has hidden brackets for a floating design
Made with bamboo wood
You can expand it and attach hammocks to it
Made for cats of all life stages and sizes
BEST GYM WALL CAT TREE
Aveen Cat Hammock Activity Gym
Rest And Play
Your cat won't just get to play on this wall climber but also rest due to the small covered platform featuring a sisal rope post and the hammock bridge. Another reason for it is that it's fully carpeted with dark brown plush material. In total, it has 4 shelves, one bridge, a wall scratchboard, and a sisal rope post.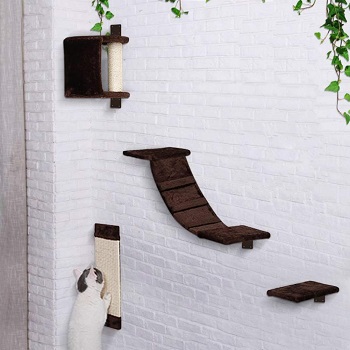 Fully Cat Safe
It features no smell nor paint so it's completely safe for cats. The frame is made with natural solid wood and it's recyclable as well. If you don't want your cat gym wall to be carpeted, you can read the modern cat wall shelves article to find the opposite.
In Short:
Made with natural solid wood
It's fully carpeted with plush
Features a bridge hammock and a condo
Has a scratchboard and sisal rope post
Has 5 mountable features
BEST PLAYGROUND WALL MOUNTED CAT TREE
CatastrophiCreations Climb Tree Wall
Fabric Floors
Your cat probably won't need anything else to rest and play on. Although it doesn't exclusively feature resting areas, the floors are made out of fabric so your cat can walk on them and rest on them. They attach to the wall mounting bamboo frames and there's even a sisal rope post there.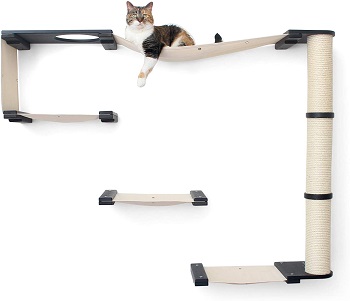 Weight Limits
The hammock floors have a 120 lbs weight limit while the sisal rope post that is 52-in tall has a 65 lbs weight limit. The hammocks have an 11-in width and overall, the hammocks are 56-in long. You can read about other products falling into the cat playground on wall category in the cat jungle gym wall article.
In Short:
Made with bamboo wood
Has fabric floors and a sisal rope post
The floors have a 120 lbs weight limit
The post has a 65 lbs weight limit
It's 52-in tall, 11-in wide, and overall 56-in long
The fabric floor is removable and washable
BEST BED CAT CLIMBER WALL
K&H Pet Products Kitty Sill Fleece Shelf Bed
Support And Bed
The bottom support legs make it look sort of antique. The shelf that acts as a bed features an orthopedic foam and a faux lambskin cover. It's non-heatable but will keep your cats warm and cozy for sure. The support legs are 9-in tall and you can mount them to walls using screws, adhesives, and hooks, all are included so it's up to you.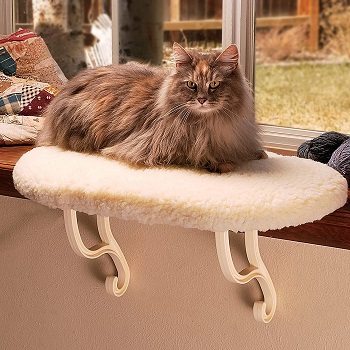 Weight Capacity
The whole thing can support up to 40 lbs of weight meaning that you can also use it for something else since no cat, or at least rarely any weighs 40 lbs. The cover is washable. If you'd prefer to have your cat-shelf bed designed differently, you can read the modern cat wall shelves article next.
In Short:
Features one shelf and 2 support legs
The legs are 9-in tall
The shelf features an orthopedic foam bed and faux lambskin cover
The cover is easily washable
Supports up to 40 lbs
Can be mounted with screws, adhesives, or hooks
BEST INDOOR WALL CAT TREE
On2Pets Cat Furniture
Decorative Looks
The shelves function as both decorative pieces and as cat climb shelves. The decorative function is present since they feature faux leaves and branches all around so they add a bit of privacy for your cat as well. If you like the idea behind this type of indoor cat climbing wall but not the product, read the real wood cat tree article next.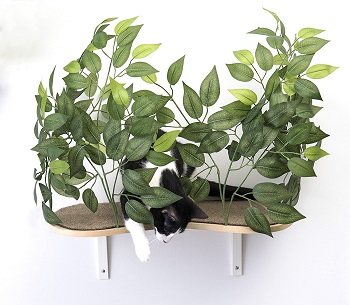 What's Included And Size
You'll get two shelves made with engineered wood that is also carpeted at the top. The shelves can handle up to 32 lbs of weight and are rounded. Overall, the shelves are 58.4-in tall if you include the bottom brackets and leaves, 30.5-in wide, and 30.5-in long.
In Short:
Made with engineered wood
Features 2 top side carpeted shelves
The shelve features leaf decorations
They can hold up to 32 lbs
They're 58.4-in tall 30.5-in wide, and equally long
BEST MODERN CAT CLIMBER WALL
Tardo X-Large Transparent Cat House
Oak Wood Build
The build material for this shelf is oak featured in multiple layers and does feature an acrylic bit as well but more on that later. In case you'd like to avoid materials like acryl on your modern cat wall shelves, you can read the article we've linked below for more.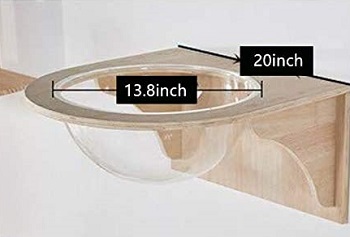 Acrylic Bits
The acrylic bit is shaped like a space capsule hanging from the 2 wooden planks. It acts like a cat bed and since it's transparent, you can always keep an eye on your cat. The wooden frame alone can hold up to 28 lbs and the capsule is 0.2-in thick. You'll get just the one capsule shelf and of course, you can expand on it.
In Short:
Made with multiple layers of oak wood
Has an acrylic space capsule
The capsule is 0.2-in thick
The oak wood frame can hold up to 28 lbs
The capsule is transparent
BEST CONDO WALL CAT TREE
Tinton Life Cat Tree
2 Condos Gym
Although it does have a condo, it's definitely not the main attraction of this cat tree. However, you'll get two condos featuring different designs and plenty of play features. If you'd prefer just one cat condo wall-mounted model, you can read the cat jungle gym wall for more.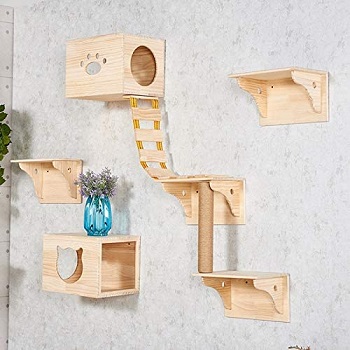 Things Included
The product is fully made out of pinewood and features the natural pinewood color as well. Apart from the 2 condos, you'll get 4 shelves, 2 ladders, and even a scratching post. Each condo is 15.6-in long, 11.8-in wide, and 11.4-in tall while the shelves are 13.8-in long and 9.5-in wide.
In Short:
Made fully out of pine wood
Features 2 condos
The condos are 15.6-in long, 11.8-in wide, and 11.4-in tall
Comes with 4 shelves that are 13.8-in long and 9.5-in wide
Comes with 2 ladders and a scratching post
BEST HOUSE WALL MOUNTED CAT TREE
Trixie's Cat Lounge And Play Set
Features Category
Some would say that a cat house is actually a condo but it's a model featuring both rest and play areas. This is one of those models since it comes with 2 perches, a hammock, and a cat condo. If you'd prefer lest rest areas on your cat house on the wall, you can find others in the cat climbing wall shelves article.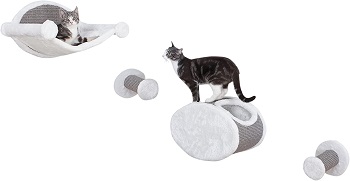 Frame And Color
The frame is made with engineered wood but it's fully carpeted with plush fabric material and colored grey and white. The perches are fully covered with sisal rope material while the condo and hammock are only partially covered with it. It mounts between a 16-in and a 12-in wall stud.
In Short:
It's fully covered with plush
It's made with engineered wood
Comes with 2 perches, a hammock, and a condo
All features are somewhat covered with the sisal rope material
Can mount between 16-in and 12-in wall studs
BEST BRACKET WALL CAT TREE
Big Nose Cat Tree
Brackets Number And Details
The feature of this product that gets mounted to a wall is the sisal rope post that is 43-in tall. It mounts to walls in three places using wall brackets and stainless steel hardware. If you found that you'd like to avoid a cat tree wall bracket mounted model, read the cat trees for small spaces article.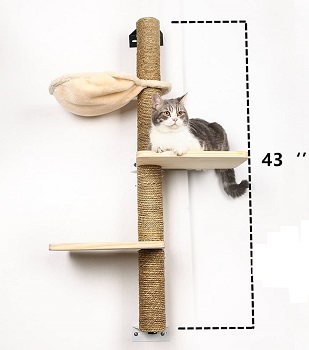 Set Features
You can expand it by buying more to create an even taller structure. Each set features 2 shelves and a hammock. The shelves are made with solid wood and are 0.7-in thick and can hold up to 15 lbs each. The hammock is made with plush material and acts like a hammock basket.
In Short:
The sisal rope wrapped posts mount to walls
The 3 wall brackets get attached using stainless steel hardware
The post is 43-in tall
Feature 2 shelves that are 0.7-in thick
Comes with a plush hammock
The shelves can hold 15 lbs each
BEST COOL CAT FURNITURE WALL
Myzoo Window Cat Perch
Entrance And Ventilation
The product acts as an enclosed condo featuring one entrance hole and 3 additional ventilation holes. In case you'd like more than just a condo for your cool cat shelves, you can read the luxury cat tree article to find larger and perhaps better models.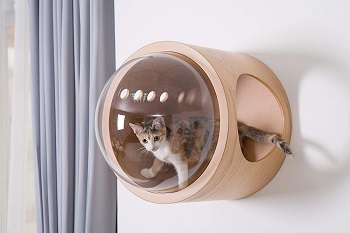 Ways Of Use
Although it's designed to mount on walls, that doesn't have to be the case and you can place it on your floors as well. It features a space capsule acrylic front and the rest is made using solid wood. It has an 8.6-in diameter entrance hole and it's 15.7-in tall and 18.7-in wide.
In Short:
Made with an acrylic material and solid wood
Can be mounted on walls or used on floors
It has an 8.6-in diameter entrance hole
It's 15.7-in tall and 18.7-in wide
Has 3 additional small vent holes
BEST FLOATING WALL CAT TREE
Bayka Floating Shelves
2 Operation Modes
You can choose to have the 3 perches look like they're floating or not since the metal wall brackets can be placed on the bottom or at the top of the perches. You can stick to nothing but the floating cat perch design if you read the modern cat wall shelves article next.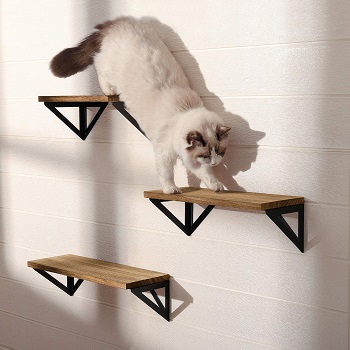 Shelf Size, Number, And Build
They're made with paulownia wood and vary in length but all are 6-in wide and 4.8-in tall. From smallest to largest, they're 11.4-in long, 14.2-in long, and 16.5-in long. You can use them as regular furniture shelves as well since they can hold up to 40 lbs of weight.
In Short:
Comes in a set of 3 shelves
Each shelf is 6-in wide and 4.8-in tall
In length, they're 14.2-in long, 16.5-in long, and 11.4-in long
Made with paulownia wood
The metal brackets can be installed at the top or bottom
Can handle up to 40 lbs
BEST BRIDGE WALL CAT TREE
CatastrophiCreations Cat Bridge
Width And Length
Bridges are both a great play and a rest feature of any wall tree out there since they hang and hold onto the wall mountable pieces on the far ends. This one is made with bamboo wood, it's 35-in wide and 11-in long and even has a weight limit of 85 lbs.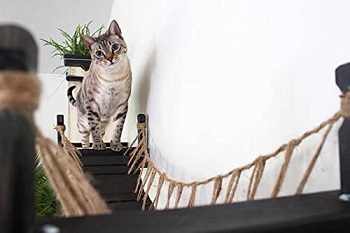 Colors And Looks
The bridge features small planks just like any real-life bridge does and even has roped decorative handles. You can get this cat bridge in 3 different colors but in case you want to check out more options to make your final verdict, read the cat jungle gym wall article for more.
In Short:
It's 35-in wide and 11-in long
Has 2 wall mountable platforms
It's made with bamboo wood
Can hold up to 85 lbs
Comes in 3 different colors
The bridge hangs from the 2 platforms
BEST SISAL POLE WALL MOUNTED CAT TREE
PetFusion Ultimate Cat Climbing Tower
Main Feature
If your cat is a climber and loves to scratch on things, the main attraction that everything else is built around is the sisal rope posts. It's made up of 4 smaller posts which means that you can change up its height as well. With the zinc wall anchors, you can safely mount it to walls.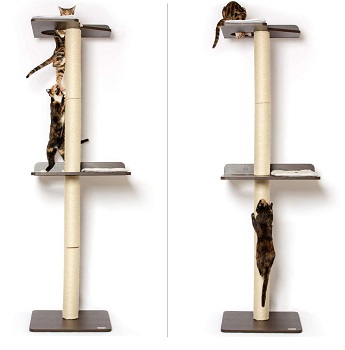 Product Stability
It does have a stand on the bottom so the wall mounting feature is more of a safety one. It's made with MDF wood, features 2 large platforms and small removable and washable carpets. There are multiple ways to mount it to walls in case you can't have it mounted in one way. For more wall-mounted sisal cat poles or completely different models, we advise you read the cat climbing structures article next.
In Short:
Made up of 4 connectable sisal rope posts
Has 2 platforms
Made with MDF wood
Mounts to walls in multiple ways
Has a floor stand for stability
Has removable washable carpets
BEST CHEAP WALL MOUNTED CAT TREE
Cjupzi Wooden Wall Cat Tree Shelf
What Comes In The Package
What you get for the price listed is one shelf with a rounded frame that mounts to walls. You can choose between two designs, One featuring a platform on top of the rounded frame, and one featuring a platform in the middle of the frame.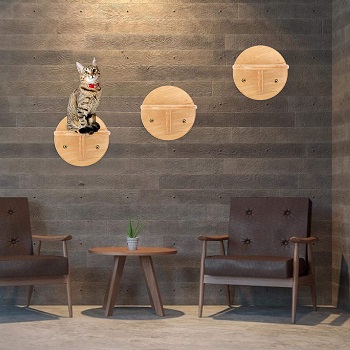 Frame Details
One shelf comes with mounting screws set and every additional shelf you'll buy will come with one as well. The circular frames have a 5.12-in. In case you decided against wall-mounted trees altogether but want to keep it wooden, you can read the wooden cat trees no carpet article for more.
In Short:
Features one shelf
The package includes mounting screws
Has a circular frame with a 5.12-in diameter
Comes in 2 shelf location designs
Made with wood
BEST LARGE CAT WALL MOUNTED CAT TREE
Fukumaru Cat Climbing Shelf
What It Is
There is only one component that gets mounted to walls but there are 4 features on just this one. It's a ladder so the steps are placed at varying heights. It's made with wood but each step is wrapped with jute material that is similar to sisal rope for scratching.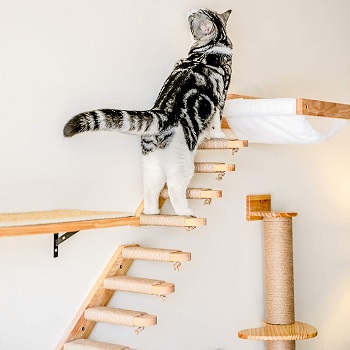 Size And Expansion Ease
Overall, it's 15.7-in tall and 8.7-in wide. You can buy more to create a larger staircase and connect it easily to other products since it features a natural wooden color. If you'd prefer to look at products with more features, read the modern cat shelves article next.
In Short:
Made with rubberwood
One piece gets mounted to a wall
It's a ladder with 4 steps
The steps are wrapped in jute rope
It's 15.7-in tall and 8.7-in wide
How To Pick A Wall Mounted Cat Tree
It's easy to choose a cat climber wall if you're handling all the right information and know what you need and what you can do to get it. That's why we decided to make this buying guide that'll help you get knowledgeable enough to buy one on your own knowing full well why it's good and the best option for you. Some of the things we'll talk about are the specific benefits of these trees, some cons, and many other things.
Wall Tree Benefits – The first most obvious benefit of any wall-mounted tree is that they are going to save space since they aren't placed on house floors. They can easily look discreet and are probably one of the more cool cat trees out there. If made right, they can even have a double function but more on that later.
Wall Mounting Issues – There are multiple ways in which a tree or shelves can get mounted on walls. The most common way is to use screws but some use simple things like adhesives or hooks. In case of mounting with brackets and screws, some folks might run into the problem of having a rented apartment and not being allowed to make holes in the wall.
Common Contents – The most common feature of these trees are wall mountable shelves. If they're made using only wood and are wide and thick enough. You can comfortably use them as furniture as well. In that case, be sure to check out the weight limit. Most have a high weight limit up to 40 lbs but some are cat-specific and go only up to 10 lbs which is the weight of an average large cat.
Product Expansion – The greatest benefit out of all is that you can easily expand on the product you already have with other similar products or ones that are the same or completely different. You can give your cat its jungle for a fairly reasonable price as well. The things we advise you get if you're expanding and/or building your own is to try and get products that look similar or are made from the same manufacturer for aesthetic reasons.
Can Kittens Use Them? – Kittens can use these products but we do recommend starting at a lower height so that your kitten can develop the climbing skills they need for you to take the whole thing higher when they grow up.
Common Tree Features – We've divided the features of these cat climber wall trees into two categories just like with any other tree. The first is rest features and the second is play features. Play features include sisal rope posts that will help prevent damage to your furniture pieces and of course shelves placed at varying heights. Rest features include condos and hammocks. If you want more of rest features, think about getting a carpeted with plush or other soft fabric material version.
To Sum Up
We'd love to recommend just one wall cat tree but in this case, it's just not possible since every product is different from one another. Besides, this is how we made this article for you to get to know all of the possibilities of a cat tree that's wall mountable. In case you've decided against these trees but want similar benefits, we advise you to read the tall cat tower article or the post on the best small cat trees. In case you want to completely understand what cat trees have to offer, we have this list of the best cat trees for sale.