Have a small, clumsy cat or you just don't have adequate space available for a large tree so you wanted to check out options for a small cat tree?
You'll be pleased to know that we reviewed nothing but the above-described models and all you need to do is continue reading this article to finally get your hands on one. We made sure to include plenty of different models like for large cats, for kittens, cheap, furniture, and plenty of others.
The Summary
Best 15 Small Cat Towers
BEST OF BEST SMALL CAT TREE
Mwpo 27 Inch Cat Tree
Base And Height
The biggest problem with trees that take a lot of space is the base width and length but the base of this tree is only 17.7-in long and wide. Its height also makes it small since it's 28.7-in tall meaning it's shorter than a standard sofa. It's fully carpeted with plush and the posts are covered with sisal rope.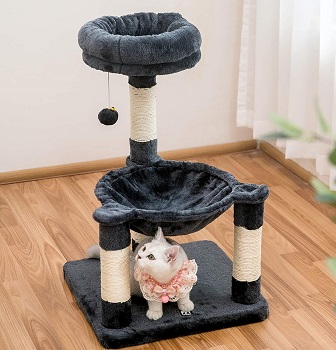 Other Features
It features a hanging batting toy ball, a hammock, and a bed at its highest point. Overall, it's made with particle board meaning that it's a wooden and durable option. It weighs 11 lbs so it will be easy to move around as well. For taller options read the article about cat trees for small apartments article next.
In Short:
It's 28.7-in tall, 17.7-in wide, and long
Made for small cats and kittens
Weighs 11 lbs
Comes with a hammock and bed
Features 4 sisal rope covered posts
It's fully carpeted with ski friendly plush
BEST CONDO SMALL CAT TOWER
Trixie Modern Cat Tree
2 Condos Details
The heart of this tree is the condo and everything else is built around that. It's circular and features 2 levels meaning it has 2 condos. If you don't want the tree to be built around the small cat condo, you can find other models in the linked article below about the cat tree for kittens article.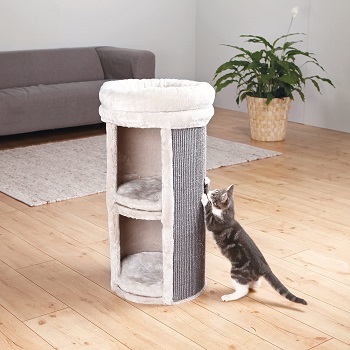 Outer Walls And Materials
The outer walls of the condos feature plush material carpets and an area with sisal rope so your cat can scratch away at it. On top, there is a bed with raised plush edges that can act as a pillow. Each condo features a cushion and it's 15.75-in long and wide, and 29-in tall.
In Short:
Has condos on two levels
It has a tubular shape
Each condo comes with a cushion
Has a raised edges bed on top
The outer walls are covered with plush and sisal rope
It's 29-in tall, 15.75-in wide, and 15.75-in long
BEST FOR LARGE CATS SMALL CAT TREE
7 Ruby Road Cat Wall Mounted Cat Tree
Tree Assembly
If you're not exactly a handyman man you can still enjoy the benefits of this wall-mounted cat tree. It comes with easy instruction on how to do it and it also features anchors and screws needed for its assembly. It's made with eco-friendly wood and consists of two perches and a hammock.

Perches And Hammock
The perches have a 3-in diameter and are covered with jute rope while the hammock area has extra thick padding. The hammock is 21-in wide, and 18.5-in long so it's perfect for larger cats. If you decided that you'd like your small cat tree for large cats to be grounded, you can read the modern cat trees for large cats article next for more options.
In Short:
Made with eco-friendly wood
Consists of 2 perches and a hammock
Comes with everything needed for mounting to a wall
The perches are covered with jute rope
The hammock is 21-in wide, and 18.5-in long
The perches have a 3-in diameter
BEST CLIMBER SMALL CAT TOWER
CatastrophicCreations Fabric Raceway Tree
Frame And Flooring
This is nothing more than an expanded ladder that you can expand on by buying more wall-mountable pieces. This one is also wall-mountable and the frame to make it happen is made with bamboo while the flooring is made with fabric. If you'd like a grounded small cat climber, read the cat climbing structures article next.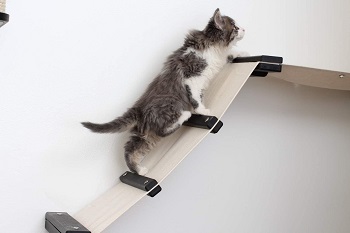 Shelves And Shelf Size
The fabric bits act as hammocks and you can easily remove them for washing. Each hammock can hold the weight of 120 lbs so it's good for both small and large cats or even multiple cats. The fabric is 42-in long in total, it has a total height of 20-in and a depth of 11-in.
In Short:
Made to be mounted to a wall
The mounting frames are made with bamboo wood
Has an 11-in depth and a total height of 20-in
The fabric floors as 42-in long
The floors can be removed and washed
Holds up to 110 lbs per fabric hammock
BEST FURNITURE SMALL CAT TREE
Oak & Paw Modern Cat Condo
Wood Used
Sometimes, all that's needed for a cat tree to be considered furniture is to not have it carpeted. Such is the case with this model that's made with compressed wood and colored light grey. It features 2 posts fully wrapped with sisal rope and comes with 2 beds made out of faux fur.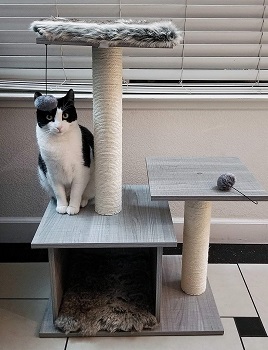 Contents Of The Tree
It has 2 platforms and a condo at the very bottom of the base. It weighs around 15 lbs and it's 18-in long, equally wide, and 24-in tall. If you'd prefer a more functional small cat furniture, make sure you read the luxury cat furniture article for models that match other descriptions.
In Short:
 Isn't carpeted
Made with compressed wood
It's colored grey
Has 2 platforms, a condo, and 2 sisal rope posts
Weighs around 15 lbs
It's 24-in tall, 18-in long, and 18-in wide
BEST STAND SMALL CAT TOWER
Catry Small Cat Post
Stand Height Maximum
The stand of this tree is both narrow and not very tall. It's colored green and covered with sisal rope so your cat will have no problems climbing this stand. It acts as a stem in reality because, at the top, there is a platform that looks like a sunflower.
Wood And Other Materials
It's made with engineered wood and features a round base for stability covered with soft plush materials just like the sunflower. Due to the base and platform which are its widest points, it's 17-in long and wide, and 26-in tall. If you'd prefer to review all of your options for a small cat stand, check out other fun cat trees next.
In Short:
Overall, it's 26-in tall
The stand posts are green and look like a flower stem
Has a sunflower shaped platform
It's 17-in long and wide
Made with engineered wood
The post is covered with sisal rope
BEST HOUSE SMALL CAT TREE
Petique Cat Penthouse Tree
Cardboard Made
Apart from being a safe house for cats, it also helps save the planet since it's eco-friendly cardboard. It assembles without the use of tools and not to worry, it's still a durable product. If you're a bit reserved when it comes to the durability of this small cat tree house, check out other models in the cat indoor tree article.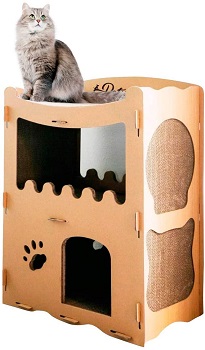 Flooring And Sides
The left and right sides of the tree features scratching posts on the outside and the inside. It features an entrance at the bottom and your cat can access the 2nd level and 3rd level easily. Each of the 3  levels features a carpeted bottom as well. Overall, it's around 21-in long, 12-in wide, and 28-in tall.
In Short:
Made from durable cardboard
Has a carpeted bottom
Features 3 levels
The left and right sides feature scratching posts
Around 21-in long, 12-in wide, and 28-in tall
BEST WITH HAMMOCK SMALL CAT TOWER
Big Nose Wall Mounted Cat Shelves Tree
Hammock Location
A hammock usually serves as a resting spot for cats and with the hammock on this product, considering that it's mounted to a wall and the hammock is placed on the highest point, your cat will have no problems being aware of its surroundings while resting. It's perfect for little spaces so check others out if you want to learn more in the cat trees for small spaces article.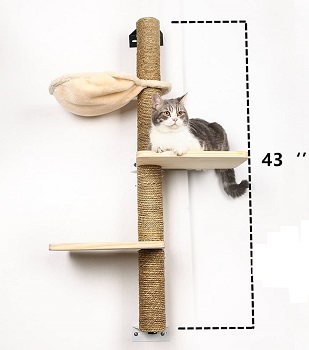 Sisal Post And Height
The hammock and the shelves are placed on a post covered with a sisal rope that gets mounted to a wall. It's 43-in tall and every 0.7-in thick shelf can hold up to 15 lbs. You can buy more sets to make it bigger as well and it gets mounted to a wall with stainless steel hardware.
In Short:
Has 2 shelves and a hammock
The shelves are 0.7-in thick and hold up o 15 lbs
Everything is connected to a sisal rope post
The post is 43-in tall
Can be mounted to a wall with stainless steel hardware
You can buy more to expand it
BEST WITH SCRATCHING POST SMALL CAT TREE
Catry Kitten Cat Tree
Scratching Post Materials
There are two materials to keep in mind apart from the particleboard frame of this tree. It's covered with paper rope and jute material. The paper rope is used instead of sisal rope for one post and is said to be skin-friendly. The jute material is another type of sisal rope at least in function and it's fully covered with it.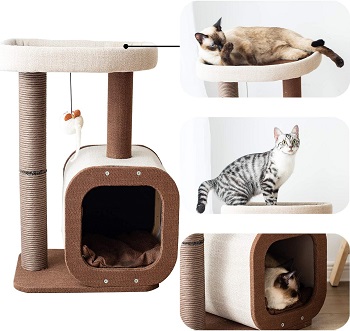 Fully Equipped
It features two posts, a platform on top that acts as a bed with raised edges, a condo, and a mini hanging mouse toy. It's 23-in tall, 11-in long, and 17-in wide. The condo entrance has an 8-in diameter while the best is 16-in wide. If you'd prefer a traditional small cat tree with a scratching post you can check out the cat scratcher condo article next.
In Short:
Has a particleboard frame
One post is covered with paper rope
The rest is covered with jute material
Features a condo with an 8-in diameter hole
Has a 16-in wide top bed
It's 23-in tall, 11-in long, and 17-in wide
BEST GREY SMALL CAT TOWER
Feandrea Grey Wood Cat Tree
Eco-Friendly Wood
The wood used to make the base of this tower is carb certified meaning its manufacturing process produces less harmful emissions damaging to the environment. It's completely covered with grey plush carpets and features a ramp with a sisal rope and features a partial sisal rope coverage on two posts.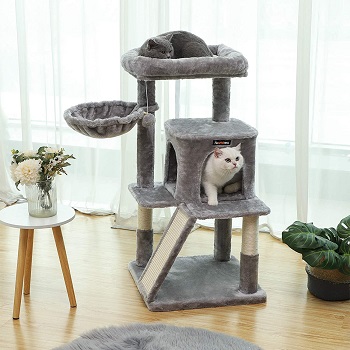 Condo, Hammock, And Other Things
The condo has 2 entrance holes and it features a bed with raised edges and a hammock on the higher parts. It's 37-in tall so it's similar to the height of a standard sofa and it's 18.9-in wide and long. If you had a smaller or uncarpeted small grey cat tree in mind, check out others in the best-looking cat trees article.
In Short:
Made with carb certified boards
It's fully carpeted with grey plush
Has a 2 entrance hole condo
Features a bed and a hammock
It's 37-in tall and 18.9-in wide and long
Has a sisal rope ramp and posts
BEST MODERN SMALL CAT TREE
Bayka Floating Cat Shelves
2 Functions
Modern cat trees are usually going to have a double function and be barely noticeable as a cat tree. Such is the case with this one that is floating shelves that you can use as regular shelves or as cat tree shelves. The metal brackets get mounted on a wall and a shelf is put on them. If this small modern cat tree is too un-tree-like to you, check out other products in the modern cat wall shelves article.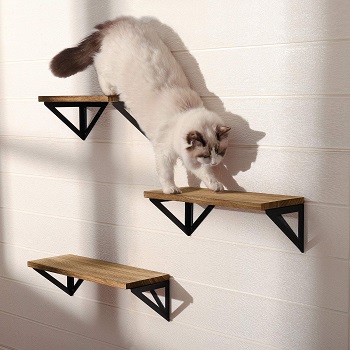 Mounting And Shelf Size
The brackets have 3 different modes of the assembly so you can make it look more interesting. The wood used is solid paulownia wood. The shelves are 6-in wide and 4.8-in thick so they can handle a lot of weight. Their length is varied but ranges from 16.5-in to 11.4-in. You can buy more but as it is, you'll get 3 shelves.
In Short:
You'll get three shelves of carrying lengths
Each shelf is 6-in wide and 4.8-in thick
The metal frames get mounted to walls in 3 ways
The shelves are made with solid paulownia wood
You can buy more and use the shelves as regular shelves
BEST FOR KITTENS SMALL CAT TOWER
Petmaker 3 Tier Cat Tower
Enrichment Toy
Trees made for kittens should always be small and shouldn't exceed the height of 2 ft. This one is 27.5-in tall and 19.5-in wide and long. The reason it's reviewed under this category is that it features a cat enrichment toy that will stimulate them mentally. It acts as a platform with a hollow bottom where 2 balls are located.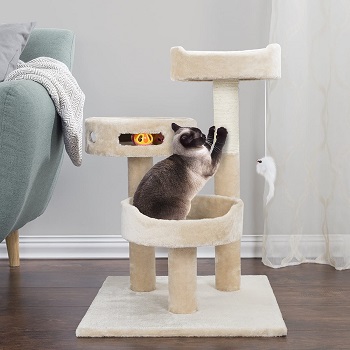 Tree Contents
It has 3 posts and with the enrichment toy, it has 2 more platforms. Both act as beds and you'll get a hanging mouse toy with it as well. It's covered with plush material and sisal rope posts as well. If you want to learn more about these, you can read the cat trees for kittens article next.
In Short:
  It's 27.5-in tall, 19.5-in long, and wide
Features a cat enrichment toy that doubles as a platform
Comes with a mouse hanging toy
Has 3 posts, one covered with sisal rope
Features 3 platforms, 2 act as beds
BEST WALL SMALL CAT TOWER
PetFusion Cat Activity Wall
Shelf Design
You can usually go pretty big with a wall cat tree since they're going to be space-saving no matter what. This one is minimal though and features 3 shelves, one is slanted. The slanted shelf has velcros so you can stick a carpet onto it for scratching and gripping.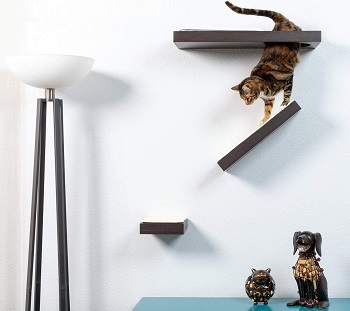 Differentiating Size
The largest shelf measures at 26×11, the medium one at 18x 8, and the smallest one at 8×8. All are 2-in thick and made with MDF wood. You can mount them by using a hammer and screwdriver in less than 20 minutes. For more trees like this, you can check out the minimalist cat tree article.
In Short:
Can be mounted to a wall in less than 20 minutes
Features 3 shelves
The shelves are 2-in thick and made with MDF wood
One shelf is slanted and features velcros for attaching a carpet
From largest to smallest, they measure 26×11, 18×8, and 8×8
BEST CHEAP SMALL CAT TOWER
Paws & Pals Cat Tree Post
Height, Length, And Width
The star of this tree is the hammock sitting in the middle of two posts at the very top. It's not very tall though with its 20-in in height. It's also 15.75-in wide and equally long. The two posts are covered with sisal rope while the hammock is made with soft plush material.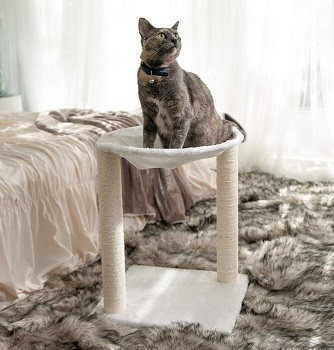 Base And Extra
You can attach a hanging ball toy to the hammock to let your little cat play with it as well. ITs baseboard is carpeted with plush material much like the hammock. If you'd prefer a model with a little more content, check out the cat trees for the small spaces article next.
In Short:
Has 2 posts covered with sisal rope
Has a plush hammock on top
Comes with a hanging ball toy
The baseboard is plush material covered
It's 15.75-in long and wide and 20-in tall
BEST WITHOUT CARPET SMALL CAT TREE
Amazon Basics Wooden Cat Furniture
Modern Simplicity
The primary build material of this tree is wood that you can find colored in walnut and white color. It does come with carpets thought but they are small and optional since you can remove them. At the bottom, there is a cat condo and there's a platform on top.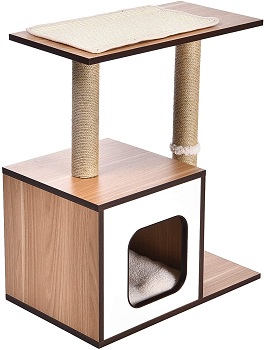 Wood And Removable Carpet
It features 2 posts that allow for the platform to rest on top of them. They're covered with sisal rope so your cat can climb it with ease and it features a cushion for the condo. It's 24-in long, 15-in wide, and 29-in tall. If you want to read about different models and brands, make sure you read the wooden cat trees no carpet article next.
In Short:
Made with wood colored with walnut and white color
Has small removable carpets
The 2 posts are covered with sisal rope
Features a platform and a condo
Comes with a removable cushion for the condo
It's 24-in long, 15-in wide, and 29-in tall
How To Pick A Small Cat Tower
For you to pick out the best possible small cat tree, we first need to see who should get one, and what they have to offer in terms of different models. We'll discuss many more things in this buying guide that'll help you pick one out almost certainly.
Defining Small – In this article specifically, we defined small as products that don't take up much space and more importantly, as products that aren't tall. You'll find both types of products here. In terms of height, we'd define a small cat tree as one that doesn't go over 3 ft of height.
Benefits Of Small Trees – A benefit of a small tree is that it is an amazing space saver inside small apartments and homes. That's why tall cat trees work as small trees but you want to make sure that they're narrow in this case. These trees will usually feature narrow stands and shelves built around them.
Biggest Space Taker – The biggest space taker of them all and the thing that manufacturers build their trees around is the baseboard. Overall product dimensions will usually have the length and width of the baseboard included while the height is determined from the tallest point.
Determining Size With Condos – A cat condo is nothing more than a box with one or multiple entrance holes where your cat can rest. The size of the condo can also be a good determiner of whether or not the tree is made for large cats or small cats. Check out the hole diameter, your cat's waist diameter, and overall size of the condo and you should easily determine the previously mentioned things.
What Are Cat Trees Generally For – Generally speaking, a cat tree will help you save your furniture if the cat likes the tree and will give your cat a sense of security since they can come to consider it their home. One more reason why they give them security is their height since cats are territorial animals and like to have a clear view of their surroundings.
How Small Is Too Small – You'll want your cat tree to at least be taller than the furniture and counters your cat usually climbs one. If your cat likes to climb taller spaces than that, an option is to get a wall-mounted tree. They're usually made up of shelves and go well with home decor since they're unnoticeable and don't take up floor space.
Cats Falling Off Of Trees – If you fear your cat might fall off a tall cat tree and it's the reason why you want to get them a small tree instead, you shouldn't worry, cats although they're not prone to falling, if they do, they're designed to fall on their feet and continue like nothing ever happened. This is especially true for outdoor cats. If your cat is clumsy though, make sure you get the smaller one after all.
To Sum Up
We won't bother you with recommending one small cat tower to you since the recommendation might not be a great option for everyone. Think of how much space you can afford to lose with one, think of your cat's size and their behavior, and you should be fine buying one on your own. In case you've decided against these, you can read about other product types in the tall cat tree post or the floor ceiling cat tree article. If you want to read about every possible cat tree type to decide which one you like best, you can read the post about the best cat trees.