Looking for a small dwarf hamster house to put inside of your hamster cage?
Great! Then you must check out our article and find out everything about the best of best, wooden, ceramic, and other models. Read the buying guide we have prepared for you at the end of the article.
The Summary
Best 6 Dwarf Hamster Houses
BEST OF BEST DWARF HAMSTER HOUSE
Hamiledyi Small Hamster House
Product Overview
The Hamiledyi house is made of 100% natural wood. All the materials that have been used for the design and safe and non-toxic. This toy consists of a dwarf hamster house, hamster ladders, a bell, a swing zone, and a wood seesaw.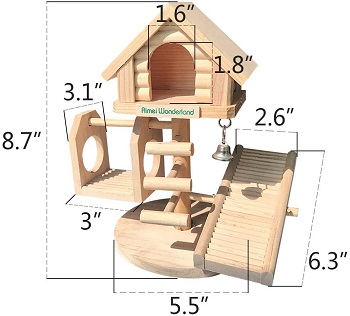 Fits In Any Cage
This activity toy for hamsters will fit into any small, large, expensive, or cheap dwarf hamster cage. The dimensions are 8.7″x 5.5″.The swing's size is 3.1″x 3″ and the seesaw measures 6.3″x2.6″.
Allows Your Hamster To Exercise
It is important that your hamster stays active. This is why such a cage toy will help your hamster staying healthy and occupied. Make sure your cage has enough space and add it this great and safe hamster toy.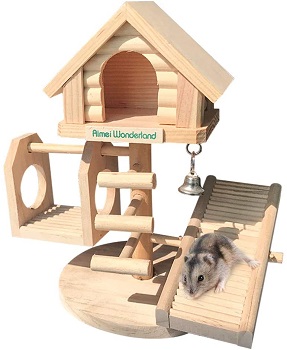 The Quality And Price
We consider that this hamster cage toy is one of the best. It will entertain your hamster and make it feel comfortable inside of its cage. The cost of this house toy is very affordable and this product is convenient to have.
In Short:
this house is made of 100% natural wood
includes ladders, a seesaw, a bell, and a swing
fits into any hamster cage
perfect for small or dwarf hamsters
the overall quality is high
the price is affordable
BEST WOODEN DWARF HAMSTER HOUSE
Wontee Dwarf Hideout
The Wooden Design
The Wontee hideout comes shaped as a castle house. It is made of pine and all the material used is safe and pet-friendly. This house is here to encourage nesting and to protect your hamster and make it feel cozy.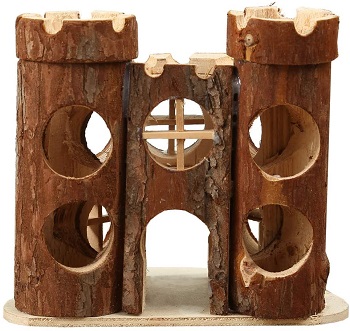 Playing And Resting Zone
Your little pet hamster will surely love to rest inside of this dwarf hamster house. Also, it will get to play and hide its favorite snacks for later. This castle house has small windows so your hamster could see its surrounding area.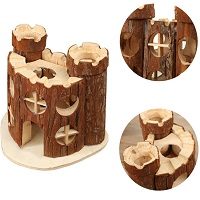 What More To Know?
The size of this house castle is  6.68×4.91×5.9 inches. The door length is 1.38 inches. This house is perfect for dwarf hamsters and fits into any small hamster cage. Choose this house only if you are sure it is completely suitable for your hamster's size.
In Short:
made of natural pine wood
this house is safe and pet-friendly
it is shaped like a castle house
there are small windows on the house
it is a resting and playing zone
BEST 2-LEVEL DWARF HAMSTER HOUSE
Kathson Hideaway Hamster House
Two-Story Hut
Kathson hamster hut is made of wood and plastic plate. This small hut has two hideout areas on the bottom. The hut includes ramp stairs and a small slip ladder. The top floor has a resting platform. Choose between pink or green colors.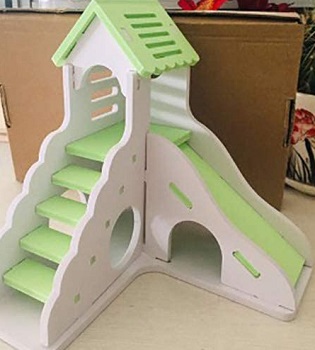 Put It Together
This is a DIY dwarf hamster house. The pieces get put together like puzzles. You will have fun building this hamster hideout and play area. The assembly requires no glue. If you need to store it afterward, disassemble it and save space.
The Maintenance
It is simple to clean this hamster house. The material that is used for construction is odor-resistant and simple to maintain. Don't forget to clean all the hamster cage content while cleaning the inside of the cage.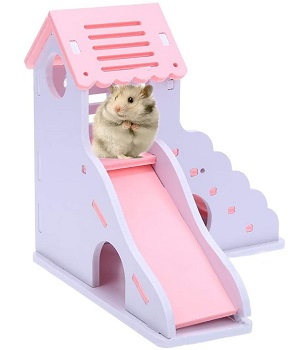 Useful Details
The overall size of this dwarf hut is 5.3″H x 6.5″W x6.6″ L. It is ideal for dwarf hamster, but actually suitable for hamsters of all sizes. You can put this toy inside of a hamster cage for 2 hamsters and let your two buddies hang out and play together.
In Short:
this hut has two floors
includes resting areas for two dwarf hamsters
comes with a ladder and a ramp
there is a small top platform
this is a DIY puzzle-house
odor-resistant and easy to clean
BEST CERAMIC DWARF HAMSTER HOUSE
Hypeety House For Hamster Cage
Unique Design
This small ceramic house is a hamster play house and a safe zone for your dwarf hamster's cage. It has small lookout holes so your hamster could keep an eye on its surrounding. This dwarf hamster cage is shaped as a small bottle.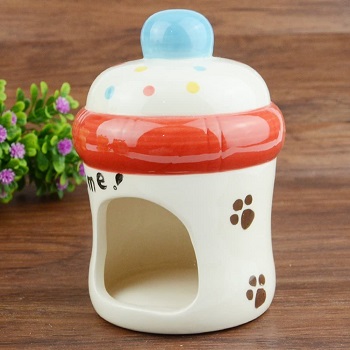 The Material
This is a ceramic hamster house bottle. The ceramic is double baked and it is safe for your little pet. It reduces your hamster's body temperature during warm summer days. Also, it keeps it warm in the winter.
Pet-Friendly And Safe
This small dwarf hamster house is made of non-toxic materials and it has no sharp edges that could harm your hamster in any way. The material is chew-proof and simple to maintain. The material is odor and stain-resistant.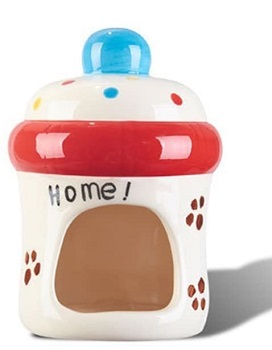 Small And Cute
Any dwarf hamster will love to spend time inside of this house. Hamsters need to have a chill zone inside of their cage. They love to hide their food inside of their houses. The Hypeety house encourages their natural nesting instinct.
In Short:
this house is shaped like a bottle
it is pet-friendly, small, and cute
the house is chew-proof and safe
keeps your hamster warm in winter
reduces its temperature in summer
BEST BLUE DWARF HAMSTER HOUSE
Savic Plastic Hamster House
Round Shape
The Savic hamster hideaway is a rounded resting home for your hamster's cage. It is a two-piece hamster house and to assemble this house, you simply snap the pieces together. This small plastic house will make your hamster safe, cozy, and comfortable.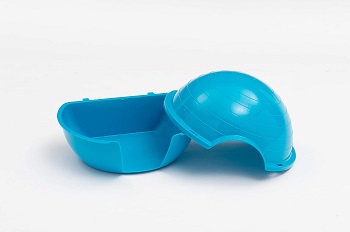 For Dwarf Hamsters
This blue Savic hideout house is perfect for small or dwarf hamsters. Any other larger-sized hamsters, such as Syrian hamsters, won't fit. The size of this dwarf hamster house is 6in x 4. 5in x 4in. This hideout will be a perfect resting area.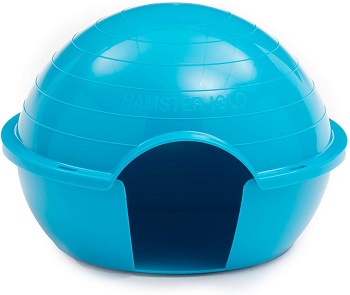 Smooth And Leak-Proof
The plastic that this Savic hamster igloo is made of is completely pet-friendly. The house has only smooth surfaces both from the outside and inside. The cage is waterproof and leak-proof. It is odor-resistant and easy to maintain.
In Short:
this house comes in round shape
ideal for small or dwarf hamsters
this is a two-piece house
simply snap the two pieces together
the house is made of safe plastic
it has smooth surfaces
BEST CUTE DWARF HAMSTER HOUSE
Loviver Pink Hideout Hamster House
High-Quality Material
The Loviver house comes in pink. It is made of premium and eco-friendly plastic. This is another dwarf hamster house that is pet-friendly and completely safe for hamsters. The house is durable and strong.

The House Setup
This house is simple to set up. It is a two-piece hamster hideout that requires no more than a few minutes to put together. You can install this plastic hamster house in your hamster's cage with a screw on the back.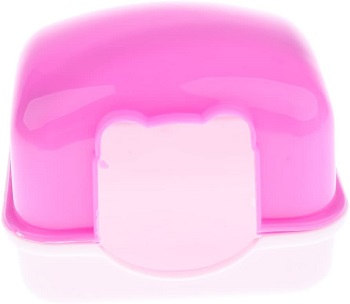 How To Clean?
To maintain this house clean, simply de-attach the top and bottom part of the house. After the cleaning, put the two parts back together. We suggest you simply rinse this hamster house under the running water. Do not use detergents that are not pet-friendly.
In Short:
comes in cute pink color
this is a two-piece hamster house
it is simple to put together
this house is made of durable plastic
it is long-lasting and pet-friendly
How To Pick: Dwarf Hamster Houses
Getting a hamster house for your dwarf hamster is very simple. However, before you buy, we would like to read our guide. Consider that your new dwarf hamster house is made of sturdy and safe material. Get a house with an adequate size and don't forget to clean it from time to time.
The Importance Of Having Hideouts – Hamster houses and hideouts encourage hamsters' natural nesting instincts. One of the essential hamster cage contents is a good, pet-friendly, and safe hamster house. Your pet will love to use it as its resting zone.
The Safe Material – It doesn't matter if you buy a plastic, wooden, or ceramic hamster hideout. What is important is that your new house is made of non-toxic and pet-friendly material. It should have no sharp edges, and it should be of ideal dimensions.
The House's Size – When it comes to buying dwarf hamster hideouts, you will need to search for a house with smaller dimensions. Most of the hamsters will prefer to squeeze in and rest. It is another of their natural instincts.
The Importance Of Cleaning – Make sure to clean the inside of the cage regularly and dispose the hamster litter box. Don't forget that, apart from the cage, you will need to clean other hamster accessories and decorations. The houses that we have reviewed are odor-resistant and easy to clean.
Where To Buy? – We advise you to search for such products online. The models that you have read about in this article are all available online and we suggest you buy them only from reliable retailer's websites.
To Sum Up
In our opinion, the Kathson Hideaway Hamster House is the best dwarf hamster house. We liked it because it will fit inside of any hamster enclosure. It has two hideouts, so two hamsters can play and rest in it. Don't forget that every hamster habitat should have resting zones and interactive hamster cage decorations to keep your hamster healthy, active, and occupied.