Are you in need of a new and improved zebra finch cage?
Want to focus on safety when it comes to buying them?
You can do both of these things if you continue reading this article. We didn't just review these cages, we also made sure to include different types like large, small, antique, and many more. At the end of this article, you'll even find a guide on how to buy these cages on your own.
The Summary
Best 6 Zebra Finch Cages
BEST OF BEST ZEBRA FINCH CAGE
Featherland Paradise Stainless Bird Cage
Unique Folding
If there's something we appreciate, it's definitely uniqueness and this cage is defined by it. If you already had any type of bird cage you'll know that what you get is how you're going to use it all the time. With this cage, it's easy to store it away because it's foldable and this includes the stand as well.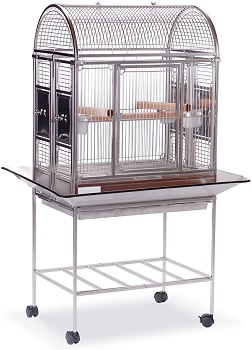 With What It's Made
Another amazing thing about it is that it's made out of stainless steel. Although zebra finches don't need a cage that's this durable, what you'll want to direct your attention to in this case is that they're extremely safe for any type of bird. That's because stainless steel bird cages don't rust or corrode so easily.
Top, Bottom, And Middle
The top of this cage is rounded but it's still safe for birds because only the top is. We already mentioned it sits on a stand but what we didn't say is that it features 4 wheels and even a wire bit where you can store your bird supplies. Where the stand end and the cage begins you'll also find a bird cage seed guard.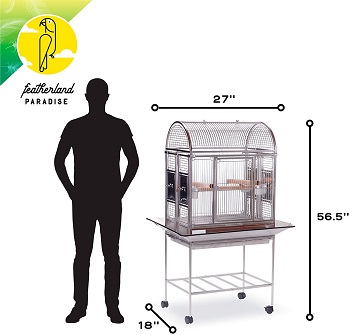 Finch Wire Spacing
Finches are small birds that grow up to be around 8-in long depending on the breed. What this means si that they have small wire spacing needs. Typically, you'll want to look for a zebra finch cage with a wire spacing of up to 0.5-in and this is one of those cages.
In Short:
The whole cage can be folded
Made with safe stainless steel
Comes with a stand with wheels and a wire grid
Features a bird cage seed guard
Has a 0.5-in wire spacing
Has a round top
BEST LARGE ZEBRA FINCH CAGE
Mcage Double Flight Cage
What It Is
The first and main function of this cage is to act as a flight cage. Due to its size and some of its details, it is to be considered a double flight cage. These cages offer your bird a chance to fulfill some of its daily exercise needs while inside. This is due to their large width.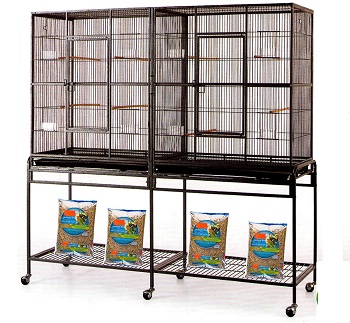 Two Cages In One
We said it was very wide and if you don't believe us you might believe the actual width of 63-in. It's so wide that it looks like two large flight cages and that's what it is. You can split it into two separate parts if you'd like if you just place the divider it comes with where it belongs and that's in the center.
Height And Removable Parts
Apart from being wide, this zebra finch cage is also very tall. Most of its height does come from the stand with wheels and a wire grid it sits on and with it, it's 64-in tall. Still, you don't need to worry about that since birds appreciate length and width more than they do height. It's 19-in wide and you can take it off the stand if you'd like.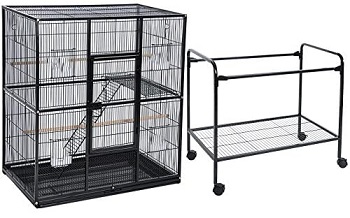 Metal, Finish, And Wire
It's made out of one of the most common materials used to make bird cages which are wrought iron. it's a durable material that rusts easily though. The fix to this problem is the bird-safe powder coat finish. It has a 0.5-in wire spacing and it even comes with doors for breeding boxes.
In Short:
It's 63-in wide and 64-in tall
The stand is removable
HAs a 0.5-in wire spacing
Made with wrought iron
Has a non-toxic powder coat finish
Comes with a removable center divider
Has 2 breeding box doors
BEST FOR TRAVEL ZEBRA FINCH CAGE
Prevue Pet Products Travel Carrier
Cage Basics
If you're either looking to travel with your bird or you need to visit the vet every once in a while, you'll probably need a bird travel carrier. This one acts as a travel cage and is made out of metal and metal wire. Because of it, it does weigh 14 lbs so keep that in mind if you problem carrying heavier things.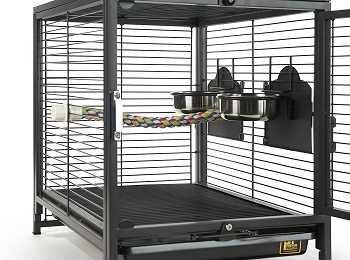 Forget The Minimum Measurements
You'll have to forget all that you know about minimum cage size requirements for birds with these cages because no matter how you look at it, they're too small for birds. The best you can do is to make sure that your bird isn't longer than the cage to prevent bent tails. This one is around 19-in long while finches are around 8-in long.
Front Panel Contents
When you place it in your car, you can prevent it from moving a lot by fastening this zebra finch cage with a seatbelt through the welded bracket for it in the front. In the front, you'll also find the single main entrance and at the bottom of it, there is a slide-out tray for cleaning.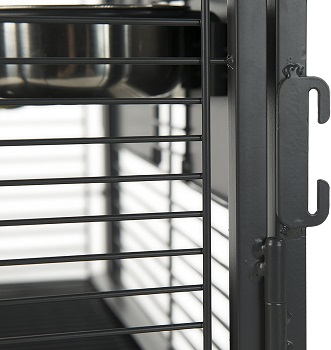 Extras, Wire Safety, And Handle
It has a 0.5-in wire spacing which is safe for finches. It comes with a perch that's made out of rope and 2 bowls for food and water that you can place on the feeding entrances on the right side. The top features a carrying handle that converts into a perch for when you let your finch out of the cage to safely fly.
In Short:
Made with metal
Weighs around 14 lbs
The top handle acts as an outside perch
Comes with an interior rope perch and 2 bowls
Has a 0.5-in wire spacing
Can be fastened with a seat belt
It's 19-in long
BEST INDOOR ZEBRA FINCH CAGE
Prevue Hendryx Wrought Iron Flight Cage
Finish Details And Function
The first thing you just have to notice on this cage is that it's colored in a chalk white color. It's actually a powder coat finish that's safe for birds. It protects the metal of the cage by not chipping or cracking leaving exposed metal parts to corrode and rust eventually.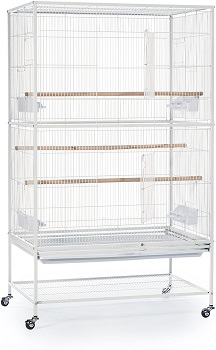 Type Of Metal
The metal the finish protects is actually wrought iron. We did say that it's a very common build material for indoor bird cages so it comes as no surprise that this zebra finch cage is made out of it. It has a low carbon content that makes it tougher and more durable.
Overall Proportions
If the flight cage we reviewed before was a double flight cage then this one is a single flight cage. It's still large though and it will allow you to house multiple finches inside. Overall, it's 31-in long, 20.5-in wide, and 53-in tall. In this overall height, the height of the stand is also included but it's a short one.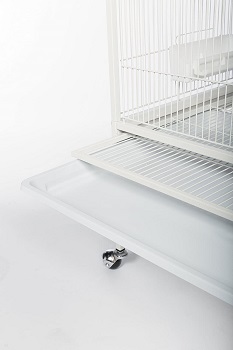 Entrances And Extras
You'll find two entrances in the front that act as main entrances and four on the sides. The 4 side ones are much smaller and act as entrances for easy and quick feeding. You'll get to place the 4 food and water compartment cups on them and you'll also get 3 wooden perches.
In Short:
Colored in chalk white
Has a wrought iron build
It's 31-in long, 20.5-in wide, and 53-in tall
The stand with wheels is short
Has 2 main and 4 feeding entrances
Comes with 4 cups and 3 wooden perches
BEST ON WHEELS ZEBRA FINCH CAGE
Super Deal Pro Large Bird Cage
Top Area
This wrought iron bird cage has everything that your zebra finch could need to keep happy. Starting with the to that is actually a play top, it will keep your bird mentally stimulated and happy while she or he is flying around. It features a single wooden perch, 2 bowls, and a ladder.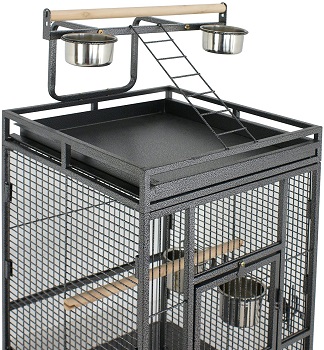 Size And Wire
Most of the cages we reviewed were large ones able to house multiple finches and this zebra finch cage is no different. Including the stand and play top, it's 61-in tall, and it's also 17.9-in long and wide. The wire spacing, as expected for a finch cage, is 0.5-in which is the last safe wire spacing for these birds.
Dangerous Metals
The problem with finishes sometimes can be that they're not free from lead or zinc which are the materials at fault for birds suffering metal poisoning. Luckily, the powder coat finish that protects the metal of the cage from rusting and corroding is also safe for birds since it's lead-free.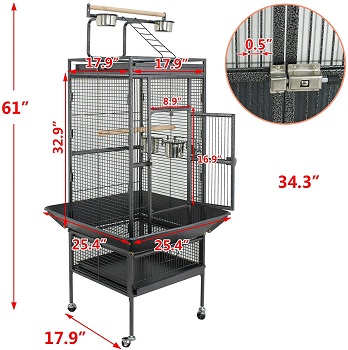 Inside Accessories And Cleaning
You won't just get play top accessories though. You'll also get one wooden perch and 2 stainless steel bowls for the inside. Cleaning the surrounding cage area won't be a problem if you choose to leave the bird cage seed guards on. It consists of 4 panels, each can be placed on its own side.
In Short:
Has a wrought iron build
The powder coat finish is lead-free
Made with 0.5-in wire spacing
Has a seed guard
Features a play top
The interior comes with a perch and 2 bowls
BEST OUTDOOR ZEBRA FINCH CAGE
PawHut 44 Hexagon Covered Cage
Complete Looks
This cage isn't impressive just because of the way it looks but it's definitely a huge benefit. It features a hexagonal shape and a canopy. It even sits on an antique bird cage stand. To top it all off, it's colored with a combination of light grey and white color. The light grey can be found on its frame.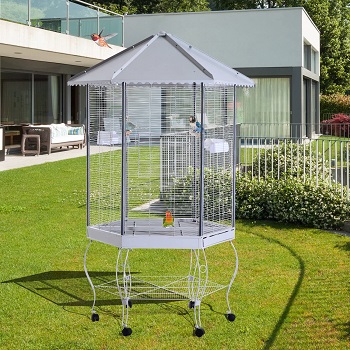 Hexagon Interior Connection
The hexagon shape not only makes it visually pleasing but also makes its interior spaciousness larger. That's because no matter how you view it, the cage is always equally long and wide. In the case of this zebra finch cage, it's 44-in long and wide. Overall, it's 76-in tall.
Canopy Functions
The canopy of this cage is made out of metal sheets and extends from the outer edges of the cage. Because of the material used and its shape, it will do the job of keeping your birds in the shade away from the direct sun well. It will even be of great use when keeping your birds dry in the rain but we don't recommend that happens too often.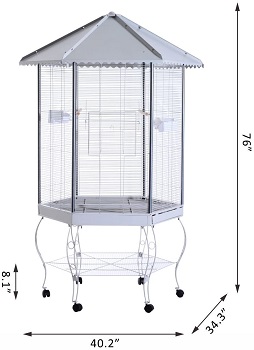 Stand Looks And Contents
Typically, a regular-looking stand of a cage would have flat legs and that's one of the reasons why this stand isn't normal. it has legs curved on2  sides to form a vague shape of the letter S and it's also hollow. The bottom of each leg features a single wheel for moving and there are 6 of them in total.
In Short:
Has a hexagon shape
It's 44-in long and wide
Sits on an antique stand
Features a metal sheet canopy
Overall it's 76-in tall
Can be used outdoor occasionally
It's colored in white and grey
How To Pick A Zebra Finch Cage
If you truly want to get the best cage for your zebra finch, you'll want to know more about their cage requirements like size and wire spacing. Another factor included in this is that you'll want to know what are your options for the different types of cages to choose from. to learn all about this and more, we advise you to continue reading.
Zebra Finch Size And Cage Size – Zebra finches don't really require a large cage since they're only around 8-in long when they're fully grown. We don't want to stop you from getting a larger cage though because you can never go wrong by getting a large cage for your bird. The cage should at least be 24-in long, 18-in wide, and 18-in tall with some wiggle room to change these dimensions.
Wire Spacing Problems – If you get a zebra finch cage that has a wire spacing that's too wide for them, your finch or finches can end up with broken wings, escaping, and in the most extreme case they can pass away so it's important that you don't go over the recommended 0.5-in wire spacing.
Zebra Finch Beaks – Zebra finches, like most small bird types, have small beaks that aren't very strong. Still, this shouldn't stop you from getting a durable material cage. What your focus should be on is the finish. You'll want to make sure that it's safe for birds and that it can survive long-term use as a powder coat finish would.
Zebra Finch Sitting At Bottom Of A Cage – It's common for zebra finches to sometimes sit at the bottom of their cage. This is not normal behavior and you should check out what's wrong with the bird by paying a visit to a veterinarian. The bird could either be cold, have reproductive issues, or have parasites.
To Sum Up
We would definitely do whatever it takes for our bird to live a happy and healthy life and this starts with getting a good zebra finch cage. The one we chose to recommend is the Featherland Paradise Stainless Bird Cage for two reasons alone. It's made out of stainless steel and it can even be folded down for storage. If you're looking for more finch cages that can serve as exercise points we advise you to either read the article about the best finch aviaries or indoor finch aviaries.