Is breeding birds something you're really interested in but what you really want is to breed finches so you're after a finch breeding cage?
You can start breeding in any of these cages we reviewed in this article if you continue reading it. We promise we reviewed only the best and we even made sure to review different types of cages so that it's more interesting to read and so that you have a higher chance of finding the one for you like cheap, large, small, etc.
The Summary
Best 6 Finch Breeding Cages
BEST OF BEST FINCH BREEDING CAGE
Yaheetech Stackable Breeding Cage
2 Cage Pack
With breeding cages, the manufacturers have to take into account the possibility of an owner breeding multiple pairs of birds at once. That's why most of these cages are stackable just like this one is. You won't have to buy the cages separately though since you'll get 2 cages in this pack.
Sides And Frame
The finish is what will protect any common metal that usually rusts and corrodes easily from it. In this case, the finish is waterproof so you can be sure that it will last you a long time. The frame of this finch breeding cage is made out of metal tubes while the sides are made out of wire.
Smaller Wire Spacing
Although the maximum wire spacing allowed for finches is 0.5-in you can go lower. This cage has a 0.4-in wire spacing which will make it suitable for other finch breeds that are smaller than the 2 most common and those are zebra finches and Gouldian finches.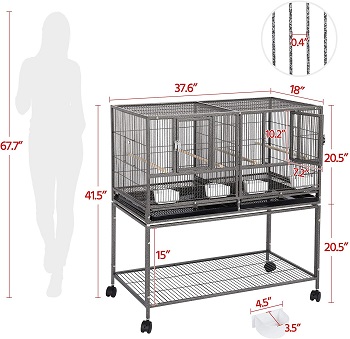 Common Breeding Cage Signs
The most typical indicator of a bird breeding cage is definitely the breeding box doors, a divider, and access to each part of the cage with the divider on. A divider is something you should not get because it will be helpful if your finch mates ever need a time out being in their separate parts of the cage.
In Short:
Comes in a pack of 2 cages
You can stack the cages
Has a 0.4-in wire spacing
Comes with a removable divider
It's covered with a waterproof finish
Has breeder box doors
BEST LARGE FINCH BREEDING CAGE
Mcage Lage Double Cage
Flight Cage Specifics
If you know where and what to look for, you can easily find a cage like this that works as a breeding cage. its primary function is to act as a double flight cage though. It's as large as 2 regular flight cages because it's 63-in wide. A large width is what makes a cage a flight cage.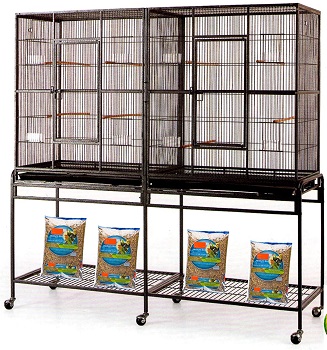 Breeding Strategies
There are two breeding techniques for birds. You can either selectively breed your birds or you can breed multiple birds at random with them all in one cage. This is what will be allowed inside this cage although you can still use it for selective breeding due to the center divider it comes with.
Metal And Finish
This finch breeding cage is made out of wrought iron. Although finches don't have strong beaks and you won't have to risk them bending the wire of a cage, it's still good to be able to rely on such a durable material due to its low carbo content. A non-toxic, powder coat finish will protect the metal from rust and corrosion.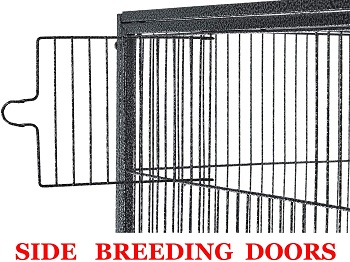 Cage Safety And Entrances
The cage has a 0.5-in wire spacing which is still a safe one for most common finch breeds like zebra finches. In the front of each cage part, you'll find a large main entrance. Each side also has 4 smaller feeding entrances where you can place the cups you'll get with it. The 2 breeding box doors are located on the left and right sides.
In Short:
Made out of wrought iron
Acts as a double flight cage
Comes with a center divider
Each cage has 2 main entrances and 4 feeding ones
Comes with 2 breeding box doors
Has a 0.5-in wire spacing
It's 63-in wide
BEST CHEAP FINCH BREEDING CAGE
Mcage New Breeder Cage
Affordable Price
If you're not looking for anything extra and already have a cage you'll place your finches in after you're done breeding them, you don't need to spend over 100 dollars for a good quality cage. This cheap parakeet cage and cage for other small birds only costs around 45 dollars.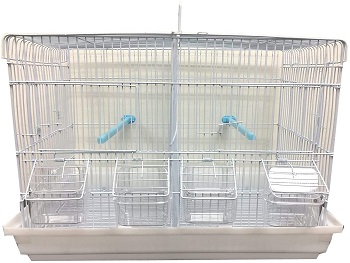 What It Consists Of
It doesn't feature and metal tube parts but instead it's made simple. It has a full wire top and a plastic bottom that acts as a base for cleaning. Above this base there is a wire grid to separate your birds from their own excrements and for you to easily clean the whole thing without having to let your birds out.
Front Side
The front of the finch breeding cage is where you'll find most of its entrances. Each cage part has its own main entrance and 2 smaller entrances below it. The cups for food and water that are meant to be placed on the smaller entrances are clear so that you can always monitor how much food is left.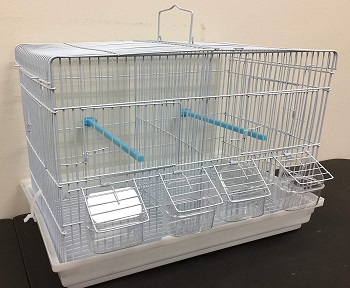 Future Purposes
The whole thing is very light so if you ever choose to move it use it as a travel cage in future uses, you can due to the carrying handle on top. The divider can be removed from the top instead of from the front and each cage part will come with a single plastic perch as well.
In Short:
Has a wire top and a plastic base
The divider is removed from the top
Comes with a carrying handle
Costs around 45 dollars
Has 2 main entrances and 4 feeding entrances
The cups for food and water are clear and the perches are plastic
BEST WITH STAND FINCH BREEDING CAGE
A&E Cage Company Flight Cage
Biggest Proportion
This is yet another double flight cage or you can easily categorize it as an extra large flight cage as well. The most prominent feature of these cages is their width because they are meant to give your bird some space to flap its wings and fly around. This one is 64-in wide.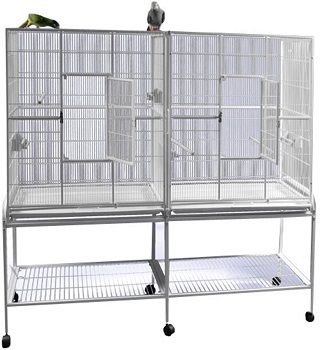 Other Proportions
It's almost as wide as it is tall with its height of 65-in. This height includes the stand while the actual usable interior height is 34-in. It's also 21-in long. It comes as no surprise that it's not nearly as long compared to the other dimensions since this is yet another prominent feature of these cages.
Splitting Up The Cage Parts
The divider it comes can be placed in the center or removed when needed. The divider can help you separate your birds whenever you need to if there's a problem. With the divider on, you'll be looking at two separate cages with everything needed for them to function as single finch breeding cages.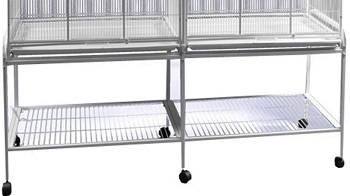 Doors, Sides, And Wire
The locks on the two main entrances will ensure that your birds don't ever escape since there are bird-proof locks. The inside can be equipped with 4 wooden perches and 4 plastic cups for food and water. Each side holds one breeding box door and the wire spacing of the cage is 0.5-in.
In Short:
Acts as an extra-large flight cage
Has 2 breeding box doors
Has a 0.5-in wire spacing
The locks on the doors are birdproof
The center divider is removable
Comes with 4 perches and cups
BEST SMALL FINCH BREEDING CAGE
Vivohome Stackable Nesting Cage
One Pair Breeding Cage
When you first think of a breeding cage, this type of cage is probably what you'll have in mind. It's made for selective breeding and can only house one pair of birds at a time since each separated cage part is just too small for more than one bird to be house inside.
Finish And Metal Type
The thing that makes it stand out is its color. It's colored with a white spray paint finish. This paint is non-toxic to birds and will be hard to destroy by birds. The metal used to make it is steel that's said to have a high quality. You don't need to worry, your birds won't bend the wire.
Dimensions And Package Weight
In total, this cage is 41.3-in tall and although it doesn't look like it, you can remove it from its stand. The stand is 20.5-in tall and the cage is as well. It's also 37.4-in wide, and 17.8-in long. When this finch breeding cage arrives at your door, it will weigh around 36 lbs.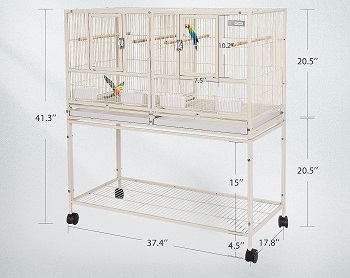 Typical Breeding Cage Things
Of course, it comes with a divider, and that each part of the cage can then be accessed independently. There's only one main entrance for each cage part and two feeding entrances for each cage part. The 2 breeding box entrances are found on the sides of the cage.
In Short:
Has a white spray paint finish
Can be removed from its stand
Overall, it's 41.3-in tall, 27.4-in wide, and 17.8-in long
The stand is 20.5-in tall and the cage is as well
Has 2 breeding, 4 feeding, and 2 main entrances
Suitable for one pair of finches.
BEST ON WHEELS FINCH BREEDING CAGE
Prevue Pet Products Charming Aviary
Aviary Details
Small birds like finches don't need a cage that's too big to be considered an aviary. That's why this is the perfect example of a finch aviary. They are meant to almost completely replace their need for outdoor cage time although you should still offer them that as well to keep them happy.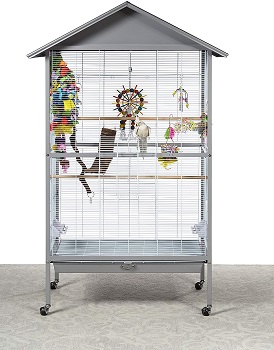 Size And Uses
It's around 35-in long, 23-in wide, and 68-in tall. Comparing these dimensions to the flight cages reviewed before, you'll quickly realize that aviaries are both long and wide compared to only wide flight cages. It has a house rooftop made out of metal sheets for when you want to use it outdoors in sunny weather.
Feeding Door Conversion
Although it doesn't really have breeding box doors, the side feeding doors are large enough to easily be converted into them. There are 4 of them and it's more common to choose the ones that are placed higher up. You will get 4 feeding cups with this finch breeding cage as well.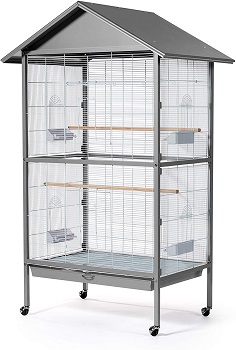 Other  Functions
After you're done using it as a breeding cage, you can use it as a living cage and an aviary. The problem is that it doesn't have a flat top so you can really hang toys and accessories there. The solution to this problem is the toy hanging bar it comes with. It also comes with 2 wooden perches.
In Short:
Can act as an aviary
Ha a metal sheet house rooftop
The 4 feeding entrances can convert into breeding box ones
Comes with 4 feeding cups, 2 perches, and a toy bar
It's 35-in long, 22-in wide, and 68-in tall
Sits on a short stand with wheels
How To Pick A Finch Breeding Cage
To make sure you get the best out of all these finch breeding cages, we've decided we should tell you a bit more about them in general and finches as well. This combination of knowledge will let you pick the best one for yourself and the bird in no time so continue reading if you want it to happen.
Finch Size – Finches are one of the smallest birds around that tact as pets. No matter their breed, the maximum length they can achieve when fully grown is 8-in. A pair of finches, since you are breeding them, should have a cage that's at least 30-in wide. The length and height are less significant in this case.
Breeding Cage Contents – There are two things that you need to look out for when getting a breeding cage. A cage should come with a divider for when it's a necessity to separate your birds and of course, it should come with breeding box doors. Some cages have feeding entrances that can be converted into breeding box doors though.
Most Common Breeding Technique – If you're a beginner breeder, you'll most likely be focused on selective breeding. This means that you'll place only one pair of probable finch mates inside a cage so that they can nest. Larger finch breeding cages will allow you to breed multiple finches at once and at random but this comes with its own set of risks like inbreeding.
Cage Safety For Finches – As we said, finches are small birds so their cage needs correspond to small bird types. The cage they're in should have a maximum wire spacing of 0.5-in because otherwise, they might pull their head through space in between or get their wigs caught on there.
To Sum Up
Since we determined that the most common breeding technique is selective breeding, we chose to go with the Yaheetech Stackable Breeding Cage as one of the best finch breeding cages out there. You'll get two separate metal cages that can be stacked and that have a safe wire spacing of 0.4-in. If you're interested in breeding other birds, we advise you to either read the article about parakeet breeding cages or parakeet breeding box.