Need help finding the best and most durable outdoor cat tree, condo, or furniture for your outdoor housed cat or some feral cats you take care of?
You can make it happen in just a few steps and the first one is to continue reading this article. We have reviewed products that match the description but in various categories for simple reasons: so you don't get bored reading and so that you can realize to the fullest what an outside house for cats can be. Some of the categories included are jungle gyms, weatherproof models, products for large cats, and a lot more.
The Summary
Best 12 Outdoor Cat Trees
BEST OF BEST OUTDOOR CAT FURNITURE
Aivituvin Cat House
Wire And Wood
This is not an open concept product. It has a firwood frame and wire sides so even a usually indoor housed cat can enjoy the great outdoors from time to time. The roof is slanted to prevent water build-up and is waterproof because it's an asphalt roof.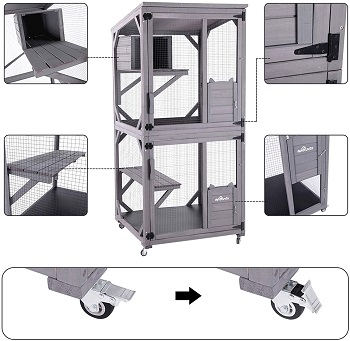 Bottom And Doors
This outside cat furniture has a PVC lined bottom so that your cat can easily walk on the floor, features 2 large front doors with built-in smaller ones and on the inside, it has a perch and a cat condo at the very top. It even sits on wheels so you can move it indoors if you so wish. You can check out other similar, but not the same products in the weatherproof cat tree article.
In Short:
Has a firwood frame and wire sides
Feature 2 large doors and 2 smaller built-in ones
Has a slanted waterproof asphalt roof
Features a perch and cat condo inside
The bottom is lined with PVC
Sits on 4 wheels
BEST CLIMBER OUTDOOR CAT TREE
Penn-Plax Hanging Cat Tree
Product Placement
Its primary build material is wood colored with an espresso finish. The way you'd use it is to hang it to a door or on the wall of your outdoor patio. It's furniture since it can easily disguise as regular shelves giving you more storage space. If this is not your idea of an outdoor cat climber, read the outdoor cat jungle gym article for more.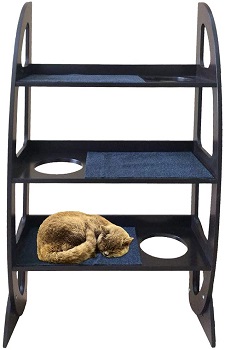 Double Function
The top metal brackets can be installed on it to help you hang it. It has 3 levels partially carpeted and each pone featuring a hole so your cat can crawl onto the next level. You don't have to hang this 27.5-in long, 20-in wide, and 47-in tall product if you don't want to since it does feature a stand on the bottom for grounded positioning.
In Short:
Made with durable solid wood
Has metal brackets for hanging on doors in patios
It's 27.5-in long, 20-in wide, and 47-in tall
Can act as wall shelves
Features 3 levels with carpeted bits
It can be placed on the ground as well
Features an espresso finish
BEST JUNGLE GYM OUTDOOR CAT FURNITURE
Kitty City Claw Cat Furniture
Diy Expanding
Since it comes with a plethora of pieces and bits and due to its modular design, if you so wish, you can expand this whole thing by buying more models or you can assemble it in different ways. It features connectors, bars that make up its frame, and other extras.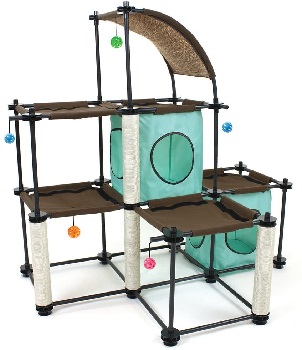 Materials And Features
Some of the pipes are thicker and covered with sisal rope for climbing and scratching. It features 2 condos, more hammocks than we can count, scratchboards, a cover, and a deep-cushioned cat bed. It's a toy outdoor cat jungle gym and feline will enjoy. In case this one is too big for you, read the linked article below for more.
In Short:
Made up of pipes that you can connect with connectors
Has 2 fabric condos, a bed, and plenty o hammocks
Has a covered rest area
Features sisal rope posts
Comes with 2 scratchboards
The bed comes with a removable cushion
You can expand it and shape it differently
BEST PERCH OUTDOOR CAT TREE
Purrfect Perch Cat Tree
Outdoor Instalment
The way you'll install this tree into your garden or backyard is by simply putting the bottom ground sleeve into the ground. Without the sleeve, it's 66-in tall and with it, it's around 7 ft tall. The black metal frame that holds all the perches is made with galvanized metal.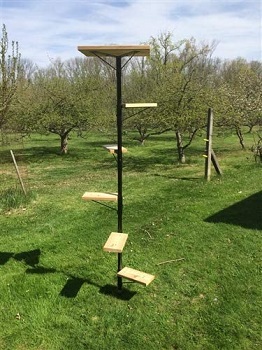 Perch Number And Material
The perches are made with cedarwood and are weather resistant. There are 6 of them and the top perch is the biggest one where cats can lounge. Using a pipe cutter you can change the height of the stairs on this outdoor cat perch if you so wish. It's a spiral cat tree since that's how the stairs are aligned and if you want to check out others, be sure to read the linked article below.
In Short:
Has a galvanized metal frame
Can be placed into the ground with a galvanized ground sleeve
It's 66-in tall, with the sleeve it's around 7 ft tall
Features 6 perches made of cedarwood
The perches are weather-resistant and the top one is the biggest
You can adjust perch height with a pipe cutter
BEST WEATHERPROOF OUTDOOR CAT CONDO
Petsfit Cat House
Wood Used
We'd compare this product to the first one we reviewed, the only difference being that this one is made as an open concept house. it's made with thick panels of finish spruce wood. If you'd like a different type of weatherproof outdoor cat tree, you can read the article we've linked below for more detailed reviews.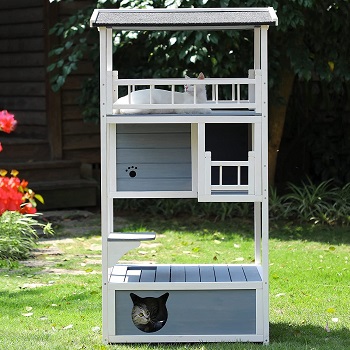 Condos And Platforms
It has a slanted house roof that's a waterproof asphalt roof. It's raised from the ground slightly to prevent mold build-up due to a humid environment. At the very bottom, it has a large 2 entrance holes condo, a raised platform with an additional platform, another cat condo, and last but not least, another platform. It's 30.3-in long, 28.7-in wide, and 56.4-in tall.
In Short:
Has thick finish spruce wood panels
It's 30.3-in long, 28.7-in wide, and 56.4-in tall
Has 3 platforms and 2 large cat condos
Has a waterproof asphalt roof top
It's slightly raised from the ground
BEST PATIO OUTDOOR CAT CONDO
Aivituvin Cat House
Weather Protection
The product doesn't need any protection from the outside patio roof to work just fine. It has a solid wood construction, a waterproof roof, and as a whole, it's weather resistant. It has a covered balcony, 2 levels, and 2 platforms for 2nd level access.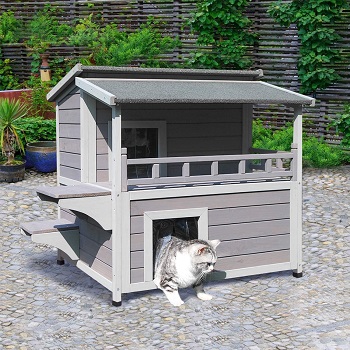 Size And Ground Elevation
It sits on 4 legs covered with plastic caps and it's 37.4-in long, 30.8-in wide, and 33.5-in tall. It can easily be used to house 2 cats and each entrance to the separate condos feature a PVC curtain for protection from the cold. If you can't blend this wonderful cat tree for the outdoor patio well, you can find others in the outdoor cat tree house article.
In Short:
Made with solid wood colored grey
it's 37.4-in long, 30.8-in wide, and 33.5-in tall
Has 2 levels and a balcony
Each condo entrance has a PVC curtain
Sits on 4 legs
Has a waterproof asphalt roof
The left side has 2 2nd level access platforms
BEST HEATED OUTDOOR CAT CONDO
Petyella Heated Cat House Condo
Water Proof And Resistant
The house comes as a single flat sheet of seamless materials and can be assembled in under a minute. The material used is water-resistant while its base is waterproof. It comes with a heating pad that's also waterproof and this same heating pad features a cover that's removable and washable.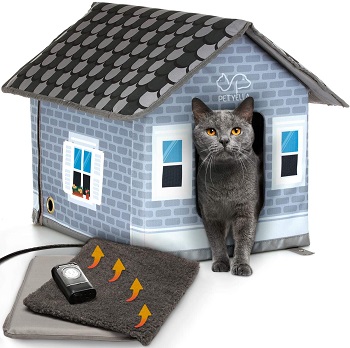 Doors Size And Extras
It has 2 removable doors, it's shaped and looks like a house, and it's1 17.3-in long, 13-in wide, and 17-in tall. It provides non-flammable insulation and the cord of the heating pad is chew proof. You'll also get a timer to schedule heating periods. If you'd prefer a heated cat condo that doesn't use electricity to do so, you can read the cat tree house outdoor models for more.
In Short:
Shaped and looks like a house
Assembles in under a minute
Made with weather-resistant materials
The base and removable doors are waterproof
Has a waterproof heating pad and washable heat pad cover
it's 17.3-in long, 13-in wide, and 17-in tall
The heat pad cord is chew-proof
Features a timer for scheduled heating periods
BEST FOR LARGE CATS OUTDOOR CAT CONDO
PawHut Wooden Cat House
Firwood Build
Firwood is a great material to use in outdoor applications since it reacts well to moisture. The condo is fully made out of it and even has a waterproof asphalt roof covering the open 2nd level and a sealed condo below it with one entrance in the front. The 2nd level balcony is accessed via a staircase.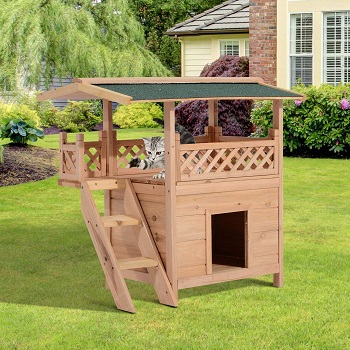 House Proportions
The whole thing is coated with a weatherproof finish. It's raised from the ground to prevent moldy wood panels and it's 30.25-in long, 19.75-in wide, and 28.75-in tall. If you want to make sure you get an outdoor cat tower for large cats that you truly want and like, you can read the weatherproof cat tree article for more.
In Short:
Made with firwood
Has a weather-resistant natural wood finish
Features a 2nd level balcony accessible via a ladder
It's 30.25-in long, 19.75-in wide, ad 28.75-in tall
Has a waterproof asphalt roof cover
BEST HANGING OUTDOOR CAT FURNITURE
CatastrophiCreations Cat Bridge
What Comes In The Package
The thing you'll get with the package is just the bridge that you can mount to the walls of your patio. It can serve as a lounge area or be an addition to other products from the same manufacturer to make a jungle gym. If you'd prefer to have included more things, you can read the outdoor cat jungle gym article for more.

Mounting And Size
The brackets used to mount it to the wall are invisible so it looks like it's floating in mid-air. The bridge is made with bamboo wood and it's 35-in wide, 6-in tall in total, and 11-in deep. The bridge part attaches to the nickel hardware mountable pieces so it appears to be hanging.
In Short:
It acts and looks like a bridge
Can easily be mounted to patio walls
Looks like its floating
Has nickel hardware
Made with bamboo wood
It's 35-in wide and 11-in deep
BEST LADDER OUTDOOR CAT FURNITURE
Zoovilla Modern Folding Cat Furniture
Location Recommendation
For constant use location, we'd recommend it on patios but you'll have no problems moving it to your garden or indoors since it's shaped like a ladder and it's easy to fold down and carry elsewhere since it weighs 34 lbs. What would otherwise be ladders are fully extended carpeted perches.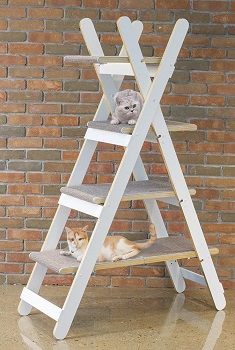 Frame And Size
The frame is made out of pinewood and coated with a white finish. It has a total of 4 perches and it's 60-in tall at its highest visible point. It's around 40-in long, and 17-in wide. You can easily use it as a wonderful furniture piece as well. This outside cat perch is unique but for those that prefer a different model, you can find more in the weatherproof cat tree article.
In Short:
Shaped like a ladder
Made with pine wood and colored white
Can be folded down
Features 4 carpeted perches
It's 60-in tall and around 40-in long and 17-in wide
Weighs around 34 lbs
BEST HOUSE OUTDOOR CAT CONDO
Catrimown Escape Door Cat House
Weather Resistant Materials
Firwood that's used to make this condo is a great standalone weather-resistant material. In this case, it's paired with a small asphalt roof cover at the front of one entrance for even better weather resistance. It does have a back door covered with a transparent curtain as well.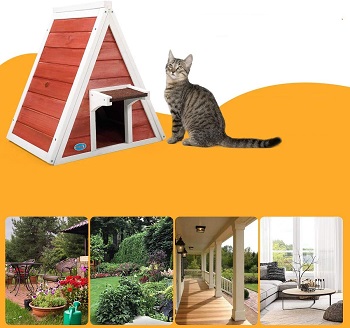 Shape And Cleaning
It's shaped like a triangle and it's easy to clean both from the inside and out since the base that features double wood panels comes off. It's as simple as using a hose to clean this 20.5-in wide, 15.7-in long, and 21.2-in tall weather-resistant cat tree condo. For others similar to it in function but looking different, read the cat tree house outdoor article next.
In Short:
Made with firwood
Has an asphalt roof cover at the front door
The double wood panel bottom comes off for cleaning
Has a back entrance covered with a transparent curtain
It's 20.5-in wide, 15.7-in long, and 21.2-in tall
BEST WOODEN OUTDOOR CAT CONDO
EcoFlex Albany Outdoor
Wood And Plastic
There's no worry that what usually happens to wood will happen to this condo since it's made with ecoflex, wood, and plastic polymer material that doesn't absorb liquids and won't split, crack or warp. If you'd prefer a traditional wooden cat tree outdoor model, make sure you read the cat tree house outdoor article.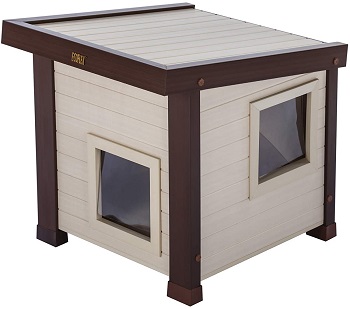 Entrances And Proportions
It has 2 entry/exit points and each entrance has a transparent curtain to prevent cold or hot air from going inside. It's double-walled to provide natural insulation from different weather elements and it's raised from the ground for mold build-up prevention. It's 21.8-in long, 19.1-in wide, and 20.2-in tall.
In Short:
Made with ecoflex
It's waterproof and rot-proof
Has 2 entry and exit points
Features transparent curtains on the entrances
It's raised from the ground
Measures 21.8-in long, 19.1-in wide, and 20.2-in tall
How To Pick An Outdoor Cat Tree
Whether it's an outdoor cat condo, tree, or furniture, you need to pay special attention to the materials used to make the product. Another thing to pay attention to is what is it exactly and how it benefits cats. We'll also talk a bit about feral cats and so much more in this useful buying guide.
Feral Cat Housing – Except for your housed cat, you can use the outside furniture for stray and feral cats to ensure them the comfortable shelter they need especially in winter. A fully grown feral cat usually won't successfully be turned into an indoor cat. Shelters and animal control is most likely to put them to sleep so by getting an outdoor cat tree, you can save their lives.
Indoor Cat, Outdoor Condo – You don't have to fear that your cat won't come back if you let the tree or house outside. A great adjustment period when you first introduce your cat to their new home is 4-6 weeks. Some cats will want to explore the great outdoors right away and some may take longer. The important thing is to give them time to decide on their own.
Tree, Furniture, And Condo Difference – A cat condo is the easiest one to define and find. It's a covered enclosure that helps cats hide out if stressed or if it's too cold or too hot outdoors. They usually look like small houses. Furniture options might not always look like ordinary furniture but they commonly act as wall shelves and are usually made to save space and blend in well. Trees are what you'd expect a tree is, a tall structure that a cat can play, sleep, and rest in.
Outdoor Materials – The two most common materials used to make these pieces are different types of wood and metal. What you really want to focus on is weatherproof cat trees that are usually like this due to the coating finish. In the case of metal, powder coats work but it's best to go with galvanized metal that's rust and corrosion resistant while with wooden cat trees, any weather-resistant finish will do. It's common practice to put a slanted asphalt roof on the wooden pieces as well since it's also waterproof and the slanted angle help prevent water build-up.
Raised Bottom – Although it might seem like an insignificant difference, having a raised from the bottom condo is a great idea since it will prevent moisture from building up which will cause the wood to get moldy which leads to permanent damage.
To Sum Up
Within this outdoor cat tree article, we reviewed several different types of trees, and each type branches out even more. The one you'll choose depends on what you need, whether it's gonna help you save a feral cat in your neighborhood or you want to help your indoor cat get a taste of the great outdoors. If you want to check out indoor options but save space, you can read the best tall cat tree article or the post on the best-rated corner cat trees. If you'd like to include all the possible indoor types and outdoor types, you can read about the best cat trees to buy.