Do you searching for a cold water aquarium so you don't need to buy additional equipment?
If you have doubts about which model will be best for your living space, then keep on reading.
In our article you will find 6 different models that we reviewed for you, so make sure to check all the specifications and pictures to be sure you pick the perfect model for your living room. The shopping guide at the end of this post contains many helpful tips for beginners.
The Summary
Best 6 Cold Water Aquariums
BEST OF BEST COLD WATER AQUARIUM
Marineland Portrait Aquarium
Durable Model
Not that only this model is functional for beginners, it will look amazing in every living space and can easily fit in every corner. This aquarium includes everything you need to start your aquatic home. The tank is made of durable and high-quality materials.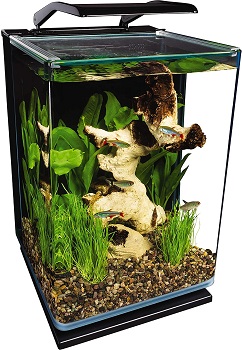 Hornzitonal Tank
This cold water aquarium comes in a rectangular horizontal shape so you can fit it in smaller areas and save horizontal space around. It has a rimless glass construction with rounded corners to prevent bumps. Don't worry about safety, glass is thick enough and won't break easily during use.
5 Gallons
With the measurement of 9.63 x 9.63 x 17.05 inches, this model can fit a maximum of 5 gallons of water. You can use it for freshwater and saltwater application depending on which fish breeds you'll pick for your home. Green or colorful plants with gravel at the bottom will fulfill the environment.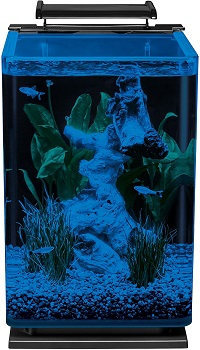 Filtration System
On the back of the aquarium is a hidden area for filters, so you can be sure the water is clean on a daily basis. This fish aquarium with a built-in filter has hinged LED lights in white and blue color combination. A clear canopy will keep them safe from other home pets.
In Short:
Functional and easy-fitting model
Sturdy glass construction with rounded corners
Suitable for 5 gallons of water
Filtration system for maintenance
LED lights in blue and white color combination
BEST CHEAP COLD WATER FISH TANK
Koller Products Fish Bowl
Simple Design
For those who want an affordable model that can fit on every commode or table, this Koller aquarium is one of the most popular on the market. Simple design always goes well with any home decoration, and you can use this model as a vase, as well. The tank is made of high-quality material.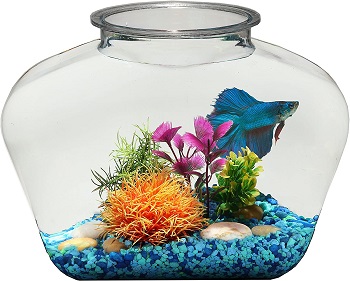 Bowl Shape
This cold water cheap tank comes in the shape of a bowl and it has a very interesting shape that will catch everyone's attention. We are sure you will think it is made of glass, but it's actually a plastic model with great transparency so you can have a clear view from all sides.
Small Model
With the measurement of 12 x 6 x 9 inches, this small cheap fish tank is suitable for 2 gallons of water. It is an ideal choice for goldfishes and other small breeds. You can add colorful decorations inside, like plants and gravel for the bottom. This model is ideal for beginners.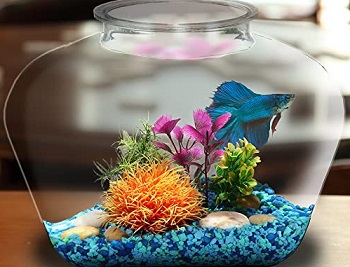 Low Maintenance
Because of its small dimension, this aquarium won't take much space wherever you place it, and you can easily take it and store it when needed. The bowl is opened at the top so you can quickly sprinkle the food. It requests low maintenance and you will need a minute to change the water.
In Short:
Affordable model for eery home
Sturdy plastic bowl
Suitable for 2 gallons of water
Open top for easier feeding
Lightweight model for easy moving
BEST SALTWATER COLD WATER AQUARIUM
Fluval Sea Fish Tank
Black Color
If you want to be sure the fish tank is suitable for the saltwater application, then you need to buy this gorgeous Fluval model. This aquarium comes in black color so you can combine it with the rest of your home decoration and furniture in the living space.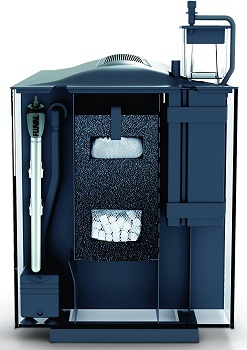 Glass Construction
The cold water aquarium in a rectangular shape will fit on every sturdy and stable stand or commode in your living room. The stylish aquarium has glass construction with low profile hood made of plastic. Because of its great transparency, you check your fish from multiple angles.
Multiple Fishes
This model has 23.4 x 13.5 x 15.6 inches, which is enough for 13.5 gallons of water. You can fit multiple small fish breeds in different colors and shapes. We recommend adding colorful reefs, plants, gravel, and sand so your fishes can feel at home and have a beautiful environment.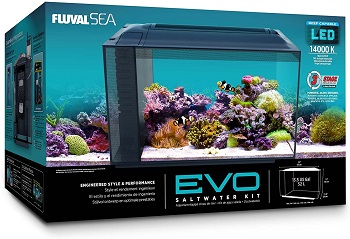 LED Lights
Don't worry about maintenance, this reef-ready aquarium has a powerful filter for daily cleaning. The functional canopy has an easy-opening door for daily feeding. LED lights will provide great reflection during the day and night. You will need a short time for the whole setup.
In Short:
Black model for easy fitting
Sturdy glass construction with a lid
Suitable for multiple small fish breeds
Included filter for maintenance
LED lights for the reflection
BEST CATFISH COLD WATER FISH TANK
Hygger Fish Aquarium Starter Kit
Modern Design
For catfishes and fish breeds of similar sizes, this Hygger model is an ideal choice because of its functionality and size. The modern and unique aquarium will definitely catch everyone's attention when entering the room. This model comes with all the needed equipment for beginners.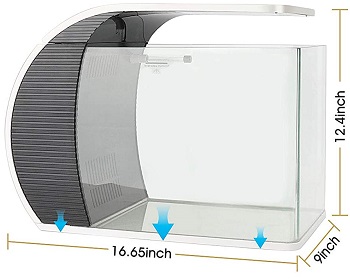 Ultra-white Glass
This model has glass construction and it comes in a rectangular shape which fits on most of the commodes and stands. Because of ultra-white glass, you will have a crystal clear view from all sides. The cold water catfish aquarium has impact-resistant construction that will last you for a long time.
5 Gallons
The beautiful aquarium has 16.65 x 9 x 12.4 inches so you can fit 5 gallons of water inside. Make sure to add aquatic decorations that will fulfill the environment, such as plants, reefs, figures, and other items. This aquarium will be the most attractive piece of decoration in your home.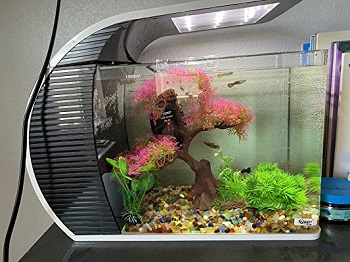 Colorful Lights
The powerful filter with the whole setup for daily maintenance will save you time with cleaning and water changing. LED lights come in different colors which you can adjust depending on the time of the day. The included guide will help you with the setup.
In Short:
The unique shape for decoration
Sturdy ultra-white construction
Suitable for 5 gallons of water
Powerful filter for maintenance
Colorful lights for the atmosphere
BEST FOR BEGINNERS COLD WATER AQUARIUM
Hygger Horizon Aquarium Kit
Unique Shape
If you're a beginner and you need a big and functional model for your house or apartment, then this Hygger aquarium is one of the best options. The unique shape will catch your attention. This aquarium has everything you need for a fresh start.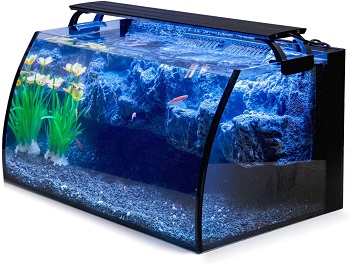 Curved Front
Even if this cold water fish tank has a rectangular shape like most of the aquariums on the market, the front is the best part for sure. It is curved which will create the illusion of a bigger space. The tank has silicone edges to prevent leaking and possible bumps.
8 Gallons
This model has 19 x 11.8 x 9.6 inches, which is suitable for 8 gallons of water. You can fit different fish breeds inside depending on whether you will take this model for freshwater or saltwater application. Make sure you place it on a stable stand that is big enough for the tank.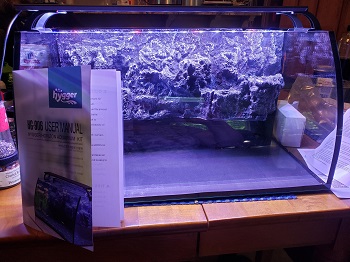 Included Background
The curved aquarium has a filtration system on the back, so your lovely pets can live in a healthy and clean environment every day. LED lights include an external digital controller so you can adjust the brightness and the favorite color. The 3D background is included in the package.
In Short:
Modern aquarium made of glass
Curved front for the illusion
Suitable for 8 gallons
Included filtration system
LED light with an external controller
BEST SHRIMP COLD WATER FISH TANK
Koller Products Aquarium Kit
Simple Model
If you're planning to also have shrimp, then this model is everything you need for the start. The aquarium has a very simple design so you can match it with your home decoration and place it wherever you prefer. In the package, you will get the whole setup for beginners.
Hexagonal Tank
This model can fit in every corner because of the hexagonal shape. It is a rimless aquarium made of high-quality plastic which has great transparency so you can take a look at it no matter where you're standing or sitting. The aquarium has a plastic lid that can be opened for daily feeding.
Aquatic Environment
With the measurement of 18 x 11 x 13.5 inches, this cold water shrimp aquarium is suitable for 6.5 gallons of water, so you can fit few shrimps and other aquatic animals of similar sizes. This model will look amazing with colorful stones, and artificial plants in different shapes.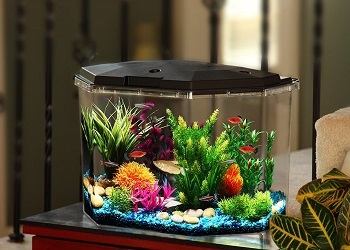 Powerful Filter
The blue shrimp aquarium comes with a powerful filter that will purify water on a daily basis. LED lights in 7 color selections will reflect the whole interior. This lightweight model can be easily moved and store when it's not in the use. You will need a short time for assembly.
In Short:
The simple design for easy fitting
Sturdy plastic construction with a lid
Hexagonal model for a better view
Suitable for shrimps and small fish breeds
Included filter and LED lights
How To Pick The Best Cold Water Aquarium?
If this is your first time buying a cold water model, then this shopping guide will be helpful. Keep on reading and check our best recommendations and tips for beginners.
Natural Environment – Cold water models are a great choice if you don't have much time for daily maintenance. One of the most important things to check before buying the aquarium is if the fish breeds that you'll pick can live in a cold-water environment. We recommend goldfishes, catfish, and even shrimps. For more information check the online guide for tanks.
Durable Aquarium – We are sure you want to buy a high-quality model that will last you for a long time, so make sure to check if the construction is durable and impact-resistant. Most of the tanks are made of glass or acrylic material. For beginners, we always recommend acrylic rimless aquariums that are much stronger.
Size And Design – The size of the aquarium depends on the size of your living space and where you're planning to place it. Make sure to check the dimension so you can be sure it is suitable for stand or commode. You can pick simple models in rectangular shapes or something unique like curved tanks or fish bowls.
Daily Routine – Check if the cold water fish tank that you're picking has a hole or easy-opening door for daily feeding and water changing. If you want a whole setup we recommend picking a model with a filtration system. So you can enjoy the view even at night, pick the aquarium with LED lights.