If you trying to find one of the best 150-gallon turtle tank models on the market, where you can place turtles as well as different fish breeds, you are at the right place.
In our post, you can find the best 4 models and we summarized the most important features so you can pick one that you like the most. For more tips, read our guide at the end of this post.
The Summary
4 Best 150-gallon Turtle Tanks
BEST OF BEST 150 GALLON TURTLE TANK
SC Aquariums Starfire Glass Aquarium
Black Color
For those who already have a 135-gallon aquarium, and now need a bigger one for multiple pets, this model is one of the best on the market. The black color will easily match with decoration in your home.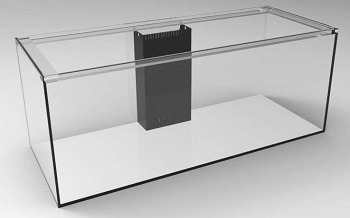 Rimless Design
This modern and functional tank for turtles and fishes is made of high-quality Starfire glass, so you don't have to worry about durability. The rimless design will provide a luxury look and we are sure everyone will notice this beautiful aquarium.
Easy Fitting
With a measurement of 60 x 24 x 24 inches, this 150-gallon turtle tank can be easily fit on a sturdy stand in the corner, that is made of wooden material to provide stability.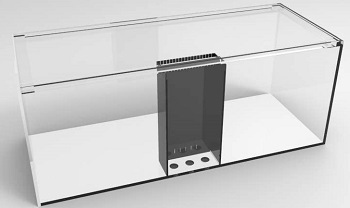 Overflow System
You can place multiple small animals in this rectangular aquarium and add plants with other decorations to provide more natural habitat. The aquarium comes with a removable background and it has a built-in overflow system for easy maintenance.
In Short:
Modern design in black color
Rimless rectangular aquarium for multiple animals
Sturdy and high-quality glass for durability
Included removable background
Built-in overflow system
BEST MODERN 150 GALLON TURTLE TANK
Trop Exotics Aquarium
Unique Design
This model is one of the most unique that you can find on the market and it will perfectly fit as decoration in your home. This unique model is made of only high-quality materials to provide durability.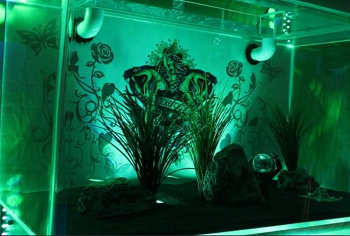 Acrylic Material
150-gallon turtle tank measures 48 x 30 x 24 inches, so you can place multiple pets inside. The aquarium is fully made is made of acrylic material which is much stronger than glass.
Sturdy Stand
Tank for turtles and fishes comes with a stand, so if you don't have a suitable one at home, this whole setup is the perfect choice for you. The stand is made of steel and it has a modern print in different colors.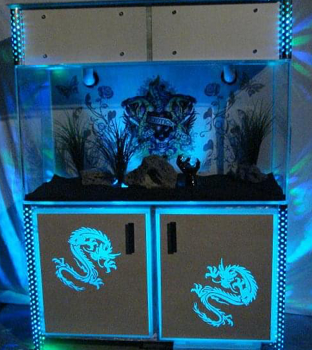 Storing Area
Because this 150-gallon aquarium stand is powder-coated, you can use the aquarium for a fresh and saltwater environment without worries. It has doors for storing food and other additional features.
In Short:
Unique design for indoor use
Made of acrylic material
Aquarium comes with a sturdy stand
Fresh and saltwater environment
Storing area for food
BEST LONG 150 GALLON TURTLE TANK
Aqueon All Glass Tank
Simple Design
If you're searching for a large horizontal model on the market besides a 175-gallon tank, this one has great features. It has a very simple design for easy matching with tones in your interior.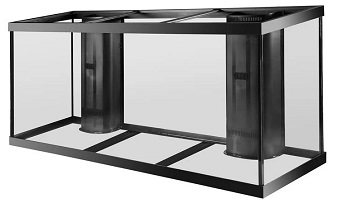 Rectangular Shape
This 150-gallon turtle tank is fully made of sturdy glass with black silicone edges to prevent bumps. The rectangular shape will provide more space for swimming so your pets can enjoy the new habitat.
Sturdy Stand
With a measurement of 72 x 18 x 29 inches, this tank needs to be placed on a sturdy stand that can hold the weight of the aquarium when it's filled with water.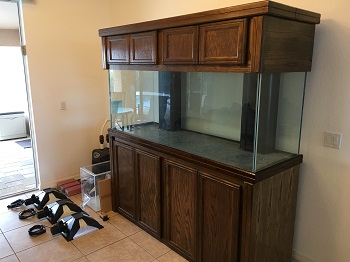 Mega Flows
The aquarium comes with 2 mega flows that are situated on each side, so you don't have to worry about daily maintenance and overflowing. Add decorative plants and reefs inside and buy all the needed features to start your aquatic home.
In Short:
Simple design for easy fitting
Sturdy glass with silicone edges
Rectangular shape for multiple pets
2 mega flows on each side
BEST WITH A STAND 150-GALLON TURTLE TANK
150 Gallon Fish Tank With Stand
Durable Design
For those who previously have a 15-gallon long aquarium and now looking for a perfect large model with a stand, this one has great features. It is fully made of high-quality and durable materials to last you for many years.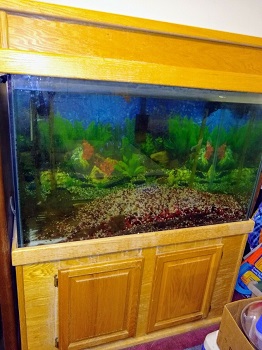 Clear View
The 150-gallon turtle tank has 30" in height and perfectly fits on a stand. Glass construction will provide an enjoyable view so make sure you place it somewhere you're moving the most.
Add Decoration
This large aquarium is suitable for different fish breeds and turtles as well. Plants and coral reefs are must-haves, so make sure you buy them separately with needed features for filtration.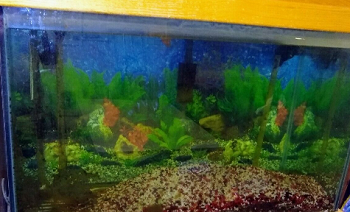 Space For Storing
The stand is fully made of wood and this neutral color will perfectly match your furniture. It has hidden shelves, so you can easily store the food and needed accessories for your daily routine.
In Short:
Simple design for easy matching
Suitable for different fish breeds
High-quality glass construction
Wooden stand for durability
Space for storing accessories
How To Pick The Best 150-gallon Turtle Tank?
If you're still not sure about specifications and design, in our guide you might find answers that will help you with shopping. We placed features in 4 categories so you can check all needed information.
Durable Aquarium – We are sure you don't want to spend much money on a low-quality tank, so make sure you check all information about materials and the quality of the construction. The aquarium needs to be made of sturdy materials like glass or acrylic so you're sure your pets are safe in the new environment.
Animal Size – Depending on what type of breeds will you pick, it is important to choose ones that are not too large, so other animals can easily swim in different areas. If you decided to add decorative plants and reefs that are taking large space in the tank, place only a few fishes inside for safety, as well.
Sturdy Stand – Picking a large tank is not easy to fit in the interior like a 2-gallon fishbowl which you can place on every desk. Stand that you're putting a 15′ gallon turtle tank needs to be strong enough to hold the weight off it when it's filled with water. We recommend wooden commodes or you can buy a model that already comes with a stand.
Additional Features – If you're a beginner and you want to start your aquatic home, there are some rules you need to follow. It is important to have a great filtration and a heater, depending on the natural or saltwater environment. Pick a design and a color that will easily fit in your interior, we recommend neutral tones and rimless design. Add LED lights for better reflection.