Do you need to pick a new guinea pig run for your lovely pet?
You are at the right place to find the perfect one on the market.
Keep on reading because we reviewed the 6 best plastic, portable, small, large, and outdoor, so you can find the best size for the maximum comfort of your furry pet. With a high-quality run, your guinea pig will be happy and energetic at all times so make sure you make the right choice.
The Summary
Best 6 Guinea Pig Runs
BEST OF BEST GUINEA PIG RUN
Trixie Guinea Pig Run
Wires And Wood
This run is constructed with solid wood and powder-coated wire mesh that will provide maximum safety as well as great air circulation. This sturdy construction is a great choice if you're looking for an outdoor guinea pig run with spacious space for your pet.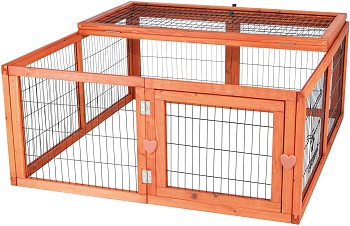 Spacious Space
With a dimension of 46 x 43 x 19 inches, this guinea pig run will provide great comfort to your pet, so he can be active and playful. You can attach drinking ad feeding accessories to the side wires, for an easier daily routine.
Openable Roof
For easier access inside of the cage, there openable wire mesh roof, as well as the side doors, that will save your time with daily maintenance. The front doors have cute. Doors have heart-shaped locks, that will make sure your pet can't escape.
Easily Foldable
You can easily move it to the side to clean the cage in just a few minutes. It can be easily foldable for storing and transport. Don't worry about set up, it is quick and easy. Your pet will enjoy this new comfortable habitat.
In Short
Solid wood construction with sturdy wires
Spacious space for a comfortable life of your pet
Multiple access from front and top
Easily foldable for storage
Quick setup
BEST PLASTIC GUINEA PIG RUN
Songmics Guinea Pig Playpen
Transparent Construction
This guinea pig run is made from plastic panels and a metal frame. Plastic connectors will provide stability for the construction and maximum safety for your pet. Panels are transparent so your pet can have a look outside of the playpen.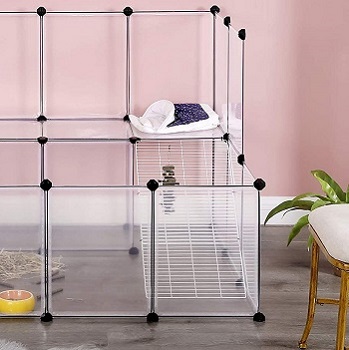 Great Comfort
With a measurement of 56.3 x 28 x 36.6 inches, your lovely pet will have great comfort in this large open guinea pig cage. There is a wire ramp for easy access to the top platform, so your pet can climb and play and have more fun.
Easy Access
Because of the open-top, you will save your time with daily maintenance such as feeding or cleaning. Panels are waterproof so you can easily wipe them out. If you need to clean the bottom, move the run to the side and do it quickly.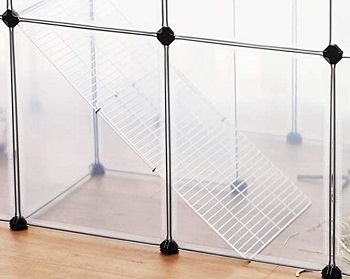 Customizable Shape
You can set up a playpen in different shapes, depending on your pet's needs. Don't worry about the safety of your pet, panels are high enough to prevent climbing and escaping outside. An included rubber mallet will help you to assemble.
In Short
Plastic panels with metal frame
Large space for comfort and activities
Open playpen for quick access
Can be set up in different shapes
Rubber mallet included
BEST PORTABLE GUINEA PIG RUN
PawHut Cage
Comfortable Space
This cage is made from a wireframe with a mesh system and deep plastic bottom. With 46.5 x 67 x 24.5 inches, your pet will have a comfortable space pet in this portable guinea pig cage. Steel wires will provide circulation and safety for your pet.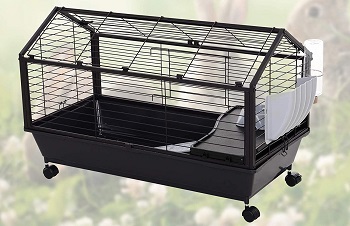 Included Features
Cage has an access ramp with a platform, that is perfect for the feeding area. Attach the hay feeder and water bottle to the side wires, for easier daily routine All mentioned features are included with the package so your pet can enjoy it immediately.
Fleece Ramp
There are front doors and an openable roof so you can have easy access inside of the guinea pig run. Also, if your pet wants to go outside, there is a comfortable fleece ramp to protect your pet's sensitive feet. The removable plastic bottom will save your time with cleaning.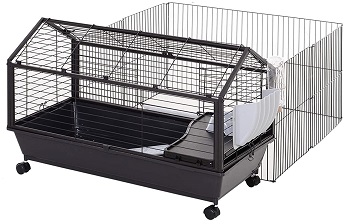 Indoor Or Outdoor
When your pet wants to be active and play outside there is a run fence, with water and rest-protection so you can use it indoors or outdoor. Run is easily foldable when not in the use. Because of the rolling wheels with brakes, the cage is easy for movement.
In Short
Wireframe with a deep plastic base
Access ramp with space underneath for pet privacy
Included features for feeding and drinking
Easy access from the rooftop and front doors
Weather-resistant run fence, easily foldable
BEST SMALL GUINEA PIG RUN
U-Max Guinea Pig House
Firwood Frame
Cage is constructed with natural fir wood and painted with waterproof paint to provide a long durability. It has sturdy wires that will protect your pet from escaping. This wood guinea pig house is great for indoor or outdoor use.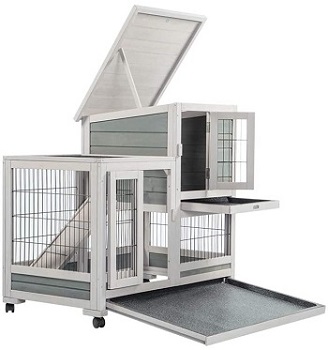 Elevated Area
Your pet will enjoy this guinea pig run that has a spacious bottom area and access ramp to the elevated hutch. Hutch is the perfect space when your pet needs to have some privacy, as well as protection from weather if you use it outside.
Multiple Access
There are multiple doors for quick entrance, as well as an openable pitch roof so you can have access inside of the hutch. There are removable bottom trays, on each level, so you can do daily cleaning with soap and water.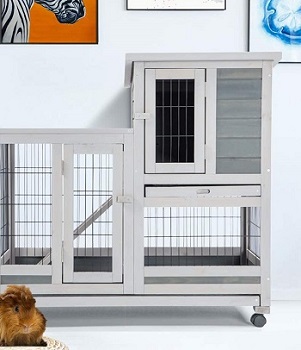 Easy For Movement
The wooden guinea pig run has rolling wheels so you can move it around your house or backyard. Your pet will be safe in its environment from other predators. Predrilled holes and instructions will help you with assembly, you will need a short time for the whole setup.
In Short
Firwood frame with weatherproof protection
Run area with elevated hutch for privacy
Multiple access from front doors and top roof
Easy movement with wheels
A great choice for outdoor or indoor use
BEST LARGE GUINEA PIG RUN
PawHut Guinea Pig Playpen
Durable Construction
Guinea pig run is made of durable fir wood that has an asphalt roof. With sturdy and tight wire mesh at the sides and the top of the cage, you will have no worries about the pet escaping or stuck in between.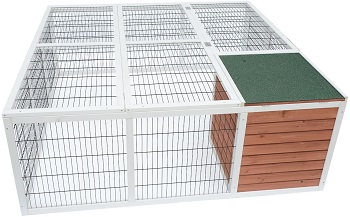 Extra-large Space
This large guinea pig habitat has 63.75 x 63.75 x 24 inches, so your pet can have maximum comfort and playful times in this run area. When your pet wants to have some privacy or to hide from bad weather, there is a corner enclosed area.
Easy Accessible
Large front doors and an openable roof will provide quick access so you can do daily cleaning and feeding. With lockable doors, your pet will be safe in its environment from other predators such as birds and cats.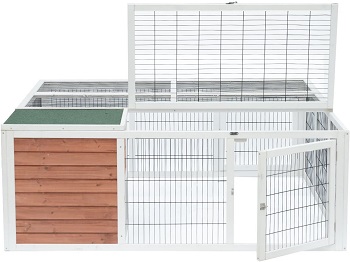 Required Assembly
You can add some fun features to make your pet environment more enjoyable. Also, you can put some comfortable and water-resistant bottom to protect your pet's feet. Assembly is required with instruction included.
In Short
Durable fir wood with wire mesh
A large run area with enclosed space for privacy
Easy access with large doors and openable roof
Tight mesh and lockable doors for safety
Included instructions for assembly
BEST OUTDOOR GUINEA PIG RUN
B BAIJIAWEI Cage
Weatherproof Construction
Constructed with lightweight fir wood and brushed with waterproof paint that is safe for your pet's health. It has an asphalt roof that will protect your pet from the weather. The beautiful design of this cage will perfectly fit in your place.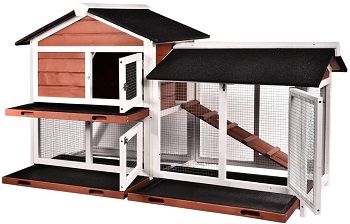 Large Space
This guinea pig run has 62 x 17 x 36.8 inches so your pet can enjoy in comfort and have a playful environment. A large run area has an access ramp to the elevated area, where your pet can be protected from weather and have some rest when needed.
Sliding Drawers
With multiple doors, you will have quick entrance so you can do some daily routines such as maintenance and feeding. There is a tray between 2 floors, as well as at the bottom, so you can easily clean it and provide your pet fresh environment.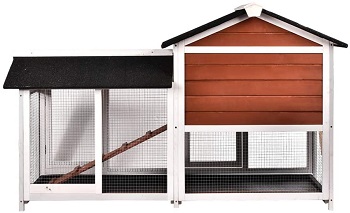 Safe In Cage
The heavy-duty wire will protect your pet from predators, so you don't have to worry about its safety. This outdoor guinea pig hutch is a great choice for your garden or backyard. An easy setup is required.
In Short
Firwood construction painted with weather protection
Large living space for playing and comfort
Elevated hutch with access ramp
Multiple access and sliding drawers for quick cleaning
Sturdy wire for pet safety
How To Pick Best Guinea Pig Run?
This guide will help you to find some guinea pig run ideas, as well as some important features that are important to find the perfect one. Make sure you consider this and you will for sure, pick the best guinea run on the market.
Run Size – To make sure your pet stays active and has a long living life, the size of the living space is very important, so he can move, play, and have comfort. When picking the run for your guinea pig, keep in mind what is recommended size of the cage. The minimal size for the living space for one guinea pig is 30 x 36 inches and for 2 guinea pigs is 30 x 50 inches, so don't go under that.
Durable Construction – No matter what kind of cage with run space you're planning to buy, always make sure that it has long durability. It means that it's made from high-quality material, with weather and rust protection, so you will be sure that it will stay in good condition for many years. Also, make sure that it sturdy so you have no worries about pet safety.
Indoor Or Outdoor Use – Different space requires different pet needs, so make sure you pick the best guinea pig cage depending on the place. If you using it indoors, make sure that it fits in your place, that is far enough from heat sources, and that you have access inside of it. If you choose an outdoor run, it needs to have some enclosed area for weather protection, and also sturdy mesh for safety from predators.
Ideas For Run – To provide a fun and enjoyable habitat to your pet, make sure there are some fun accessories. You can build a guinea pig run with different kinds of features, such as ramps, platforms, and chewing toys. One of the most popular accessories is a fleece guinea pig tunnel, you can find it in different colors and shapes, and your pet will love it for playing and andy cozy rest.
To Sum Up
The best guinea pig run that is recommended is Trixie Run. It has spacious space for the great comfort and active life of your pet. Sturdy construction will provide a long durability. If you're looking for a pet house that will fit inside of your home, check this post to find the best indoor guinea pig house. Also, if you need a cage that is easily portable, we reviewed the best guinea pig cage on wheels, so you can choose the perfect one from the list.