Are you looking for the perfect castle rabbit hutch?
You want to buy one but you're not sure which is the best?
Don't worry, you are at the right place. We picked the 4 best models from the market and reviewed them so you can choose the model that is perfect for your lovely pet. For more helpful tips you can check our guide at the end of this post.
The Summary
Top 4 Castle Rabbit Hutches
BEST OF BEST CASTLE RABBIT HUTCH
Tohikut Wooden Castle
Indoor Use
If you need a modern and functional wooden rabbit hutch, this Tohikut is a perfect choice. It comes in a neutral color, for easy fitting with the environment. We recommend using it only indoors.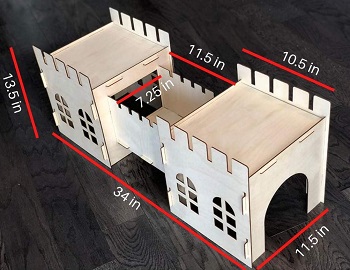 Stable Construction
The sturdy construction is made of solid wood and it is pet safe for use. When you want to move it around, you can easily move his lightweight castle. The beautiful design will catch your rabbit's attention and they will enjoy playing inside.
Towers With Bridge
It has 2 towers so rabbits can hide underneath or jump on it for a better view. Towers have a lot of doors for moving. There is a tunnel that connects these 2 towers, so rabbits can quickly move from one side to another.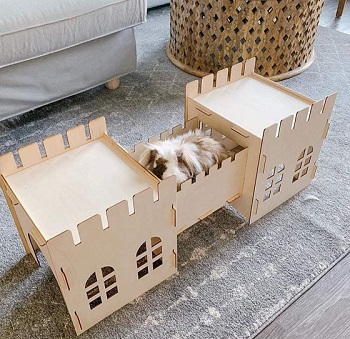 Easy Setup
You can place some soft leakproof covers to prevent stains. This castle rabbit hutch measures 13.5 x 11.5 x 1.75 inches and it is suitable for 1-2 smaller rabbits. It is easy to assemble, you will only need few minutes.
In Short
Modern castle in a neutral color
Sturdy and stable construction
Suitable for indoor use
For 1-2 rabbits
Easy and quick setup
BEST SMALL CASTLE RABBIT HUTCH
Small Pet Select Castle
Neutral Color
If you have bunnies and you need a small rabbit hutch so you can place it in every corner, this model is a perfect choice. It comes in a neutral color so you can match it with your home decor.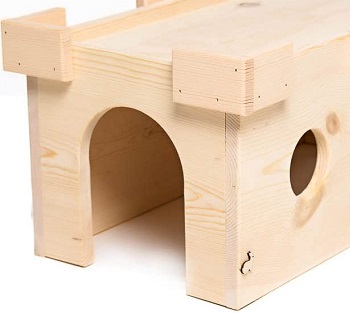 Natural Pine
Castle rabbit hutch is made of high-quality materials so you can have it for a long time. Natural pine wood is safe for pets, without harmful chemicals. Hutch is lightweight so you can easily move it around the house.
Easy Moving
This castle tunnel has 2 doors for easy moving around and great air circulation. It is the perfect place for hiding, sleeping, or making a nest. Rabbits can jump on the top for a better look around the house.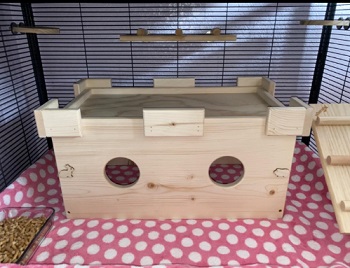 For Small Rabbits
With a measurement of 23.75 x 12.5 x 12 inches, this hutch is perfect for one rabbit or 1-2 small bunnies. There is no assembly required, so your lovely pets can immediately enjoy themselves inside the new playground.
In Short
Neutral color for easy fitting
High-quality materials for durability
Lightweight for moving
2 doors for quick moving around
Suitable for 1-2 bunnies
BEST OUTDOOR CASTLE RABBIT HUTCH
Festnight Rabbit Hutch
High-Quality Materials
If you're searching for a cute rabbit hutch for outdoor use, this Festnight model is the perfect choice for your pets. It is made of high-quality materials and your lovely pets will enjoy it inside the new habitat.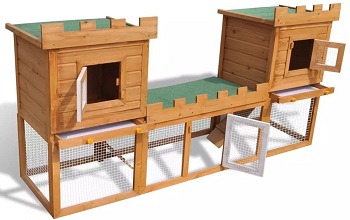 Safe Habitat
This castle rabbit hutch has a sturdy wooden frame with an asphalt cover so you don't have to worry about the weather. It has an iron wire mesh so your rabbits can be safe from outdoor predators.
Large Living Space
With a measurement of 76 x 19.7 x 39.8 inches, this large hutch is suitable for 2-3 rabbits. It has a wide run area without a bottom and 2 towers with access ramps, where pets can have privacy while sleeping.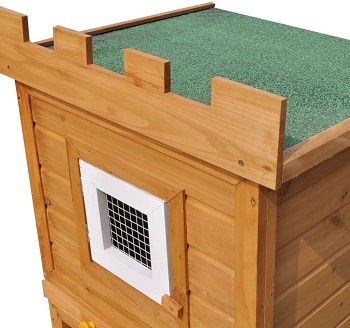 Sliding Trays
For easy access, there are 3 doors, so you can place fresh food inside or clean the mess. Each tower has a sliding tray at the bottom, that will save you time and energy with daily maintenance.
In Short
Sturdy and large hutch
Asphalt cover for weather protection
Suitable for 2-3 rabbits
2 towers with access ramps
Easy cleaning with sliding system
BEST FOR BUNNIES CASTLE RABBIT HUTCH
Bunny Bliss Castle
Cool Pattern
If you love castles with cute rabbit castles, this Bunny Bliss model is a great choice. It comes in a neutral color with a cool pattern, which will look great inside your house. You can place it in every corner.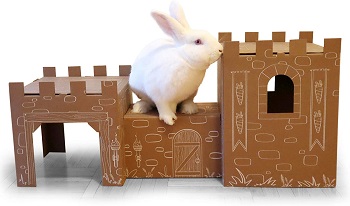 Durable Cardboard
Castle rabbit hutch is made of durable cardboard and non-toxic ink for a pet's safety. Because of the material, it is pretty lightweight so you can easily move it around your house and find a perfect spot for rabbits.
Tunnel With Towers
This modern rabbit hutch has 2 towers that are connected with a tunnel, so pets can easily move from one side to another. If you have smaller rabbits, this model will be perfect, so pets can also jump on it and have more fun.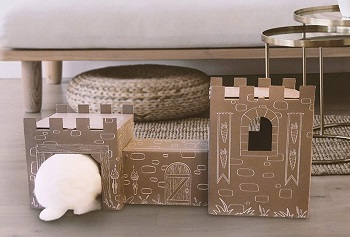 Foldable Design
Castle is a great place for hiding, making a nest, or sleeping as well. You can place some leakproof cover at the bottom to prevent stains. You will need only a few minutes for the whole setup. When is not in the use, you can fold it for storing.
In Short
Neutral color with a cool pattern
Made of durable cardboard
Lightweight for moving
Easy setup in few minutes
Foldable for storing
How To Pick The Best Castle Rabbit Hutch?
If you love cute hutches where your rabbits can play, you need to get the best one. There are many important features you need to keep in mind before buying, so make sure you keep on reading.
Type Of The Material – There are so many different materials on the market, and depending on your preferences and where you will use them, pick the best one. If you want something sturdy and durable, we recommend a castle hutch made of wood. If you need a castle with an easy setup, that is lightweight so you can quickly move it around your house, pick the cardboard bunny house.
Sturdy And Stable – No matter which model you pick, make sure that the construction is stable for using, depending on the size of your pet. If the hutch has large towers make sure rabbits can jump on it without worries about the injury. For larger pets, we recommend wooden models, and for bunnies, you can take the one made of cardboard. Make sure you assemble it correctly for safety.
Size Of The Model – Rabbits love to have enough space for moving, as well as for privacy while sleeping. Make sure you pick the castle rabbit hutch with doors that are wide enough so pets can enter inside. The tower top needs to be large enough for your rabbit because they will for a sure jump on it for a better view. For adult rabbits, we recommend a model with 2 towers for comfort.
Daily Maintenence – Depending on your preferences, pick the model that will be functional for your pets but for you as well, so you can easily clean the mess. We recommend placing some leakproof cover at the bottom, for odor control and easier cleaning. Castle hutch with trays is the best option that will save you time and energy with daily maintenance.