Are you searching for the best cardboard bunny house?
There are so many great models on the market, but we picked the best one.
Keep on reading to find out which are the best models for each category and choose the one that will suit your rabbit the most. For more helpful tips, check our guide at the end of this post.
The Summary
Best 4 Cardboard Bunny (Rabbit) Houses
BEST OF BEST CARDBOARD BUNNY HOUSE
Seny Bunny House
Indoor Use
This cardboard bunny house is a great choice if you're looking for a functional model with a modern design. It comes in a house shape and you can place it in every corner of your home. House is suitable only for indoor use.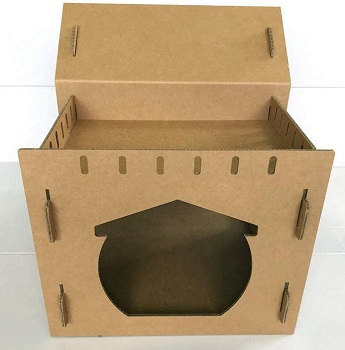 Pet-safe Glue
Bunny house is made of durable and high-quality cardboard that is glued with pet's safe glue. The modern design will easily catch your rabbit's attention. With a measurement of 22 x 18 x 21 inches, it is suitable for most rabbits.
Hideout Place
There are 2 large doors so rabbits can easily move in and out when needed. House has a bottom so your rabbits can have great comfort. This house is the perfect place for hiding a playing, your lovely pets will enjoy it.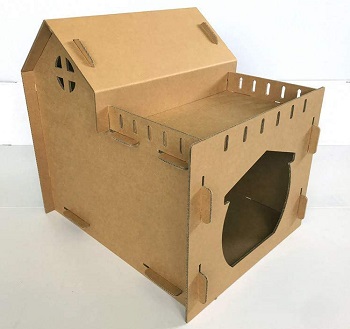 Easy Storing
Bunny hide house is lightweight for moving and you can quickly store it when it's not in the use. House comes flat in the package but you don't have to worry about assembly, you will need few minutes only.
In Short
House shape in a neutral color
Made of durable materials
Suitable for most rabbits
2 large doors for easy moving
Assembly in new minutes
BEST 2 STORIES CARDBOARD RABBIT HOUSE
BlinkyBunny Rabbit House
Functional Design
If you have active pets and you want to buy a functional cardboard bunny house, this BlinkyBunny model is a great choice. A neutral color can easily fit the environment and it is recommended to use it only indoors.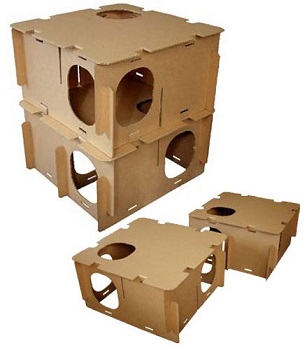 Durable Cardboard
This rabbit house is a perfect model if you need an additional place where your pets can play while you're cleaning your rabbit cage stand. It is made of durable cardboard with non-toxic glue for a pet's safety.
Stable For Use
House has 2 stories so rabbits can play all day long. Multiple doors will provide easy access inside. Don't worry about safety, this cardboard box rabbit house is stable for use. You can easily move it from side to side.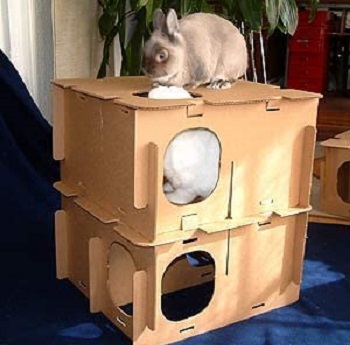 Quick Storing
Because it is made of panels, you can assembly it in few minutes, so your rabbits can enjoy inside the new playground. When you want to store it, just fold it quickly and place it wherever you want, it will not take much space.
In Short
Made of durable cardboard
2 stories for comfort and playing
Easy access from multiple doors
Lightweight for moving
Quick and easy setup
BEST INDOOR CARDBOARD BUNNY HOUSE
Navaris Bunny House
Modern Shape
If you already have a modern tall rabbit cage and you need a cool playhouse where your pets can provide a time when you're doing a pet routine, this Navaris model is a great choice. It comes in a modern shape to catch your pet's attention.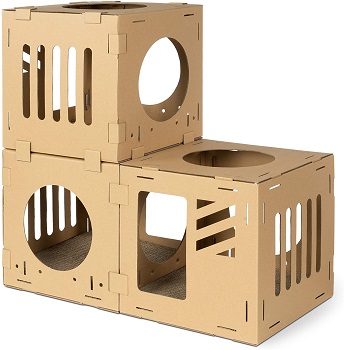 Stable Construction
This cardboard bunny house is made of high-quality materials and glued with a pet's safe glue. House is lightweight so you can quickly change the spot in your house. Don't worry about safety, it is stable for use.
Cardboard Cubes
It is made of 3 cubes that are connected so rabbits can easily move around and have fun all day long. Each cube measures 12 x 12 x 12 inches, so it is suitable for most rabbits, except large ones.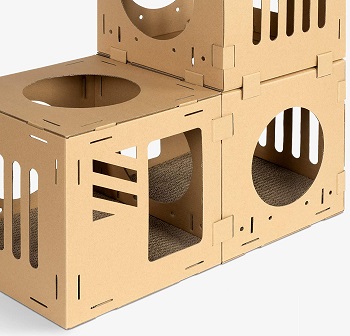 Change The Shape
There are multiple doors for easy access that will provide easy moving around. You can easily assemble the house and make it like a tower or long tunnel, depending on your rabbit preferences.
In Short
Cool playhouse for indoor use
Made of high-quality cardboard
Cubes suitable for most rabbits
Change the shape of the house
Easy access with multiple doors
BEST LARGE CARDBOARD RABBIT HOUSE
Bunny Bliss Rabbit Castle
Cool Pattern
If you search for a rabbit playhouse so your lovely pets can have fun, this Bunny Bliss model has great features. It has a cool pattern in a neutral color for easy fitting with every home decor.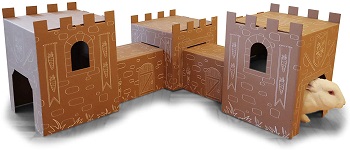 Large Construction
This rabbit house comes in a castle shape, with large construction and a lot of features. There are towers that are connected with tunnels for easy moving. Cardboard castle for rabbits is made of high-quality material.
Quick Moving
This cardboard rabbit house is suitable for 1-2 rabbits. It has 2 doors for easy moving in and out and windows for great air circulation. Pets can play around it and jump on the construction for a better look around.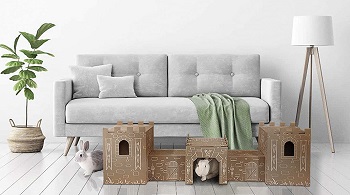 Stable And Safe
Even if the house is large you can easily move it and place it wherever you want. Construction is stable and safe for your lovely pets. Assembly is quick and easy, you will only need few minutes for the whole setup.
In Short
Castle with a cool pattern
Large construction made of durable cardboard
Suitable for 1-2 rabbits
Towers connected with a tunnels
Quick and easy setup
How To Pick The Best Cardboard Bunny House?
If you're searching for a model that your rabbits can use for playing and hiding make sure you keep on reading to find out about our recommendations and tips that will help you with buying.
Durable And Stable – One of the most important things you need to check before buying is the durability of the rabbit house. It needs to be made of high-quality cardboard and glued with nontoxic glue for the pet's safety. Make sure cardboard is strong enough with few layers, so it cannot break easily. Also, if you're picking a larger or taller house, check if it's stable for use.
Size Of The House – Even if the rabbits will not use it all the time, it is important to pick a rabbit house that is large enough depending on the size of your pet and how many you have. Make sure rabbits can fit thru the doors and easily move around. If you're planning on buying a castle house or one with a flat top so rabbits can jump on it, make sure your pet can fit on it.
Pick The Model – If you prefer something simple pick the model with a house look, so you can place it in every corner. There are great affordable models, so if you already have a cheap indoor rabbit cage and you also want a house for a great value, pick a smaller one that will not take you much space. For larger pets, you can pick castle models or on with 2 stories for activities.
Functional Design –  There are so many great rabbit cardboard playhouses on the market so make sure you pick the one that will be functional for your pet. Make sure it has multiple doors for easy moving around and windows for air circulation if pets prefer to have a nap inside. Cardboard bunny house needs to be lightweight for easy moving and foldable for storing. 
To Sum Up
The best cardboard rabbit house from the models that we picked is Seny house. It is made of durable cardboard with pet-safe glue. A simple model can easily fit with every interior and it is functional for use. If you want to check cages with few levels so your rabbits can stay active, read our post and pick the best multilevel rabbit cage. Also, if you need a metal one, make sure you check this post and choose the best metal rabbit cage from the market.