Are you searching for the best bunny cage accessories so your lovely pet can have functional habitat?
If you're not sure which one to pick from the market, keep on reading.
We found the best 6 models for each category, so you can choose the best liner, shelf, hay rack, clips, and litter box for your rabbit cage. Make sure you check our guide at the end, where you can find many helpful tips.
The Summary
Top 6 Bunny (Rabbit) Cage Accessories
BEST DIVIDER BUNNY CAGE ACCESSORIES
Midwest Homes Cage Divider
Durable Material
If you're looking for practical bunny cage accessories that can be very useful if you have multiple rabbits and you want to separate areas in their habitat, this Midwest divider is a perfect choice. It is made of durable materials so you can use it for a long time.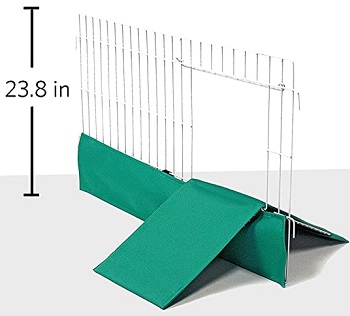 Pet Safe
This cage divider is made of sturdy wires in white color and it will be perfect for the Midwest metal rabbit cage model. Wires are tight enough to prevent escaping or stuck in between, so you don't have to worry about the pet's safety.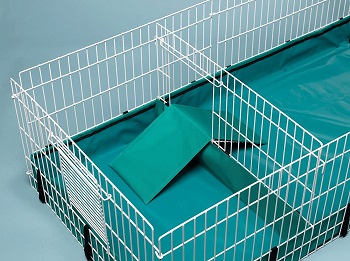 Ramp For Moving
For easier moving from one area to another, there is a ramp with a soft cover for sensitive pet's feet. You can easily close the ramp when needed. This rabbit cage divider is removable so you can place it wherever you want.
In Short
Made of durable materials
Divider with the tight wire mesh system
Great accessories for separating areas
Included door ramp with softcover
Removable design for functionality
BEST LINER RABBIT CAGE ACCESSORIES
Bwogue Rabbit Liner
Neutral Color
If you need rabbit cage accessories that will save you time and energy with daily cleaning, this rabbit liner is a perfect choice for your pet's cage. It comes in a black and grey color combination so it can fit well in every cage.
Durable Fleece
This rabbit cage liner is made of durable soft fleece for maximum comfort. It has absorption for odor control. An anti-slip design will make sure it will move around the cage. Each liner measures  23.6 x 17.7 inches.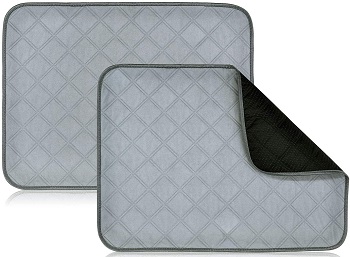 Washable Material
Because of the dimensions, you can place this liner in every cage that has no bottom or in a rabbit exercise pen with the floor. This rabbit liner can be easily washed in the washing machine. You will get 2 pads in the package.
In Short
Liner in a neutral color
Made of soft fleece
Great absorption for odor control
Suitable in every cage or playpen
Washable in the washing machine
BEST SHELF BUNNY CAGE ACCESSORIES
Alfie Rabbit Shelf
Easy Matching
If your rabbit cage with a pull-out tray has no shelf, this Alfie model can be a great accessory that is very useful for your lovely pet. These bunny cage accessories come in a neutral color so they can easily match any cage.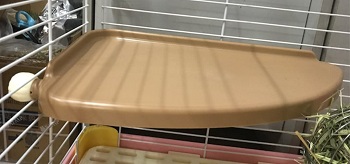 Corner Of The Cage
The rabbit cage shelf is made of durable plastic in a beige color and it is made to fit any corner of the wire cage. You can easily attach it to the wires and pick the height depending on your rabbit's needs.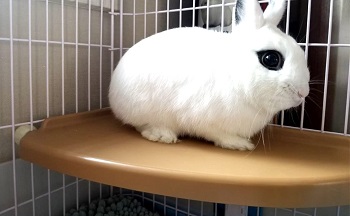 Easy Cleaning
With a measurement of 14 x 7.75 x 1.75 inches, this shelf is suitable for small to medium size rabbits. They can use this shelf for a better look outside or you can place a feeding area on it. You can easily clean it with water and soap.
In Short
The shelf in a neutral color
Made of durable plastic
Easily attach to the wires
Suitable for smaller pets
Quick and easy cleaning
BEST HAY RACK RABBIT CAGE ACCESSORIES
Hamiledyi Hay Feeder
Pink Color
Hay rack for rabbit cage is a very important accessory of every rabbit habitat, so if you still don't have a feeder, make sure to get this one. It comes in a beautiful pink color so it can match with any pink rabbit cage.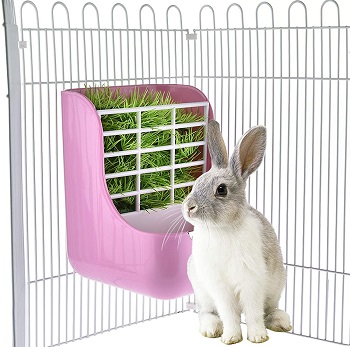 Durable Plastic
These rabbit cage accessories are made of durable plastic and can be easily attached to any wires. Depending on the size of your rabbit place the feeder at the right height for easy use. The feeder measures 5.9 x 5.9 x 7.1 inches.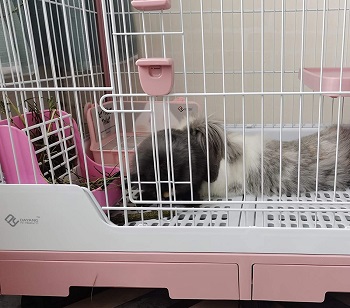 Functional For Use
This hay rack has 2 parts so you place 2 different foods inside. Place hay inside the mesh system so rabbits can easily eat it. At the bottom, you can put some other food that your rabbit prefers. With the package, you will get a water bottle.
In Short
Hay feeder in pink color
Made of durable plastic material
Functional design for 2 different food
Easily attach to the wires
Water bottle included with the package
BEST CLIPS RABBIT CAGE ACCESSORIES
Dasunny Cage Building Clips
Fasten Cage
If you're not sure that the wires of your rabbit cage stand are sturdy enough, you need to take these clips for maximum safety. They are made of high-quality material so you can fasten the cage and use it for a long time.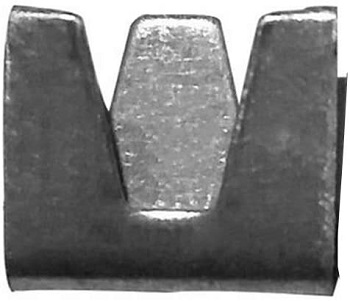 Small Dimensions
Ferrule types of clips are sturdy and strong and you can use them all around the cage. These bunny cage accessories measure 0.39 x 0.39 inches, so they are suitable even for thin wires. Neutral metal color can go well with any cage.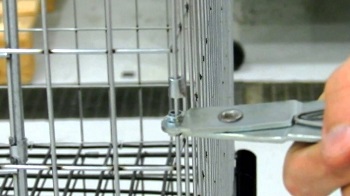 Easy To Install
In the package you will get 300 pcs of these universal rabbit cage clips, so you can use as many as you want and have them for another cage, as well. You can easily install them and they will help you with cage building.
In Short
Fasten cage for stability and safety
Ferrule-types of clips
Small measurement for any type of wires
300 pcs in the package
Easy to install
BEST LITTER BOX BUNNY CAGE ACCESSORIES
CalPalmy Large Rabbit Litter Box
Easy Fitting
One of the most important bunny cage accessories for your pet's cage is the litter box. This model comes in a beautiful neutral color so you can easily match it with any type of cheap indoor rabbit cage.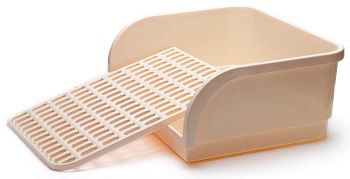 Non-toxic Plastic
A litter box is made of high qualilty non-toxic plastic so your lovely pet can use it for a long time. It is lightweight so you can move it anywhere you want and easily take it out when you need to clean it.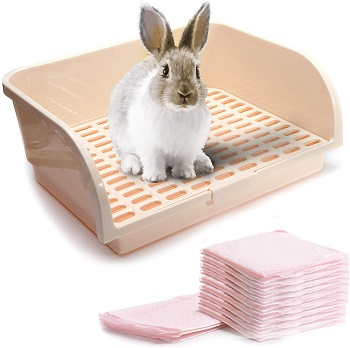 Training Pads
This litter box measures 17.3 x 13.4 x 7.1 inches so it is suitable for most rabbits. It can be easily cleaned, you can remove the grid and rinse it with soap and water. With the package, you will get training pads.
In Short
Neutral color for easy fitting
Made of durable non-toxic plastic
Suitable for most of the rabbits
Easy for cleaning and maintenance
Training pads included with the package
How To Pick The Best Rabbit Cage Accessories?
If you want to add some functional accessories to your rabbit's cage, read our guide for more helpful tips to know which type will be the best option.
Sturdy And Safe – No matter if you're picking the litter box divider, make sure it is made of high qualilty materials, so your rabbits can use it for a long time. Safety is one of the most important things when picking models. If you're choosing plastic accessories, they need to be made of strong non-toxic material, as well as other accessories inside of your cage for your pet's safety.
Easy To Fit – Before buying the accessories, make sure it is suitable for your rabbit's cage, depending on dimensions. If you're buying a liner you can take the one that will cover the whole bottom or a smaller one for the side. Make sure the litter box is smaller so rabbits can easily move on around it. If you're buying a shelf, make sure it can easily attach to the wires and fit in a corner.
Design And Color – Depending on what you will pick, make sure that the accessories can match the color of your dwarf bunny cage. We recommend neutral colors like the beige or black one, which can go well with any type of cage. The design depends on your preferences, there are tones of models on market. Pick something simple, that can be functional for use.
Functional And Practical – Rabbit cage accessories can be really practical, but make sure you pick one that your rabbit will use it fon a daily basis, or that will be practical for other reasons, for example, clips for the stability of construction. If you want to save time with daily cleaning, pick liner or litter box. For easier feeding, you can choose a shelf where you can place a bowl feeder or hay feeder which you can attach to the wires.
To Sum Up
The best rabbit cage accessories from models that we reviewed is the Midwest Homes cage divider. This functional accessory can be used for separating areas when needed and it has a door ramp for easier moving from place to place. If you're not sure about a new model to pick from the market, make sure you check our post and pick the best cool bunny cage. If you have multiple rabbits, you need to read our post and choose the best multiple rabbit cage from our list.