Do you need to buy a new rabbit cage stand for your pet?
You can't decide which one will be the best?
You are at the right place because we found the best models from the market and reviewed them, so you can check all the important features and pick the perfect one. There is a guide with helpful tips at the end of this article, so make sure you check it for more information.
The Summary
Best 6 Rabbit Cage Stand
BEST OF BEST RABBIT CAGE STAND
Prevue Hendryx Cage
Modern Design
If you're searching for a sturdy rabbit cage stand with a modern design, this Prevue Hendryx model is a perfect choice. It is made of high-quality materials and comes in beautiful beige color for easy fitting in your home space.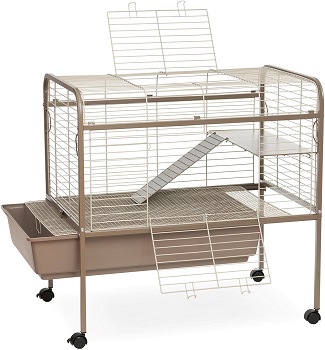 Sturdy Frame
This bunny cage stand has a sturdy rounded frame with wires to provide durability. Wires are tight enough so you don't have to worry about pet escaping. It has 4 rolling wheels with brakes so you can easily move it from place to place.
Elevated Area
With a measurement of 32 x 21.5 x 33.5 inches, this portable rabbit cage is suitable for the adult bunny. It has a wide run area with a wire floor, so you can place some hay or straw for comfort. There is an elevated area with an access ramp for observation.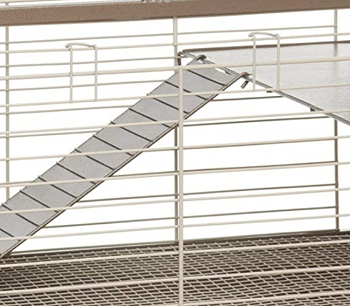 2 Doors
The cage has top and side doors for easier access, so you can quickly change food or water. Wire bottom will provide clean habitat, so your pet doesn't stand on their droppings. There is a large sliding tray so you can wash it easily with soap and water.
In Short
Modern design in beige color
Rounded metal frame with wires
Wire bottom with an elevated area
Suitable for an adult rabbit
Easy daily maintenance
BEST TALL BUNNY CAGE STAND
Prevue Cage
Green Color
If you're looking for something simple, where your rabbit can enjoy and have comfort, this Prevue model is a great choice. It comes in a beautiful green color so you can place it in every corner of your house, it will fit perfectly.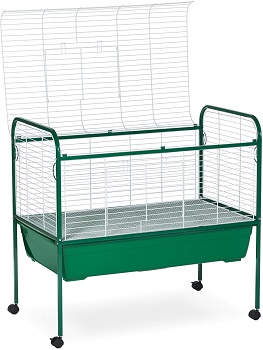 Rounded Frame
It has a metal frame with rounded edges for pet and owner safety. Sturdy and tight wires will prevent escaping. The cage is tall and it has wheels with brakes so you can move it easily.
Indoor Use
This rabbit cage stand measures 40 x 23.5 x 37 inches, so you can easily fit your adult rabbit inside. It has a large living space for easy moving and other activities. This cage is the perfect choice for indoor use.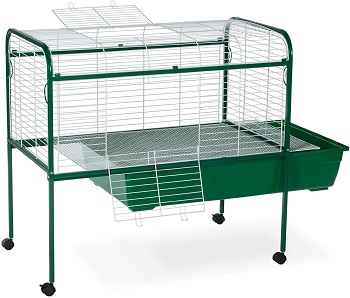 Large Doors
You can fully open-top roof for easy access or use smaller side doors for daily pet routine. Because of the wire bottom, a pet will not walk on its droppings so you can clean the cage easily. Wire bottom rabbit cage has a sliding tray for quick cleaning.
In Short
Simple design in green color
Metal frame with wires for durability
Large living space
Easy access from an openable rooftop
A quick cleaning with sliding tray
BEST METAL RABBIT CAGE AND STAND
Little Friends Cage
Blue And White
This rabbit cage has everything your pet need, so if you're looking for a cage with additional features, this rabbit cage on wheels is a perfect choice. It comes in a blue and white color combination, to match your home decor.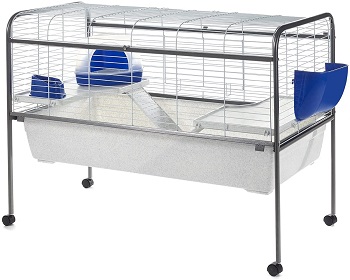 Large Cage
The cage has a rounded metal frame and sturdy wires to provide durability and safety. It has a deep plastic bottom, so your pet can have privacy. With a measurement of 48.03 x 25.59 x 9.06 inches, it is suitable for 1-2 medium size rabbits.
2 Platforms
Rabbit cage stands 120cm has comfortable space for living with 2 elevated areas on both sides. Platforms have an access ramp so your rabbits can easily climb up and down. You can place the feeding and drinking area on platforms.
Included Features
Because of the plastic bottom, you can easily clean the mess. Because of 4 wheels with brakes, you can easily move the cage from side to side. All features are included in the package.
In Short
Sturdy and stable construction with plastic base
Suitable for 1-2 medium size rabbits
Elevated platforms with access ramps
Easy moving with wheels
All features are included with the package
BEST 2 STORIES STAND UP RABBIT CAGE
Midwest Homes Cage
Black Color
If you're looking for a metal rabbit cage in black color, so it can fit with your decor, this Midwest Homes model has great features. Durable and high-quality materials will last you a long time. Your pet will have great habitat for living.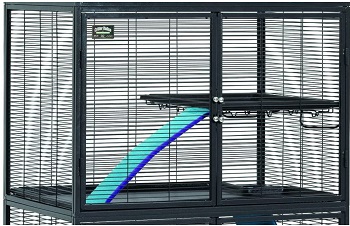 Pan At The Bottom
This rabbit cage stand is made of metal construction with tight wires, so pets can't be stuck in between or escape outside. At the bottom, there is a plastic pan that is large enough for easy moving and comfort.
Ramp With Cover
Access ramp to the shelf will provide easy moving, so pets can stay active and healthy. The shelf is adjustable and the ramp has a soft cover, to protect your pet's sensitive feet. With a measurement of 36 x 24 x 39 inches, you can fit 1 medium size rabbit inside.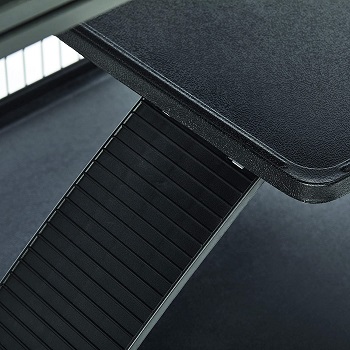 Place For Storing
Large front doors will provide easy access inside. The leak-proof pan can be quickly wiped out and washed with soap and water. for quick storage, there is a large shelf at the bottom. If you need to move the cage, use rolling wheels.
In Short
Modern cage in black color
Sturdy metal frame with spacious space for comfort
Adjustable self with access ramp
Large front doors for access
Additional self for storage
BEST LARGE RABBIT CAGE STAND
Prevue Hendryx Cage
Hammerstone Finish
If you need a large rabbit cage stand, this Prevue Hendryx model has great features. This black cage with hammerstone finish is made of durable materials so you can use it for many years. It is easy for moving with rolling wheels.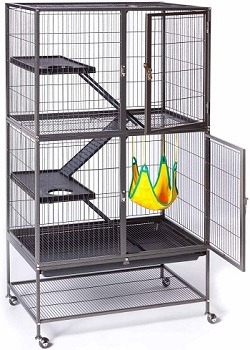 Tall Construction
This sturdy cage has tall construction, but don't worry it is stable and you can place it next to the wall for maximum safety. Wires are tight enough so your pets can't escape outside. With a measurement of 31 x 20 x 54 inches, you can fit 1-2 rabbits inside.
Spacious Space
The cage has 2 plastic platforms with ramps for easy access. On platforms, you can place a feeding area. Wire grids can be covered with hay or straw so pets can have maximum comfort while walking on them.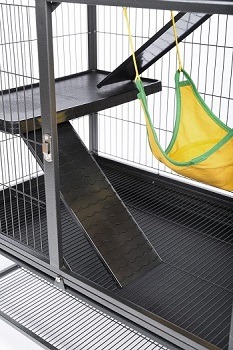 Large Doors
2 large doors will provide quick access so you can reach every corner of this multi-level rabbit cage. There is a sliding tray at the bottom so you can wipe out the mess. Shelf for storing is a great feature to save you time with your daily pet routine.
In Short
Tall cage with hammerstone finish
Multi-level design with sturdy wires for safety
Suitable for 1-2 rabbits
Easy access with 2 large doors
Storage shelf for food
BEST SMALL BUNNY CAGE STAND
Pawhut Cage
Functional Design
Even if this Pawhut cage is smaller than other models, it is functional and a perfect choice if you have bunnies or a small rabbit. The cage comes in a black color so it can fit in every interior. It is made of durable materials.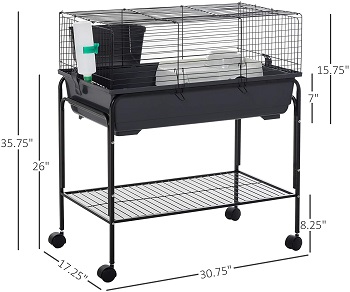 Small Rabbit
The cage has a metal construction with a deep plastic base, so pets can have privacy while sleeping. With a measurement of 31 x 17 x 36 inches, you can place a small rabbit inside. This standing rabbit cage has wheels so you can easily move it around.
Hideout Area
On the side of the cage, there is an elevated platform with a food dish, and a hideout area underneath, where pets can hide and have some privacy. You will also get a hay feeder and water bottle, so your pet can have everything he needs.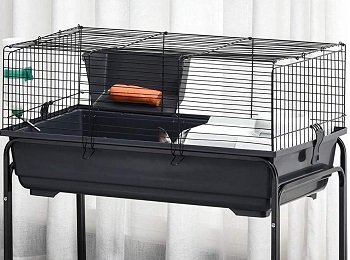 Detachable Base
The front side can be fully opened so you can reach every corner. The detachable design will save you time with cleaning, you can quickly wash the plastic base. Store the food and accessories on the bottom shelf. This cool rabbit cage is easy to assemble.
In Short
Cage with functional design
Suitable for a small rabbit
All accessories included with the package
Easy cleaning with detachable design
Quick moving with wheels
How to pick the best rabbit cage stand?
If you prefer a standing rabbit cage for your pet, make sure you read our guide so you can pick the best model that will suit your rabbit's needs.
Stable Construction – Because you're looking for a tall rabbit cage, make sure it is stable enough for use, so you don't have to worry about your pet's safety. It needs to be made of a sturdy metal frame with wires. If it has wheels, make sure there are brakes for safety. If you're picking a hutch, make sure it is made of solid wood and painted with eco-friendly paint.
Comfortable Space – Depending on the size of your pet, pick the cage that has enough space for easy moving, so your pet can enjoy a new habitat. Also, make sure that the sleeping area is large enough so rabbits can fit inside. If you have a small rabbit pick the one with 24 x 36 inches. For large ones, we recommend a cage with 30 x 36 inches.
Indoor Or Outdoor – There are so many models on the market, and depending on your preferences, pick the best model for your lovely pet. If you're going to use it indoors, you can choose a metal cage without cover. FOr outdoor use, make sure the hutch has weather protection with an asphalt roof, so your pet can be safe when it's raining outside.
Easy Maintenence – So your pet can enjoy in clean and fresh rabbit cage stand, make sure you pick the model that has multiple doors for easy access, so you can reach every corner. The best models are the ones with sliding trays, which will save you time with daily cleaning. If there is no sliding tray, make sure that the base is made of plastic so you can quickly wipe out a mess.
To Sum Up
The best rabbit cage stand from 6 models in our opinion is Prevue Hendryx cage. It has a steel frame with sturdy wires, a comfortable living space with an elevated area, and wheels for easy moving. If you need an exercise playpen for your pet, check our post and pick the best rabbit exercise pen. Also, for outdoor use, pick the best white rabbit hutch which will look great in your backyard.