Would you like to learn more about hutches for rabbits and get a large rabbit hutch along the way?
You can make it happen if you just continue reading this article where we only reviewed the best models out there and made sure to include various types fitting for both indoor and outdoor use and ranging from cheap prices to more luxurious prices. If you can't think of a type to buy, we thought of it for you so you can know exactly what you can buy.
The Summary
Best 10 Large Rabbit Hutches
BEST OF BEST LARGE RABBIT HUTCH
Pawhut 64 Wooden Outdoor Hutch
Hutch And Run Size
Rabbits need at least 4 hours of exercise every day and what better to give them that than giving them a hutch with a large run area. Only about 1/6 of this hutch is made as a hideout while the rest is reserved for the run area. It's 64-in long, wide, and 24-in tall so if you'd like a smaller run area, you can check out other hutches in the extra-large outdoor rabbit hutch article.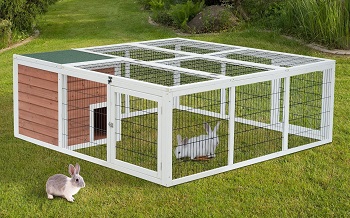 Hutch Roof And Build
The hutch area has an asphalt roof so that water doesn't leak through and get your rabbit wet or damage the pinewood it's made out of. The frame of the run is also made out of pinewood but it does have wire sides. It features a top entrance and an entrance on the sides.
In Short:
Has a run and hutch area
The hutch takes up around 1/6 of the whole products
It's 64-in long, wide, and 24-in tall
Features 2 entrances, one on top, and one on the side
Made with pine wood and wire
Has an asphalt roof on the hutch area
BEST OUTDOOR LARGE RABBIT HUTCH
Good Life Two Floor Rabbit Hutch
Proportions And Material
It doesn't matter if you're getting this firwood hutch for a large or small rabbit, it will still be considered extra large since it's 62-in long, 21-in wide, and 37-in tall. You also have to include that it has a 2nd level accessible through a ramp that's 27.5-in long, and 18-in wide.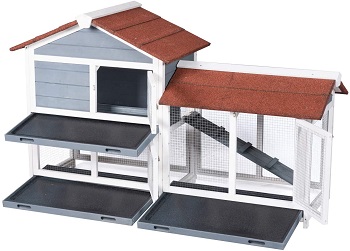 Bottom Trays And Doors
The bottom run area has 2 cleaning slide-out trays while the top area has one. It features 3 entrances, 2 for the bottom and one for the top area, and the whole thing is covered with an asphalt house rooftop for weather protection. If you'd prefer a single-level option, read the extra-large outdoor rabbit hutch article for more.
In Short:
Has a 2nd level
Overall, it's 62-in long, 21-in wide, and 37-in tall
The 2nd level is 27.5-in long and 18-in wide
The flooring for all the levels is a cleaning slide-out tray
Features an asphalt house rooftop
Has 3 entrances in total
BEST INDOOR LARGE RABBIT HUTCH
Rockever Indoor Rabbit Hutch
Separate Rabbit Housing
If you have 2 rabbits that you want to house separately in one unit, this is the perfect choice for that since it has a divider that separates 2 run areas and hutch areas. The access hole to the hutch can be closed with a sliding door so you can clean it easily through another entrance.
Size And Areas
The flooring is made up of plastic cleaning trays so you might want to get a wire grate for the bottom. The cage is 65-in long, 20-in wide, and 21-in tall and sits on legs so it is elevated from the ground. If you'd prefer a wider hutch for a single rabbit, you can read the article linked below about large indoor rabbit hutches.
In Short:
Features a divider for 2 separate hutches
Each hutch consists of a run and hutch area
The hutch entrance hole can be sealed with a sliding door
Has plastic slide-out tray flooring
Overall, it's 65-in long, 20-in wide, and 21-in tall
BEST HOUSE LARGE RABBIT HUTCH
Lovupet Rabbit Hutch
Colorful Hutch
If you'd like to introduce a bit more color to your rabbit's hutch, you can't go wrong with this blue hutch that also comes in pink color or classic black color. The wood it's made out of is fir wood and it also features some wire details for good ventilation and visibility.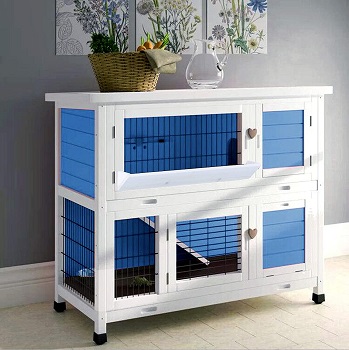 Levels And Trays
This big bunny hutch consists of 2 levels, The 2n level door is a trap door meaning you can seal it off so that your rabbit doesn't have access to it. It's accessible via a ramp located on the bottom run area. Each level has its own slide-out PVC tray floor as well. If you'd prefer a different design for your big rabbit house, you can refer to the cute bunny hutch article next.
In Short:
It's colored blue but can be pink or black
Made with firwood and wire
It features a second level with a trap door
The slide-out trays are made with PVC
Made for smaller rabbits
The bottom area is a run
BEST WITH RUN LARGE RABBIT HUTCH
Aivituvin Extra Large Wood Hutch
Firwood Build
Choosing firwood as a primary build material for this hutch was a smart choice. It's made for outdoor use due to its size and the build since firwood acts well when introduced to moisture. You can learn a whole lot more about this and other models in the extra-large rabbit hutch with the run article.
Square Footage
It's around 88-in long, 20.5-in wide, and 33.7-in tall and if the square footage of 9.5 wasn't enough space for you, there's a centered 2nd level as well that's accessible through both sides and gives you an extra 3 square feet. It features an asphalt roof and even though it's big, it still has a plastic tray bottom on both the run and 2nd level.
In Short:
It's around 88-in long, 33.7-in tall, and 20.5-in wide
The run area gives you 9.5 square feet of space
The 2nd level gives you 3 square feet of space
Its 2nd level is accessible through the left and right side ramp
Made with firwood and wire
Features a plastic tray bottom
Has a waterproof asphalt roof
BEST CHEAP LARGE RABBIT HUTCH
Aivituvin Hutch With Stand
Color And Material
You'll easily blend this hutch into your home due to its firwood build and grey color. It's also space-saving since it sits on a stand that allows you to place things below it. Overall, it's around 36-in long, 18-in wide, and 28-in tall so it's fit for use by smaller rabbits.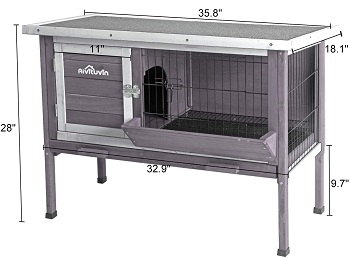 Areas Featured
It features a run area and a hutch area. The run area does have a wire grid floor as well as the front and right sides. Underneath it all, there is a slide-out cleaning tray with 2 handles so you can pull it out easily. All in all, it costs around 100 dollars but if this cheap large rabbit hutch  is just too small for you, be sure to read the large indoor rabbit hutch article for
In Short:
Made with firwood and wire
The run area has a wire grid floor
Beneath the hutch and run, there is a slide-out cleaning tray
It's around 36-in long, 18-in wide, and 28-in tall
It's colored grey and it's on a stand
BEST DOUBLE LARGE RABBIT HUTCH
Birasil 48 Indoor Outdoor Hutch
Great Outdoor Choice
The firwood build is one reason why it's an excellent outdoor choice while the weatherproof painting finish is another. Additionally, it does have covered both the run and sleeping area with an asphalt roof that will prevent leakhroughs and the slanted design will prevent water build up on top.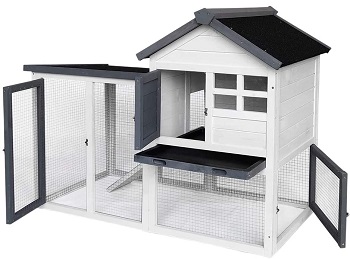 Hutch Dimensions
If you'd like, you can use this 48-in long, 24-in wide, and 37-in tall hutch inside as well due to its lovely white and grey color. The wire bits are galvanized for further weather protection and 2nd level features a cleaning tray below. This is just one of many extra-large double rabbit hutches so check them out further in the linked article below.
In Short:
It's made with firwood and galvanized wire
Has a weatherproof finish
features an asphalt rooftop cover
The roof is slanted
It's 48-in long, 24-in wide, and 37-in tall
The 2nd level features a slide-out cleaning tray
BEST 2 TIER LARGE RABBIT HUTCH
PawHut 91″ Deluxe Large Hutch
Symmetrical Build
If symmetry is your thing you'll then enjoy that the 2nd level of this hutch is centered. Your rabbit or rabbits can pass below it in the run area and access it from the left and right sides. It is huge so if you had a smaller model in mind, you can read the large 2 tier rabbit hutch article for more.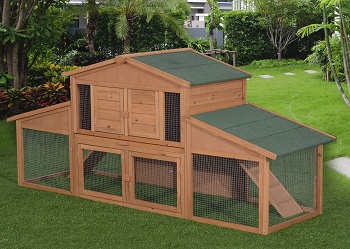 Run Area Bottom
The whole run area is covered with galvanized wire mesh sides while the top-level features 2 mesh wire windows to the left and right of the entrances. The run doesn't feature a bottom while the 2nd level does and you can easily slide it out for cleaning. Overall, it's 88.5-in long, 22.5-in wide, and 39.25-in tall.
In Short:
Has galvanized mesh wire sides
The 2nd level is centered
The top-level can be accessed from the right and left
Overall it's around 88-in long, 22-in wide, and 39-in tall
The 2nd level features a bottom cleaning tray
BEST METAL LARGE RABBIT HUTCH
Trixie Rabbit Hutch
Wire Bottom, Wood Top
The whole run area located on the cage's bottom is covered with wire sides. the wire is powder coated so that it is protected from corrosion and rust while the food used to make it is firwood. This is another reason why it's good for outdoor use.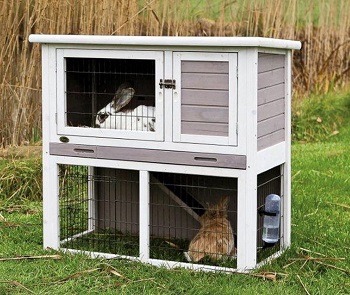 Ramp, Roof, And Size
The second level access ramp is non-slipping and the hutches roof is an asphalt roof meaning it's waterproof. It has an entrance for each level and only features a tray on the 2nd level. Overall, it's around 41-in long, 20-in wide, and 38-in tall. If you'd prefer a galvanized large metal rabbit hutch, you can find them in the linked article below.
In Short:
Made with fir wood and wire
The wire is powder-coated
Has a 2nd level
Each level has one entrance
Features an asphalt roof
It's around 41-in long, 20-in wide, and 38-in tall
BEST WOODEN LARGE RABBIT HUTCH
Petsfit Rabbit Hutch
Aesthetic Hutch
We were impressed with the craftsmanship of this hutch. It's made with solid wood and wire and features a galvanized cleaning tray on both levels. It looks like a house and features a decorative balcony where you can place potted plants. If you'd like to focus on just the hutch, check out others in the large wooden rabbit hutch article.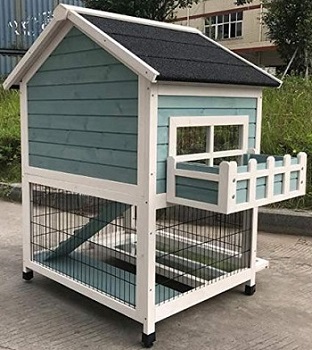 Colors And Size
It's colored with a combination of lovely green and white color. It has an asphalt roof, each level features its entrance and the access to the 2nd level can be blocked with a trap door. The rooftop is also an entrance and that's how you can access the 2nd level of this 31.5-in long, 26-in wide, and 46-in tall cage.
In Short:
Made with solid wood and wire
Has a lovely green and white color
Features a decorative balcony
Has 2 front doors and 2 top doors
Features a trap door inside for blocking 2nd level access
It's 31.5-in long, 26-in wide, and 46-in tall
How To Pick A Large Rabbit Hutch
To help you pick out the best large rabbit hutch possible, we need to break down a few things and discuss them. Such things include size and what's considered large, important hutch components, what a hutch is, and plenty of others things. All of this and more will be talked about in this helpful and simple buying guide.
What Is A Hutch – If you don't know already, a rabbit hutch is a box or a cage usually made with wood and wire. They are mostly made for outdoor use but that doesn't exclude the fact that you can use them as indoor rabbit hutch furniture if the type is right of course. They consist of a run area and a "hutch" area.
What's Considered Large – What's large and what's not is very much up to your rabbit's size. We'd like to think that a large hutch goes over the minimum requirements according to rabbit breed. To keep it simple, a large bunny that weighs over 8 lbs should be house in an enclosure that's at least 30-in long and 36-in wide while a small bunny that weighs less than 8 lbs should be housed in a hutch that's at least 24-in long and 30-in wide. Anything beyond that is to be considered large.
How To Figure Out The Size – Many of these hutches feature a second level and you have to take into account the size of that as well if you want to make sure you get the size right. For instance, a 30-in long, and 30-in wide hutch is going to be too small for a large rabbit but if it has a second level that's let's say 15-in long and 30-in wide, you can safely house your large rabbit inside.
Run Area Importance – All of the hutches we reviewed had a run area present and it's a good thing they do since rabbits need to ex3ercise just like any other animal. For them, a 4-hour exercise regime is optimal so if you don't have the time of day to let them run loose, a bigger run is always a good option.
Housing Rabbits Outside – We're not totally against housing rabbits outside but there are some difficulties that you're going to run into if you do so we'd leave the outdoor rabbit housing to experienced owners. One fun fact that we have for you regarding this manner is that an indoor housed rabbit can have a 10-year life span while an outdoor housed rabbit has a 2-year life span.
Wood and Wire Protection – The most common type of wood used to make these hutches is fir wood. It's a great material of choice, we can't argue that since firwood is a material that goes back to its original shape even when shrinking and expanding due to moisture. It's often paired with weather-resistant finishes and it's common for the wire parts of a hutch to be galvanized or powder and epoxy coated to protect it from rust and corrosion.
To Sum Up
Which large rabbit hutch you'll choose is entirely up to you and depends largely on your housing capabilities and of course, your rabbits' size and breed so we won't end this one by recommending one to you. What we will recommend though is for you to read about an entirely different type of rabbit cages and those are actual cages. For that, we recommend you either read the wire rabbit cages article or the cheap rabbit cages article. If you'd prefer to read about both hutches and cages and many other types, we suggest you read the post about the best bunny cages and hutches.