Is your cat one that loves crawling into tight closed-off spaces but also likes to destroy your furniture you thought you'd give on cat scratching post house a go?
You're in the right place and there are high chances that you'll leave this site with one on your way if you just keep reading the article. the reason why is because we made sure to review different types of houses so that at least one is suitable for everyone. Some of the houses reviewed are Halloween, Christmas ones, and even boxes.
The Summary
Best 10 Cat Scratcher Houses
BEST OF BEST CAT SCRATCHER HOUSE
Creation Core Cat Scratch House
6 Boxes
Although the outside of this house is nothing but cardboard material, 3 out of the 6 11.8-in wide and long boxes feature scratchboard floors. The boxes assemble without glue or screws and they attach one to another without the use of them either. You can easily assemble them in multiple ways.
Product Expansion
If you'd like, you can choose to expand on the product and get another set of 6 boxes. They have 7.48-in diameter holes on all sides and can easily hold a cat that weighs up to 22 lbs. If you'd prefer a single box house product, you can find others in the cardboard cat scratcher cube article.
In Short:
Made up of 6 boxes
You can expand the product with more boxes
Each box is 11.8-in wide and has 7.4-in diameter holes on all sides
Comes with 3 pieces of scratchboard floors
Can hold cats up to 22 lbs
BEST CARDBOARD CAT SCRATCHING POST HOUSE
Petique Feline Penthouse Cat House
Inlaid Assembly
When assembling the house, you'll use the method of inlaid sides to assemble them meaning that you won't have to use screws or glue for that. It features 3 levels, the 2nd being an open type balcony, the 1st being a condo and the 3rd being a longe out concave area.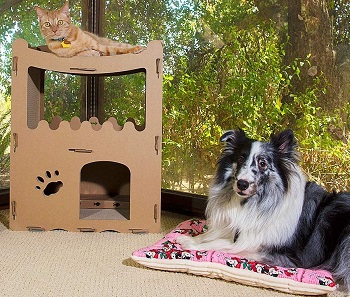 Scratchboard Walls
Its right, left, and top outer walls feature scratchboards while the inside walls also feature scratchboards. It's 21.1-in wide, 11.8-in long, and 27.8-in tall. To learn more about this cardboard cat scratcher house and others, read the article we've linked below next.
In Short:
Assembles with inlaid panels
Has 3 levels, the top one being concave
Has scratchboards on the left, right, and top outer side
features scratchboards inside
It's 21.1-in wide, 11.8-in long, and 27.8-in tall
BEST CHRISTMAS CAT SCRATCHER HOUSE
Wondershop Boutique Ski Chalet House
Front And Design
The front of this product features a large arched entrance to the bottom condo and on top, the 2nd level features no edges unlike the raised edges of the 3 other sides so that your cat can easily get there and have some sense of privacy. It's a Christmas house because the cardboard it's made out of has a printed design.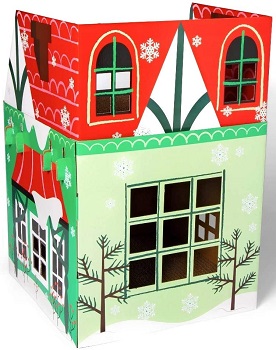 House Size
The scratch parts of this hose are located on the bottom of each level. They are nothing but scratch pads while the cardboard frame is lightweight. Overall, it's a 14-in long, 15.25-in wide, and 21.25-in tall house so if you'd prefer a bigger Christmas cat scratch house you can read the linked article below.
In Short:
Made with cardboard with Christmas design print
It's 14-in long, 15.25-in wide, and 21.25-in tall
Has 2 levels
The bottom of each level features a scratchboards
Has a bottom level condo and a raised edges lounge level
BEST HALLOWEEN CAT SCRATCHING POST HOUSE
Pawnie House Cat Halloween Scratcher
Halloween Colors And Decorations
Anything you can stereotypically imagine to be Halloween is printed on the cardboard frame of this house. Apart from the decorations, it even features Halloween colors which are orange and black. If you'd still prefer a different design, read the Halloween cat scratcher house article next.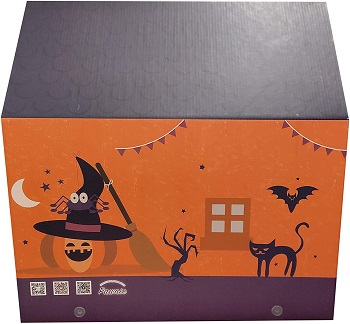 Doors And Floor
Other than the numerous details, it has a simplistic house shape design. It features house-shaped entrances in the front and back and has a scratchboard floor. It even comes with a bag of catnip you can put on the bottom scratchpad for a little extra cat fun.
In Short:
Made with lightweight cardboard
Shaped like a house
Has a house-shaped back and front entrance
Comes with a free bag of catnip
Features a scratchboard bottom floor
It's colored orange and black
BEST BOX CAT SCRATCHER HOUSE
Way Basics Premium Cat Scratcher
Unequal Sides
If the category is a box, it only makes sense that all sides of this product are equally big. In the case of this box, that's not true so you will get more room. It's 11.2-in tall, 12.8-in wide, and 13.4-in long. the differences are menial so it's hard to notice that it's not box-shaped. To check out more about this cat scratch box house and others, read the cardboard cat scratcher cube article next.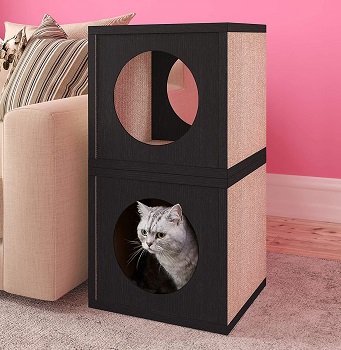 Recycled Build
It's made with recycled z board that can be compared to particleboards in terms of durability but the way lighter than them. It has 2 entrance holes, and scratchboard walls on the inside and outside. You can stack multiple products together as well. It assembles with industrial-grade 3m sticky strips.
In Short:
Made out of recycled z boards
The boards are as durable as particleboards but lighter
Assembles with industrial-grade 3m sticky strips
It's 11.2-in tall, 12.8-in wide, and 13.4-in long
Has scratchboards on the outside and inside
Features 2 entrance holes
You can stack more together
BEST TREE CAT SCRATCHING POST HOUSE
Trixie Pet Products Cat Scratcher House
Playful Rest
A cat house is supposed to have both play and rest features and this one perfectly combines both. It has 3 platforms placed on carrying heights, the highest one sitting at 56-in, 3 sisal rope wrapped posts and even a condo with 2 entrances. Its base is 18-in wide and long.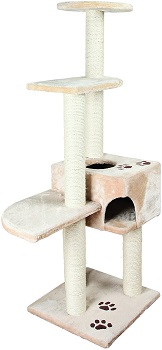 Natural Colors
It's fully carpeted with beige plush carpets that compliment the natural sisal rope color well. If you'd prefer a cat scratcher tree house with even more features, you can easily find more models in the article about cat condos scratching posts we've also linked below.
In Short:
It's fully carpeted with beige plush
Has 3 sisal rope wrapped posts
Features 3 platforms and a 2 entrance condo
Has an 18-in wide and long base
It's 56-in tall
BEST CORRUGATED CAT SCRATCHER HOUSE
Seny Cardboard Cat House Scratcher
Corrugated Explanation
This is a corrugated paperboard product which means that its panels are made out of sheets of wavey paperboard corrugated together that make it more durable and sturdy. It looks like a 3 step staircase with a hollow bottom that acts like a condo since it has an entrance hole to it on both the left and right sides.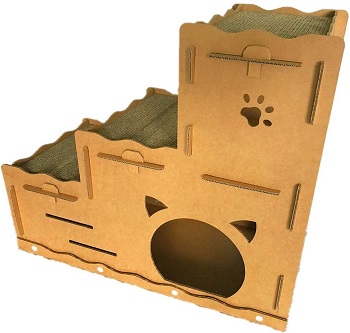 Steps Bottom
The steps feature scratchpad floors and they can also serve as lounging perches. It's easily assembled since the panels are made to be inlaid together without using screws or glue. Overall, it's 30-in long, 14-in wide, and 26-in tall and only weighs 6 lbs. For more durable corrugated cat scratcher houses, read the cardboard cat scratching house article.
In Short:
Made with panels of corrugated paperboard
Looks like a 3 step staircase
Each step has a scratchpad bottom
Features a condo inside with 2 entrance holes
It's 14-in wide, 30-in long, and 26-in tall
BEST FUN CAT SCRATCHING POST HOUSE
Lionto By Dibear Scratcher Cat Tower
Tubular And Large
We measured fun in the way how the product looks and how many fun features it has. This one is nothing but a single post but one that has a 15-in diameter so inside it, you'll find three levels all accessed via the 3 entrance holes. If you're looking for a different model of this type of funhouse cat scratcher, read the cat barrel scratcher article next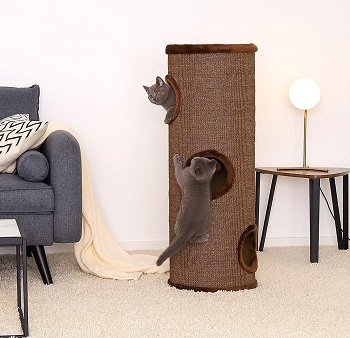 Height And Outer Walls
It's 39-in tall and its outer walls feature nothing but sisal rope carpets. The top features a plush bed for resting and it even features a cat toy inside. The 2 level bottoms feature holes so that your cat can easily access each level from the inside of the product as well.
In Short:
Looks like a thick post
HAs 3 levels and 3 entrance holes
Fully carpeted with sisal rope carpets
HAs a plush soft bed on top
Has a 15-in diameter
It's 39-in tall
BEST GINGERBREAD CAT SCRATCHER HOUSE
Midlee Chirstmas Gingerbread House Scratcher
House Shape And Decor
Although the product is shaped like a house, the 4 side that makes up the rectangular part of the house are narrow at the bottom and get wider as you go up. It has a classic house rooftop and it's made with cardboard. It's got that classic gingerbread hous color and frosting decorations as well.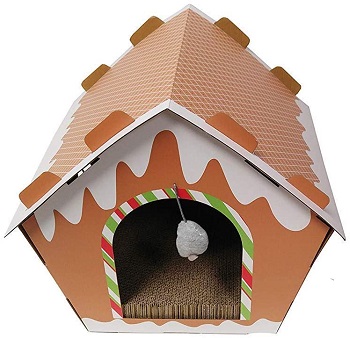 Entrance And Interior Floors
The entrance is located in the front and features a hanging toy ball as well. Its sides feature peep gingerbread house cat scratcher windows as well and the floor inside is a scratchpad that's removable. Overall, it's 14-in long and 12-in wide and it's 16-in tall. For more Christmassy-themed houses, read the Christmas cat scratcher house article next.
In Short:
Shaped like a house with a narrower bottom
Has a gingerbread color and frosting decorations
It's made with cardboard
it's 14-in long, 12-in wide, and 16-in tall
Has a removable scratchpad floor inside
Features an arched entrance with a hanging ball toy
BEST RV CAT SCRATCHING POST HOUSE
Xmsg Car Rv Cat Scratcher Toy
Durable Ride
You can trust that this RV-shaped cat toy scratcher is durable and stable since it's made with thick corrugated paper. It features wheels that elevate it from the ground, and its front and top outside is covered with scratchboard material. The cat can enter it from the passenger or driver entrance holes.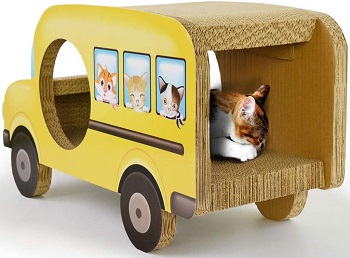 Entrances And Proportions
This scratch house for cats has an additional entrance in the back and the floors inside are covered with scratchboard materials as well. It's 11-in wide, 24-in long, and 13.8-in tall but if you'd prefer that your rv cat scratcher was instead a cat scratcher car, you can find them in the article we've linked below.
In Short:
Made with thick corrugated paper
it's elevated fromt eh ground with wheels
Has 3 entrances
The front and outside top feature scratchpads
The inside bottom is also a scratchpad
Overall, it's 11-in wide, 24-in long, and 13.8-in tall
How To Pick A Cat Scratching Post House
There are plenty of different options to choose from when it comes to a cat scratcher house but in order for you to get the best possible one from your very first buy, there are a few think to learn and remember about these. All of the important information can be found in this simple but detailed buying guide.
Why They Work – The reason why cats love cardboard boxes, in general, is because it gives them a sense of security when they're in a tight and enclosed space. They can then rest or take a nap in the box without outside disturbances and stressors so these are all an upgrade from the plain cardboard boxes.
Cardboard Durability – There are levels of durability that these houses adhere to. Regular cardboard boxes are going to be the cheapest but easily broken so in order to maximize the use and time spent efficiently using the box ou might want to find a cat corrugated scratcher cardboard model.
Corrugated Materials – Corrugation is a mechanical process that makes corrugated materials. These materials are vavy and have plenty of tiles. They're made out of multiple layers of these that are then laminated, aka corrugated. Many materials can be corrugated but it's more common in cardboard that is then referred to as corrugated fiberboard.
Scratchboards Details – The scratchboards for cats to wear down their claws are usually found on the floor of the cat scratching post houses. They're made from the same materials as any old scratch post which are jute fiber and sisal rope then turned into carpets. Jute fiber is softer but less durable while sisal rope is more durable but coarser. Consider the fact that your cat will be walking on the scratchboard.
Cheaper Trees  – Your cat can, depending on the type, easily play and rest on these which is great since rest and play areas are what makes a regular cat tree. They tend to be expensive and since they are still wear and tear products, these are a far cheaper option to get.
To Sum Up
In case you wanted us to recommend one cat scratcher house to you, unfortunately, in this case, we can't do that since they're highly different from one another and one might be a perfect fit for you but another won't be for another fellow human. In case you'd still like to read more about scratcher posts, we have an article about cat corner scratchers and cat scratching trees waiting for you to read them and in case you'd prefer to read about every possible cat scratching post available, read the article about those next.