You're searching for a stylish cat scratching post?
You are at the right place to pick the best one.
We found the 6 best modern cat scratching posts, so you can choose the best cute, functional, cardboard, sisal, and vertical. Make sure you read our guide for helpful tips.
The Summary
Best 6 Modern Cat Scratching Post
BEST OF BEST MODERN SCRATCH POST
Amazonbasics Scratcher
Neutral Colors
If you need a functional and modern cat scratcher, this Amazonbasics is all that your cat needs. It comes in neutral color tones, which will perfectly fit with home decor.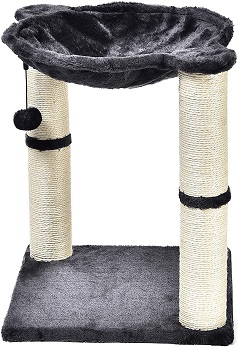 Sturdy Base
This modern cat scratching post is made of a sturdy base that is wide enough for stability when your cat is scrathing her claws. The bottom is covered with dark grey soft material for maximum comfort.
Double Posts
There is a double scratching post wrapped with natural jute fiber, a perfect material for loud and enjoyable scathing. Stylish scratching post measures 15.75 x 15.75 x 19.69 inches, perfect for small cats and kittens.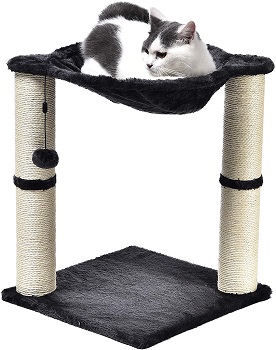 Plush Hammock
At the top, there is a large hammock covered with plush, a perfect place for observation and sleeping. For more fun, there is a ball for playing. You can easily place this cat hammock scrathing post in every corner.
In Short
Functional and modern design in neutral tones
Sturdy base for stability
Doule scratching posts wrapped with jute fiber
Suitable for kittens and small cats
Large plush hammock at the top
BEST CUTE MODERN CAT SCRATCHER
IsYoung Scratcher
Modern Design
If you're looking for a cute cat scratcher that will perfectly fit in your interior, this IsYoung scratcher is a great option. It has a modern design in a b shape, with a light blue color at the front, and star shapes with a moon.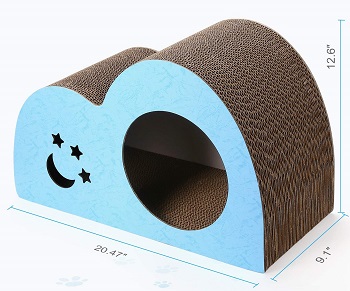 Corrugated Cardboard
This modern cat scratcher is made of corrugated cardboard and non-toxic glue for a pet's safety. It is stable and sturdy for use and you can recycle it when is damaged after scrathing.
Scrathing Surface
With a dimension of 20.47 x 12.6 x 9.1 inches, it is perfect for small to average cats, so if you have a large one it will be too small for use. There is a scrathing surface at the top, perfect for easy stretching because of the wavy shape.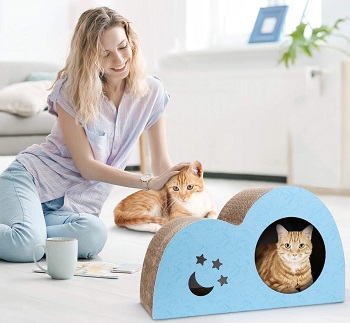 Large Lounge
Modern cat scratching posts come with a large lounge, the perfect place for napping and cat's privacy. The bottom of it is also made of corrugated cardboard, so the cat can scratch it as well. Easy for moving and storing.
In Short
B shape with a blue front
Made of corrugated cardboard
Suitable for average and small cats
Large scrathing surface at the top
Large lounge for sleeping
BEST FUNCTIONAL MODERN SCRATCH POST
Hipipet Scratcher
Attractive Design
For multiple cats, this Hipipet scratcher is a great choice. It has an attractive design in neutral tones, so it can beautifully fit with home decor. Stable construction will provide safety while cats use it.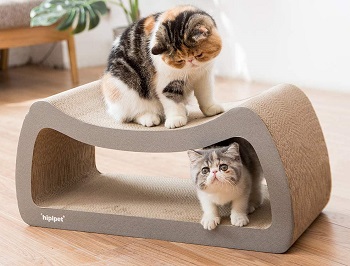 Great Size
This stylish cat scratcher measures 24 x 10.63 x 10.23 inches, perfect for cats of all ages and activity levels. It is made of high-quality corrugated cardboard, which will provide durability.
3 Designs
It has 3 different designs and sizes. The large one has a cardboard surface for scrathing and an underneath place for napping. Middle and the small one can be used for scrathing as well and playing, with 2 balls included.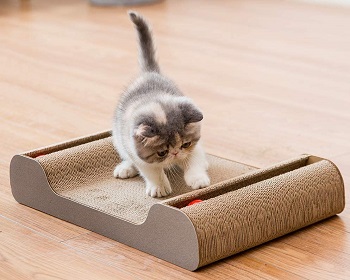 Easy Storing
this modern cat scratching post can be combined with all 3 sizes to make a functional playground. This cool cat scratcher can be placed anywhere your cats prefer to move around.  Slide it in when you need to store it.
In Short
The attractive design in neutral tones
Made of durable cardboard
3 different designs and sizes
Suitable for cats of all size
A perfect playground for multiple cats
BEST CARDBOARD STYLISH SCRATCHING POST
MSBC Scratcher
Colorful Pattern
If your pet prefers to use a corrugated cardboard cat scratcher, this one is a great choice. It comes in an oval shape with a colorful pattern, that will attract your pet, and fit perfectly in your home.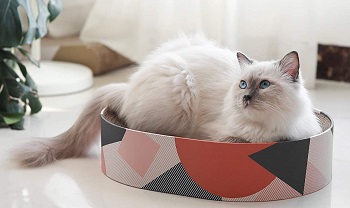 2 in 1 Design
This modern cat scratcher has 2 in 1 design, it is a scratcher and bed. The surface of it is made from durable cardboard, perfect for enjoyable scrathing so your cat can have healthy nails.
Sleeping Surface
When a cat wants to lay or have a nap, this oval scratcher will provide great comfort. The surface of the modern cat scratching post is wide enough for enjoyable sleeping.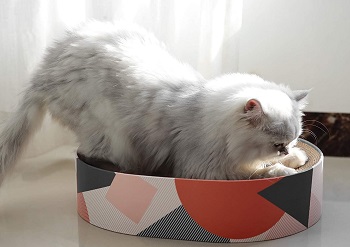 Easy For Moving
With a measurement of 17 x 13 x 4 inches, this is suitable for small cats and kittens, if you have a large cat this is not the best choice.  Scratcher is stable and sturdy and easy for moving from place to place.
In Short
Oval shape with colorful pattern
Made of durable cardboard for scrathing
2 in 1 design for functionality
Suitable for smaller cats and kittens
Perfect for naping and laying
BEST SISAL MODERN CAT SCRATCHING POST
Peekab Scratching Post
Wooden Base
Sisal cat scrathing post is a great option if your cat loves loud scrathing on a natural material. This Peekab scrathing post is made of a sturdy wood bottom base which will provide stability when your cat is using it.
Tall Post
This modern cat scratching post has 11.8 x 11.8 x 25 inches, suitable for cats of all sizes. There is a tall scrathing post in the middle, wrapped with natural sisal for enjoyable scrathing.
Toys For Fun
For more fun, there are 2 feathered rattan toys, which cats love to play with. At the bottom, there are 2 balls, so the cat can move them around and play all day. This interactive and functional scrathing post is great for active cats.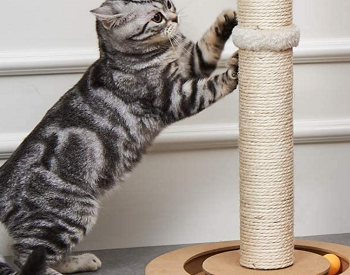 Easy Assembly
Neutral tones will fit great in every corner of your home, you can easily move it around and place it where your cat is moving most of the day. Assembly is quick and easy.
In Short
The sturdy wooden base for safety
Tall scrathing post suitable for all cats
Wrapped with natural sisal for loud scrathing
2 feathered toys and balls for playing
Easy and quick assembly
BEST VERTICAL MODERN CAT SCRATCHER
Petmaker Scrathing Post
Functional And Modern
If your cat is used to vertical cat scratcher, this Petmaker can be a great option for buying. It comes in neutral tones with a rounded bottom base for stability. There are 3 scrathing posts and top perch.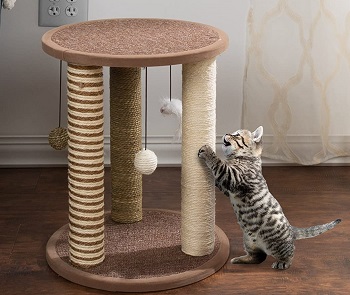 Sisal Rope
A sturdy base is covered with carpet and it is wide enough to provide stability and safe use. There are 3 scrathing posts, wrapped with durable sisal rope. This modern scratch post is perfect for multiple cats.
Upper Perch
When at want to lay and observe the house, there is upper deck perch. You can place the modern cat scratching post anywhere your cat prefers to have her daily pet routine.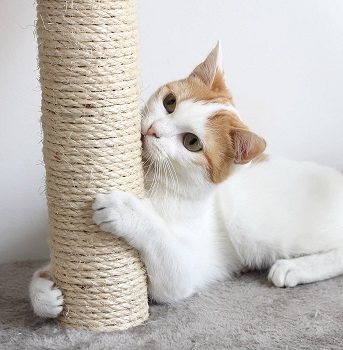 Playful Toys
This trendy cat scratching post measures 15.75 x 15.75 x 19.25 inches, suitable for small to average cats. For more fun, there are 3 stimulating and playful toys, which cats love to play with.
In Short
Neutral tones with the rounded bottom base
3 scrathing posts wrapped with sisal rope
Sturdy and stable construction for average size cats
Upper perch for laying
Stimulating and playful toys included with the package
How To Pick The Best Stylish Cat Scratching Post?
If you decided that you want to buy a modern cat scratching post, keep on reading to find out about some tips that will help you to pick the perfect one.
Stable Construction – Before buying, we recommend to check all information about stability. The scrathing post, need to have a sturdy and wide bottom base, to prevent wobbling or the possibility of injuries. If it's not safe, the cat will not use it and it will be a waste of your money. So, make sure it is made of high-quality materials for durability.
How To Pick A Size? – One of the most important things to keep in mind is the dimension of the scratcher. If it is too small for your cat, she will not have comfort for daily use. Make sure, if you have a large cat, to not go under 24 inches, so she can fully stretch while scrathing her claws.
Unique Design – There are so many unique cat scratchers on the market, and it is very hard to pick the best one. Depending on your preferences pick the best one that will perfectly fit with your home decor. There are neutral colors, modern patterns, classic and unique shapes. No matter which one you pick, we are sure your cat will love it.
Functional Features – Modern scratch posts need to be very functional, so your cat can use them properly and have an enjoyable environment. Make sure you pick the right scrathing surface, depending on your cat's needs. If you have multiple cats, we recommend a scratcher with 2 or 3 scratching posts. For more fun, pick the one with interactive toys.