Cages featuring a dome top are excellent ways to bring a little bit of antiquity into your home and your bird's life but not all should be considered as an option you should buy.
So how do you go about this to make sure you get the safest one?
It's simple, really, You'll have to make sure the cage features corners but if you want to learn more about it in detail, we suggest you continue reading this article.
The Summary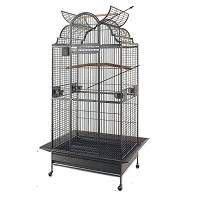 Mcage Dome Top Bird Cage
OVERALL RATING: ★★★★★
The dome top is shaped somewhat differently but features a double door acting as a play area when a perch is placed between the doors.
Jump To Review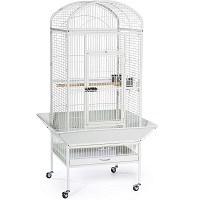 Prevue Pet Products Dome Top Bird Cage
OVERALL RATING: ★★★★☆
You definitely won't have a problem blending it into homes due to the white powder coat finish. It's easy to clean due to the bird cage seed guards.
Jump To Review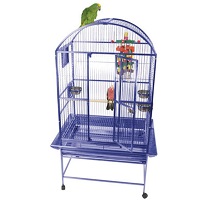 A&e Dome Top Bird Cage
OVERALL RATING: ★★★★☆
Being able to house a large array of bird species, your floors will be kept clean due to the bird cage seed guards it comes with as well.
Jump To Review
What Is A Dome Top Bird Cage?
A dome top cage is, simply put, an arched top cage featuring a rectangular body. The arch comes in different shapes with wire dispersed in multiple ways and some can even have a round cage body.
Are All Dome Top Cages Identical?
Not all domes look the same. Some have a classical arch, some feature dense wire areas that connect in the center, others feature multiple half arches and one smaller center arch (victorian style).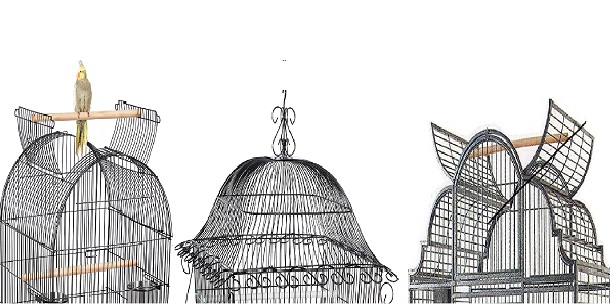 Are There Any Benefits To Getting A Dome Top Cage?
Surely there are many benefits to getting a dome cage and it does extend beyond just the way that these cages look for sure. Looks are just an added bonus if, of course, you can blend it in but the focus should be the health and happiness of your pet bird.
Vintage Looks
These cages let in the fresh air with their unique and cool designs. Dome tops are typically also paired with antique and vintage-looking stands. They typically feature curved legs, shaped like the letter S, and a hollow body. That's the style you'll find the easiest.
More Play Space
Imagine a flat top cage and its left and right top corners. It would be hard for a bird to climb close to them with its legs but with arched top cages, that's not the case. Your bird can use up the cage space more efficiently. Besides, these cages aren't significantly taller but the arch typically does give you an extra few inches.
Extra Rest Areas
Arched tops also allow you to place perches as tall as you'd like, depending on the arch height and your bird's size. More perches mean more rest areas and the addition is that you can also hang more toys on top, either for resting or for playing.
Things To Focus On When Choosing A Dome Top Bird Cage
Best Materials To Choose From
Generally speaking, you'll want your cage to be made out of durable materials. In descending order from most to least durable, they are:
stainless steel
aluminum
wrought iron
iron
The first three are the most durable, wrought iron is cheaper but in the end, stainless steel and aluminum are safer for the bird.
Coating Finishes
Coating finishes are here to protect the cage from rust and corrosion. The reason they're important for birds is that if rust were to be ingested by a bird, it could suffer metal poisoning. With aluminum or stainless steel, you don't need to worry about them though.
Knowing The Importance Of Wire Spacing And Thickness
Wire spacing, also known as bar spacing is one of the three factors that will decide if the cage is right for your bird. With a wire spacing too big, your bird could seriously hurt itself by getting its head or wings stuck in between the bars. We'll list a few of the most popular bird species and their recommended wire spacing:
Parakeets, cockatiels, lovebirds – 0.5" to 0.62"
Conures, Quakers – 0.65" to 0.75"
African Greys, mini macaws,  small cockatoos, amazons – 0.75" to 1"
Large cockatoos, macaws – 1" to 1.5"
Keep in mind that the bigger the bird and its beak, the easier it will be for it to bend the flimsy bars of small cages. That's where wire thickness comes in. The lower the gauge, the thicker the wire is. Next up is the list of recommended wire gauges for birds:
Macaws, cockatoos – 10 gauge or heavier
African greys, amazons – 12.5 gauge
Parakeets, cockatiels – 16 gauge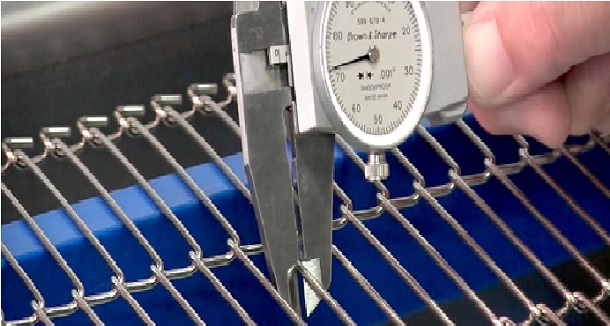 Does Door Size Matter?
Door size won't matter if perhaps you don't plan on cleaning the cage inside out but detailed cleaning will be a must in most cases. It will also be important if you fear that your parrot might escape the cage when the doors open and if it poses a danger to them if they do, so for that, go with smaller doors.
Stand Types
We've already discussed stand designs but what we might have missed are stand types. You can have a cage with a removable stand, these are more likely to be small bird cages, and the ones welded to the rest of the cage. Taller stands also tend to have wire grids where you can store your birds' related supplies and extras.
When Wheels Are Necessary
With wheels, you'll want to focus on getting those if you tend to move your cage a lot. There's no workaround with wheels for bigger and heavier cages. They will make your life easier and for safety in terms of cage stability, you also won't need to focus on getting a cage with at least a few locking wheels.
Interior Accessories – Materials, Types
The most typical accessories you'll get are food containers and perches. You'll want to have your perches be wooden and food containers made out of stainless steel if you have a strong beaked bird since plastic is also toxic to them if ingested. A workaround would be getting an acrylic food container that's also safe for birds to ingest.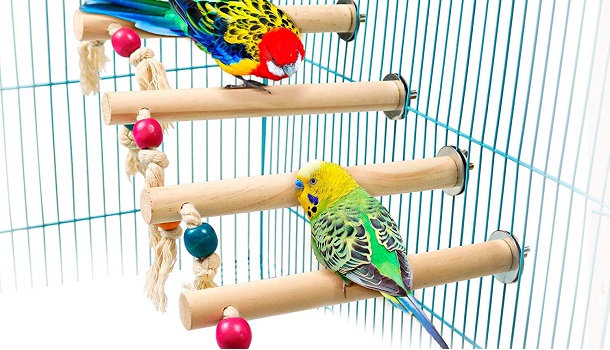 Best 5 Dome Bird Cages
There's a criteria we followed to create this list of the best dome cages out there. The things we looked at were how easy they are to clean, how safe they are in terms of corners and material quality, and how versatile they are in terms of birds they can house.
Mcage Dome Top Bird Cage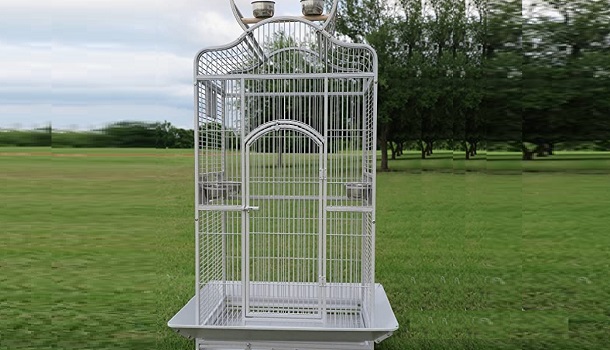 SPECIFICATION:
Build Materials: Wrought Iron
Wire Spacing: 1-in
Breeds: Macaws, Cockatoos, African Greys

Size: 24" x 22" x 50"
Stand And Wheels: Only Wheels
Corners: 4
The white powder coat finish is surely going to make it easier for you to blend this bird cage into your home since it's pretty big. It has to be because it's made to house large birds like macaws and cockatoos. With the wire spacing of 1-in, it makes sense that it's made for them but an African grey can easily be housed inside it as well.
It's elevated from the ground ever so slightly and sits on 4 wheels so that you can move it easily. It also has a deep metal slide-out tray for cleaning and on the outside, it has 4 bird cage seed guards that you can remove if they bother you.
It has a total of 9 doors, feeding doors, a breeding box door, and a double play top door included. It comes with 2 wooden perches and stainless steel bowls you can place on the feeding doors. Additionally, it even has a door on top of the front entrance that you can open vertically so it acts as a rest area.
Overall:
Durability:
Cleaning:
Rust Protection:
Extras:
Mobility:
AVERAGE PRICE
$150 – $225 varies from webshop to webshop: Amazon, Walmart, eBay
WHY TO BUY
Made with durable wrought iron
Features a thick wire gauge
WHY TO AVOID
Hard to blend into homes due to size and weight
Prevue Pet Products Dome Top Bird Cage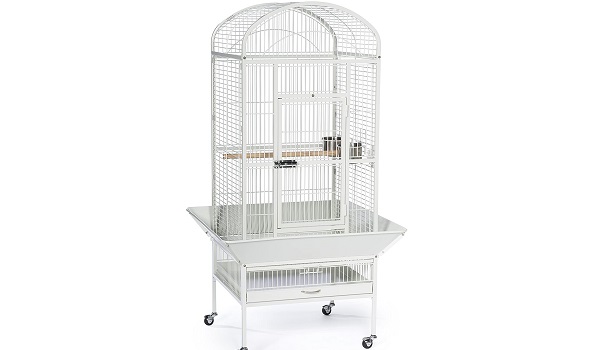 SPECIFICATION:
Build Materials: Wrought Iron
Wire Spacing: 0.75-in
Breeds: Green Cheek Conures, Lovebirds

Size: 24" x 22" x 59.5"
Stand And Wheels: Only Wheels
Corners: 4
If he had to accentuate one proportion of this cage, it would be its height. Due to this fact, it's going to be a space saver inside homes because of its narrower design. It gets a bit of width and length if you decide to leave on the bird cage seed guards but you can remove them.
It's fully white and made with a metal tube frame and wire sides. The wire features a 9 and 10 gauge so you can be sure that a bigger or strong beaked bird isn't going to succeed in bending the wire. The front features a bird safe sliding bolt lock as well.
In terms of doors, you'll get two more right side doors where you can place the 2 stainless steel bowls that come with it. It also comes with a single wooden perch and on the bottom, you'll find located a metal slide out cleaning tray.
Overall:
Durability:
Cleaning:
Rust Protection:
Extras:
Mobility:
AVERAGE PRICE
$350 – $450 varies from webshop to webshop: Amazon, Walmart, eBay
WHY TO BUY
Has a narrow design, able to fit in most homes
The chalk white finish makes it aesthetically advanced
WHY TO AVOID
Only has one main entrance, acting as a cleaning entrance
A&e Dome Top Bird Cage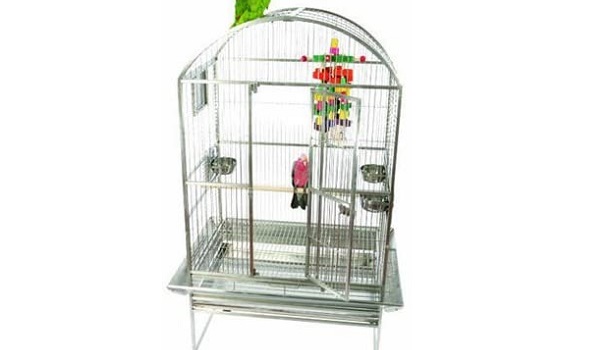 SPECIFICATION:
Build Materials: Iron
Wire Spacing: 0.75-in
For Breeds: Green Cheek Conures, Quakers

Size: 32" x 23" x 63"
Stand And Wheels: Yes
Corners: 4
Due to its size paired with the wire spacing of 3/4-in which translates to 0.75-in, this cage can easily house plenty of medium-sized birds like lovebirds for example. In fact, you can house two if you'd like and even breed them inside due to the top small breeding box entrance.
It features 4 corners and a rectangular body minus the dome top so it's completely safe for them. It has a metal tube frame and wire sides so it's more durable due to the durable frame. It's not removable from its stand that has flat legs and 4 plastic wheels on the bottom.
Near the cage bottom, on the outside walls, you'll find metal panels acting as bird cage seed guards. The interior is equipped with 3 stainless steel bowls that you can attach to the feeding entrances and a single wooden perch. The inside is accessible via a single large door in the front.
Overall:
Durability:
Cleaning:
Rust Protection:
Extras:
Mobility:
AVERAGE PRICE
$500 – $650 varies from webshop to webshop: Amazon, Walmart, eBay
WHY TO BUY
Keeps clean the surounding area with bird cage seed guards
Has a durable powder coat finish, helps with rust and corrosion protection
Features a breeding box door
WHY TO AVOID
Can't be removed from the stand
Yaheetech Dome Bird Cage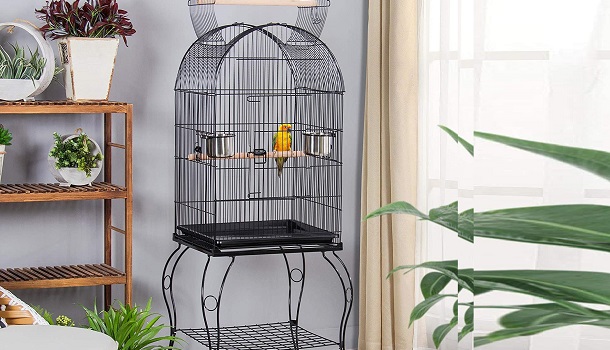 SPECIFICATION:
Build Materials: Iron
Wire Spacing: 0.6-in
For Breeds: Cockatiels

Size: 20" x 20" x 59"
Stand And Wheels: Yes
Corners: 4
If you're more into the classics in terms of visual representation, this cage features a stand with 4 hollow and curved legs. Each leg features a plastic caster wheel, 2 of which can be locked to add more stability when you're not moving it, and even a wire grid where you can store bird-related supplies.
The dome top isn't just your average one. It features a double door that can act as a rest top area if you place one of the perches included in between them to keep the doors open. It has a 0.6-in wire spacing so it's suitable for cockatiels and other medium-sized birds.
It has 2 side doors that allow you to place the 2 stainless steel food bowls on them to make refilling them easy and less complicated. It comes with another perch, both made out of wood, and has a tall entrance in the front. Specifically, it's 14.8-in tall.
Overall:
Durability:
Cleaning:
Rust Protection:
Extras:
Mobility:
AVERAGE PRICE
$80 – $120 varies from webshop to webshop: Amazon, Walmart, eBay
WHY TO BUY
It's removable from the antique stand with wheels and storage wire grid
Has a play dome top
WHY TO AVOID
Has a thin wire gauge
Can only exclusively house birds like cockatiels
Prevue Hendryx Dome Bird Cage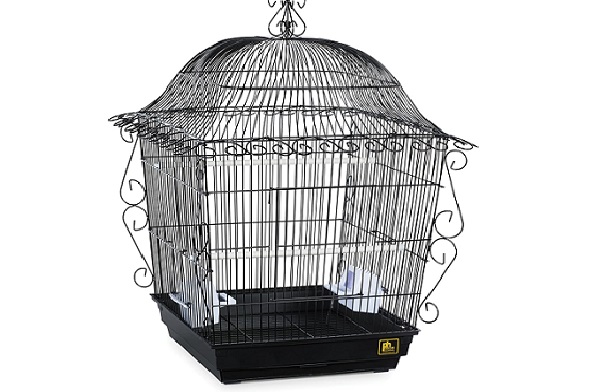 SPECIFICATION:
Build Materials: Iron, plastic
Wire Spacing: 0.62-in
For Breeds: Cockatiels

Size: 18" x 18" x 25"
Stand And Wheels: No
Corners: 4
The top of this cage is the perfect example of what a dense wire top can look like. Nonetheless, it's a breathtaking piece with slightly angled sides, wider as you go up and it features bended wire details that make it catchy looking and an easily blending home piece.
Its bottom is made out of plastic, the top made out of wire. Since it has a small frame, it's suitable for housing small and medium birds, think cockatiels. The inside is equipped with plastic equipment, 2 food and water cups, and a plastic perch, all colored white.
The reason it's an amazing piece is due to the fact that you can hang it anywhere you'd like, either on a stand that you have to buy separately or on a ceiling. It's also light, weighing only 2 lbs so you won't have problems moving it elsewhere.
Overall:
Durability:
Cleaning:
Rust Protection:
Extras:
Mobility:
AVERAGE PRICE
$100 – $155 varies from webshop to webshop: Amazon, Walmart, eBay
WHY TO BUY
Can be hung on ceilings or stand
Features wonderful wire decorations on the outside
WHY TO AVOID
The dome top is wire dense so might be hard to clean
Fitting The Cage Inside Your Home
How To Determine Appropriate Bird Cage Size?
You should focus more on width and length than on height with bird cages. A cage should be at least 1 to 1 1/2 times wider than the bird's wingspan so let's set an example for you to understand it better. Budgies have a 12-in wingspan and an appropriate cage size for them would be 18.5 x 18.5 x 18.5. You'll notice that the rule doesn't really apply to these and that's because the top rule is merely a guideline to deciding cage size. One thing is certain, birds will always be happier in a larger cage.
Where To Place The Cage Inside Your Home
Ideally, you'd place a cage in a corner with two walls covering the sides so that the bird feels less anxious. Make sure the cage is in a room where there is frequent human traffic coming in and out. Avoid windows because outside predators might stress them out and avoid places close to or next to heat sources and air conditioning.
Rooms To Avoid At All Costs – Avoid the kitchen because it will get too hot and cooking fumes might be toxic to the bird. Avoid bathrooms and really any rooms that might have anything toxic for birds. Remember, birds are frail and sensitive and most things can pose a threat to their health.
Reservations To Have About Dome Top Cages
As with all cages, there are some things you should be concerned about with these as well. Rounded cages are just one thing on the list and we will go into detail about it and other possible concerns below.
Rounded Cage Body
At all costs, you should avoid rounded cage frames. The lack of corners is highly confusing for the bird and the cages are almost always too small for the bird to live inside one. These cages pose mental health and a physical health risk for all birds.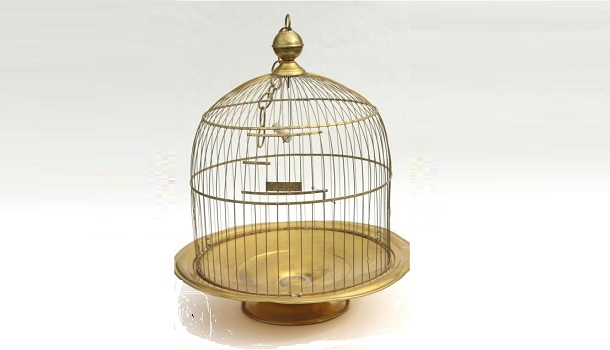 Dense Wire Top Problematics
You'll really have to get into the nooks and crannies of wire-dense dome tops to keep them clean and bacteria-free. Bird-safe disinfectants will be a must and scrubbing the areas clean will take a while.
How Will I Assemble The Cage?
Not all cages are assembled the same. With smaller cages, the assembly could take less than 5 minutes if all you have to do is unfold them. With larger cages that typically feature rigid metal tube frames, screws will be essential and assembly may take 1 hour or more. They often come with predrilled holes to make it easier and a lot of manufacturers offer detailed instructions on how it's done.
To Sum Up
We can't possibly know the bird species you own but if we overlooked the wire spacing, the one dome top bird cage we'd most definitely recommend you get is the Mcage Dome Top Bird Cage simply because it has a durable wrought iron construction, a safe and nice-looking white powder coat finish and its dome top features a double entrance that can act as a rest and play area, similar to these parrot cages with playtop.